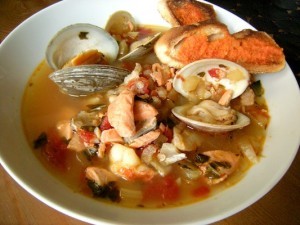 It's February, and that means everyone here at PJP has spent the last few months shivering. Winters in the North East can be bitter cold, and we don't know about you, but it makes us crave something warm and comforting to eat. When it comes to comfort and warmth, nothing does the job quite like a steaming-hot bowl of soup.
We're not the only ones who feel this way, soup sales grew an impressive 30% in the last 5 years, and aren't expected to slow down. If you own a restaurant and aren't serving soup to your customers, you might be missing out on a great opportunity.
Soup not really your forte? Don't worry, we've got you covered with a fantastic recipe for Bouillabaisse, a classic fresh fish and shellfish soup from Marseille, seasoned with ingredients like fennel, garlic, orange zest and saffron. And as a bonus, this recipe comes from the great Julia Child, so you know it's sure to be a hit!

Bouillabaisse – Serves 6
Ingredients
8 cups white fish stock – Homemade or store bought (sorry Julia)
2 lbs. whitefish, cut into pieces (Cod, Flounder, Haddock, Perch, Grouper, Snapper, Monkfish, Whiting)
½ lb. shrimp, shelled and deveined
½ lb. sea or bay scallops
½ lb. mussels or clams (hard shells)
1 cup cooked crab or lobster meat
3 tablespoons olive oil
1 large onion, chopped
2 medium skinless tomatoes chopped
2 cloves garlic crushed
1 leek chopped (white part only)
1 medium chopped fennel bulb or 1 teaspoon fennel seeds
1 bay leaf
1 teaspoon salt
½ teaspoon pepper
1 teaspoon chopped parsley
¼ teaspoon saffron
2 tablespoons lemon
2 tablespoons white wine
1 zest from half an orange, chopped fine
1 loaf baguette bread
Directions
Add olive oil to 8-quart pot and cook onion, tomatoes, garlic and leeks until onions are soft. Add fennel, bay, salt, pepper and stock. Bring to a boil. Lower heat and simmer for about 10 minutes.
While simmering, toast slices of baguette bread.
Add fish, saffron, lemon, white wine, orange zest and return to a simmer. Cook about 10 minutes. Add parsley, shrimp, scallops, clams or mussels, and crab or lobster meat. Cook about another 5 minutes until clams and mussels are open. Taste and correct seasoning.
Place piece of toasted baguette in bottom of deep soup bowl, spoon soup into bowl making sure each serving includes each kind of fish.
But a great recipe is only the first step to making a delicious bowl of soup for your customers, you need to make sure you have the right equipment to keep it hot and ready to serve! Check out some of the great Soup Warmers we have over at PJPMarketplace.com, along with all of the other great soup-related products we have available.