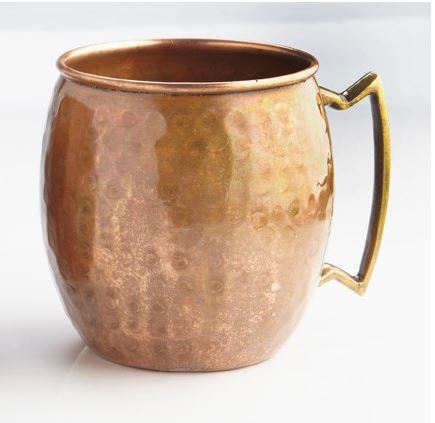 3 Unique New Ways To Serve Your Cocktails
At PJP we know how important it is to stay up on the latest trends of the foodservice industry. Consumers are being inundated with choices, and they are becoming more and more discerning when deciding where to eat. If you want to attract new customers and keep old customers coming back, you have to continue to offer new and exciting options. But how do you continue to come up with creative ways to separate yourself from the competition and entice people through your doors?
If you're a regular reader of this blog, you already know the answer. PJP, as always, has you covered. We make it a point to hire industry experts so that we are always aware of the new trends, and we're always eager to help you come up with fresh ideas on how to stay ahead of the curve. What kind of ideas, you ask? Great question.
Obviously, as a restaurant owner, you know that one of the most important parts of your establishment is your bar. The bar is simultaneously the easiest way to turn a profit and to keep your customers coming back for your exciting cocktails. But how do you make your cocktails exciting? Easy. Focus on the presentation. Everyone knows that presentation is key when it comes to serving a good meal, but that is equally as true for your cocktails. Making sure you're serving your drinks in fun drinkware is half the battle.
So, in the interest of helping your business be more successful, here are 3 unique new ways to serve your cocktails.
1) MOSCOW MULES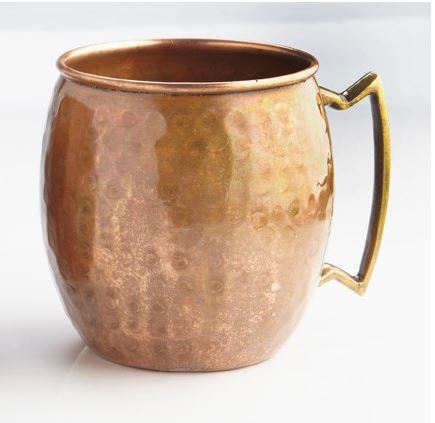 If you're not familiar, a Moscow Mule is typically a copper mug that is most commonly is used to serve the vodka cocktail of the same name. Don't be discouraged by the name, though. You can serve all kinds of drinks in a Moscow Mule. This kind of mug is extremely trendy right now as it has a "rustic" look to it. Our friends over at American Metalcraft make a great line of Moscow Mules that come in a series of different colors and finishes. This is an undeniably unique way to serve your cocktails that will make your customers want to come back to visit your restaurant, and will even make them willing to pay more for their drinks.
2) ANTIQUE COPPER SHAKER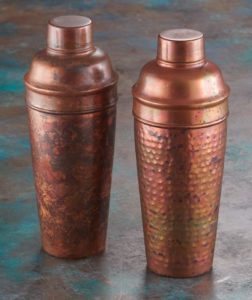 Presentation doesn't only mean the glass or mug you serve the drink it. It's also how the drink is prepared. When you're preparing drinks behind a bar, your customer is watching you make the drink, and it's important that your bar fit with the aesthetic that you have established throughout the rest of your restaurant. If you're going for an Old World look, American Metalcraft's line of antique copper shakers are the perfect look for you. These shakers are specifically designed to look old and worn, and they will add a sense of history to your bar that it may be lacking now. It's a subtle thing to change, but the small details can make all the difference when you're trying to establish a cohesive atmosphere throughout your entire front of house.
3) METALLIC SHOT GLASSES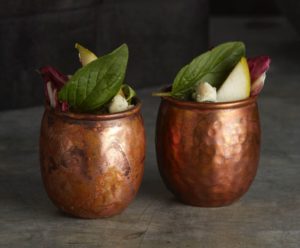 Keeping with the metallic theme of these suggestions, American Metalcraft's line of metal shot glasses will bring the theme together while still offering you an entirely unique way to serve shots to your customers. They come in a wide range of different colors that you could get to match your Moscow Mule and Antique Copper Shaker. Not only are these metal options something that will stick out in your customers' mind as something one of a kind, but also have the added benefit of not being as fragile as glass, and therefore wont need to be replaced as often.
Have question about American Metalcraft? Or want some more suggestions about how to make your restaurant stand out from the competition? Just ask your PJP Sales rep!