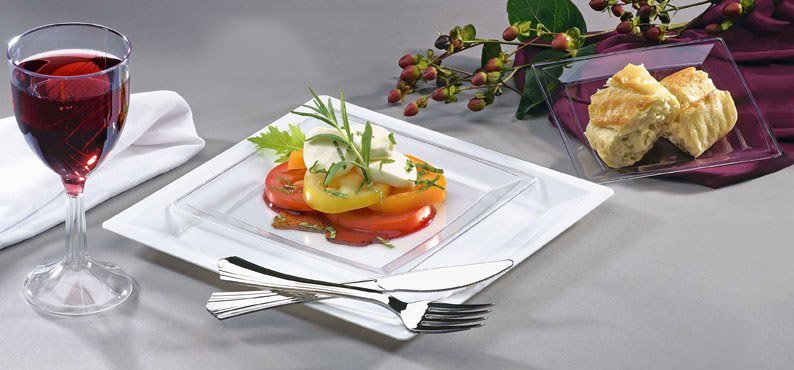 5 Things You Need For Your Backyard Wedding
Here in the Northeast, we just got a huge blizzard that covered us in ice. So if you're reading this blog from around Philadelphia, it might seem a little crazy to be talking about wedding season. But… it's halfway through March already! Spring is quickly approaching, and that means it's time for weddings, bridal showers, rehearsal dinners, and all sorts of other outdoor events.
As you know, weddings can be outrageously expensive, so a lot of couples are looking to reduce costs by having their weddings in their own backyard, or at least in a considerably less expensive outdoor space. So, as a caterer looking to provide your customers an outdoor catering option that will save them money, you're going to need the right tools to get the job done. Just because they want their wedding to be less expensive, doesn't mean they want it to feel cheap. So how do you find supplies that will provide an upscale look and feel without breaking the bank?
You guessed it! PJP is here to help. We've collected a handy list of products that will look amazing without costing an arm and a leg.


If you're having a wedding, bridal shower, or some other event in an outdoor space, one of the biggest expenses is going to be buying or renting the china to serve all your guests with. Even modest china can be an expensive thing to acquire for just one event. On top of that, lugging all of those pounds of porcelain from your kitchen to the event wastes time and energy. We've got a more cost effective, but still great looking option.
WNA's masterpiece premium plastic plates look so amazing it is nearly impossible to tell that they aren't fine china until you pick one up. They have a clean, classic look that will fit in at any place setting, but they're made completely of plastic, which means that they're not too expensive.  These plates are perfect for any backyard wedding that's looking to showcase a touch of class without emptying your bank account.

If you're going to have great looking disposable plates, you can't have cheap-looking plastic cutler to go along with it. You're going to want something that looks nice without having to use real metal cutlery. That's where Reflections come in.
Just like the Masterpiece plates, Reflections Plastic Cutlery look like the real deal. From a distance, you honestly can't tell that it's not real steel flatware. Once you pick it up however, you see that it's lightweight plastic. Reflections is the perfect choice to pair with the Masterpiece plates.


You guessed it. Once you have your plastic plates and your plastic cutlery, you're of course going to need plastic drinkware to go along with it. Cardinal Glass offers an amazing line of entirely plastic drinkware glasses and mugs called Outdoor Perfect.
Outdoor perfect is made from fully recyclable, BPA-free S.A.N plastic, and it withstands up to 2,000 cycles in industrial dishwasher. Unlike the Reflections and Masterpiece lines, Outdoor Perfect aren't disposable, but they are less expensive than traditional glassware, and they're a lot less likely to break in an outdoor setting. They really are perfect for any backyard event!
As great as Outdoor Perfect glasses are, you might still be looking for something disposable. WNA has a line of stemless plastic wine glasses that are still a perfect match for the Reflections and Materpiece plates and cutlery. Stemless wine glasses are trendy right now, so these plastic ones will provide an upscale and trendy look while still being relatively inexpensive and disposable.

Once you're done with all of that disposable plastic, you're going to need something to dispose of it in. That's where Party Time Disposable Trash Cans come into play. They're the perfect solution for outdoor events.
These trashcans come with their own trash bags, and can be easily set up in any location. Then, when the event is over, you can simply dispose of the entire container. This saves you the trouble of having to lug a bunch of plastic trash cans to an event. The trash cans are made entirely of card board, so they are also great for recyclable materials.
PJP can help you get all of these great items, and much more! So if you have any other questions on how to host an amazing backyard wedding or outdoor event, don't hesitate to ask your PJP sales representative!