The Bloody Mary
The Bloody Mary, the perfect brunch-time, hair of the dog cocktail to help bring you into the day. It's true that they're not for everyone, although, even those that don't like them will remember a strikingly good Bloody Mary when they see one. Whatever sort of bar or restaurant you may manage, you owe it to the tradition of the Bloody Mary to offer something special.

Disputed History
You would think that a cocktail as exotic as the Bloody Mary has an origin story that would be rather easy to pin down; alas (like many other cocktails) this is not the case. There are numerous claimants for the title of "The Inventor of The Bloody Mary" the most popular and earliest claim comes from Fernand Petiot. While Petiot was working at the New York Bar in Paris (later the infamous Harry's New York Bar), this claim is made by his granddaughter. She also states that the name comes from a customer named Mary who worked at a club called Bucket of Blood.
The second claim comes from the New York 21 Club, by bartender Henry Zbikiewicz, who claims he invented it in the 1930s. A third claim made by George Jessel, who was a 'regular' at the very same 21 Club. His drink of choice was "half tomato juice, half vodka" dubbed "the Bloody Mary."
Later, Petiot claimed to have enhanced the drink drunk by Jessel, adding salt, pepper, cayenne pepper, Worcestershire sauce, and lemon juice.
As for the name? Some have attributed it to bar patrons, some say Queen Mary I of England, others claim a handful of other historical figures. It's always difficult to get the whole truth in history, but adding vodka and tomato juice will make you forget sometime.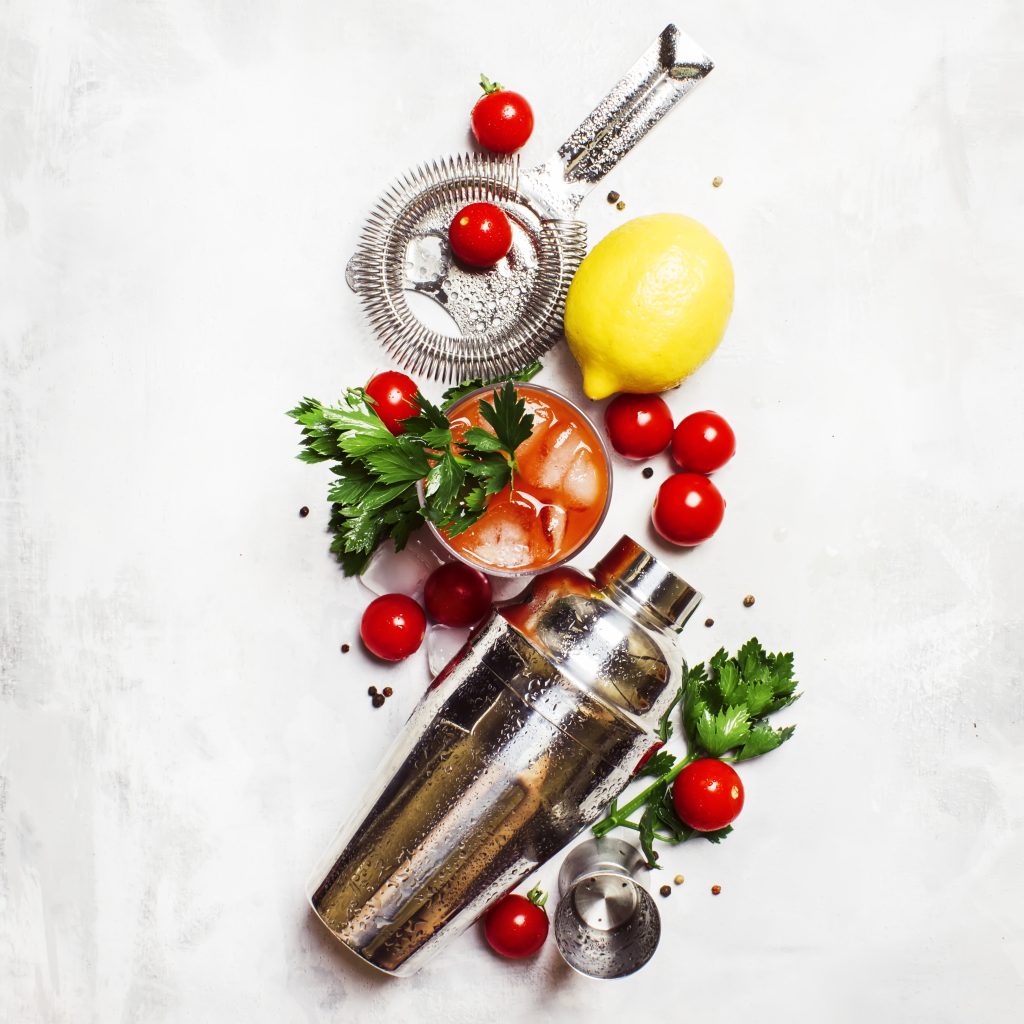 A Standard Recipe
The Bloody Mary is an official IBA cocktail, which means there's an official ingredient list for it; although – unlike many other classics- recipes can vary greatly from bar to bar. Here's the official IBA ingredient list.
1.5oz Vodka
3oz Tomato juice
0.5oz Lemon juice
2-3 Dashes Worcestershire Sauce
Tabasco
Celery Salt
Pepper
Glass: Highball
Garnish: Celery Stalk and Lemon Wedge
Preparation Method: Build in a shaker and roll with glass to mix ingredients


Mixing It Up!
This is where Bloody Mary's really come into their own! This is where you get to put your own signature on your bar's cocktail menu. So, let's go through all the elements you can change up to make your Bloody stand out from the crowd!
Liquor – To add extra flavor to your Bloody you can infuse your vodka with all manner of things: bacon, chili, herbs, spices, duck fat, etc. You don't have to use vodka. Many like a Bloody Maria, made with tequila, or you can swap the vodka out for bourbon, gin, rum, or anything else you'd like to use!
Ingredients – The tomato juice is a staple, but if you want to change it out for clam-spiked tomato juice (for example: Clamato) then you'll be making a Bloody Caesar. It is worth noting that Bloody Mary mixes can be bought, and whilst there are now some high-quality pre-mixes out there making it in-house almost always produces the best results.
As for adding ingredients to the list, you can just do you, but here are some popular suggestions: olive brine, steak sauce, pickle juice, molasses, bitters, lime juice, garlic salt, and horseradish.
Rims – It is becoming customary for Bloody Mary's to be garnished with salt or a seasoned rim. For these, you can mix or flavor your own salts, or buy them pre-made. One of the most popular options for a Bloody Mary rim is a salt and Old Bay seasoning mix.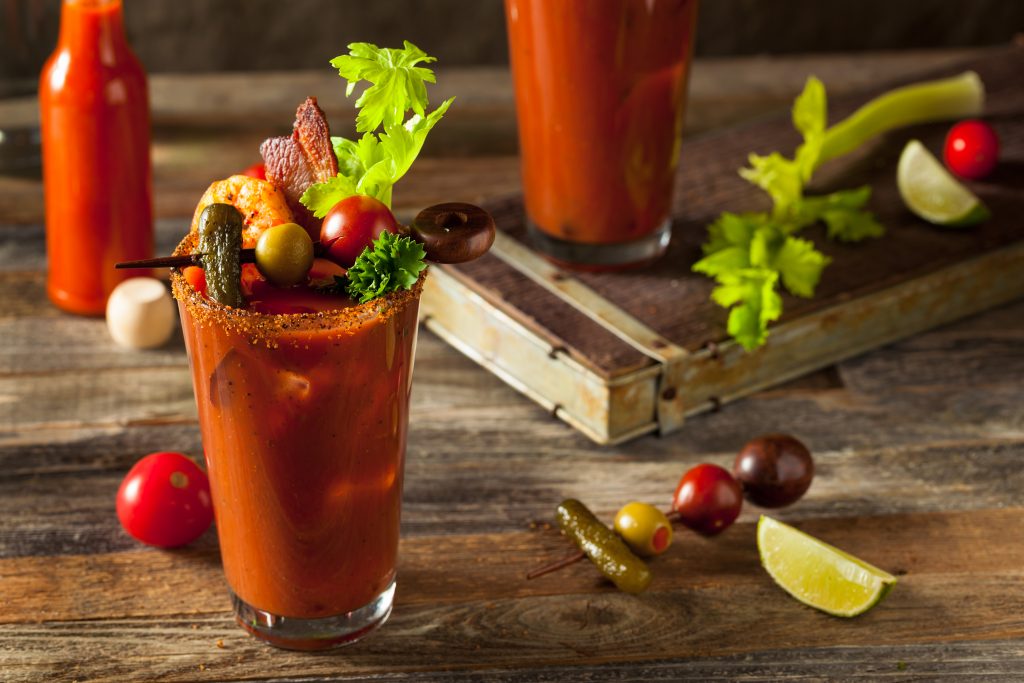 Garnishes are where you can really make your Bloody Mary stand out, this is where you can go crazy. Garnishes also make the drink very social media friendly, so here are some example garnish additions: olives, pepperoncini, celery, lime wedge, cheese cubes, bacon strips, shrimp, jalapeños, carrots, pickles, onion rings, mini sliders, and jalapeño poppers. Something worth noting is that celery is a staple garnish, and a Bloody without celery is often given a funny look; no matter how many other garnishes you put on there!
A good Bloody Mary is a sign of a quality bar program. If you can produce a Bloody Mary that wows the taste buds and the eyes, then you're sure to get a good reputation and some free promotion on social media from your guests.
Own your Bloody Mary! Look around your bar and your kitchen and see what you can do to reinvent this phoenix of a classic.