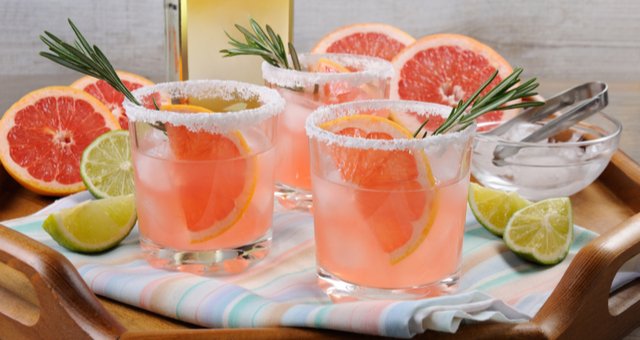 Five Essential Summer Cocktails
Summer's here and on a hot day, there are few better ways to cool off than with a refreshing libation.
Here are our five favorite cocktails to feature on your menu this season.
Boozy Basil Watermelon Cocktail
Fruity with a refreshing hit of herbs this cocktail is potentially perfect. Sweetness from the watermelon is balanced by the herbal quality of the Chartreuse and basil.

Ingredients
1⁄2 oz. fresh lime juice
1⁄2 oz. simple syrup
4 (1-inch) cubes pink or yellow watermelon flesh
3 fresh basil leaves
2 oz. tequila
1⁄2 oz. yellow Chartreuse
Instructions
In a cocktail shaker, combine the lime juice and zest with the simple syrup, watermelon, and 2 basil leaves. Using a muddler, crush the ingredients and then add the tequila, yellow chartreuse, and ice. Cover and shake vigorously for at least 15 seconds, and then strain into a Collins glass filled with ice. Garnish the cocktail with the remaining basil leaf before serving.
The All Day Rosé
A lovely shade of pink this cocktail is sweet with Lillet, and slightly sour from the tannic quality of the hibiscus, while Prosecco lifts and refines the whole experience with its bubbly effervescence.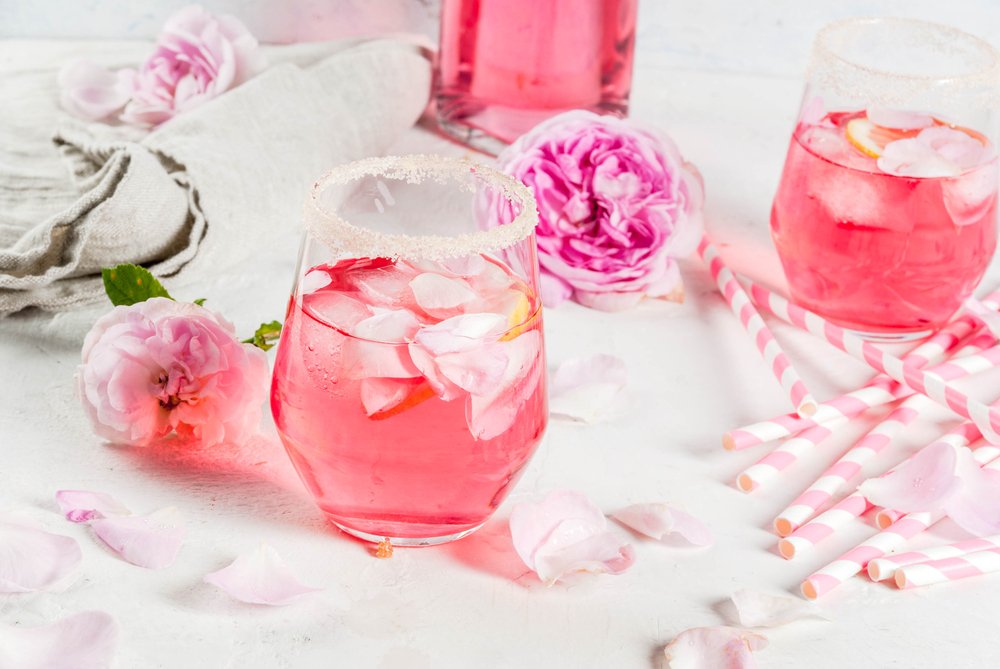 Ingredients
1 1⁄2 cups dry rosé wine
3⁄4 cup brewed hibiscus tea, chilled
3⁄4 cup Lillet Rosé
1⁄3 cup plus
1 tbsp. fresh lemon juice, plus wheels for garnish
1⁄3 cup plus 1 tbsp. simple syrup
3 tbsp. Aperol
Sparkling wine, for serving
Edible flowers, for garnish
Grapefruit slices, for garnish
Instructions
Combine wine, tea, Lillet, lemon juice, simple syrup, and Aperol in a pitcher. Divide between 4–6 ice-filled glasses and top each with 1–2 oz. sparkling wine. Garnish with lemon wheels, edible flowers, and grapefruit slices.
Grapefruit Paloma
Mexico's most refreshing cocktail, tequila is mixed with fresh citrus. Similar to a margarita only with a slightly different flavor profile and an added lightness thanks to the carbonation.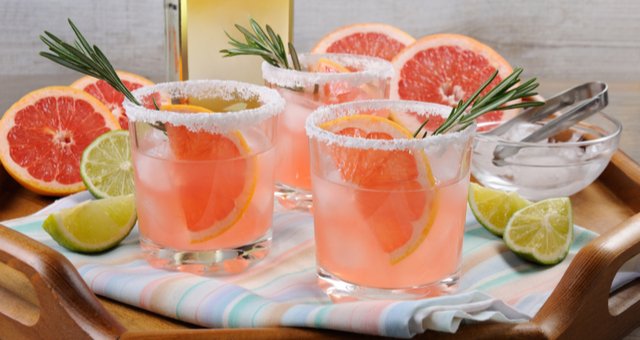 Ingredients
Kosher salt
1 grapefruit wedge
¼ cup fresh grapefruit juice
1 tablespoon fresh lime juice
1 teaspoon sugar
¼ cup mezcal or tequila
¼ cup club soda
Instructions
Pour some kosher salt on a plate. Rub half of rim of a highball glass with grapefruit wedge; dip rim of glass in salt. Combine grapefruit juice, lime juice, and sugar in glass; stir until sugar is dissolved. Stir in mezcal, add ice, and top off with club soda. Garnish with grapefruit wedge.
Blueberry Prosecco Smash
Jam, vodka, and Prosecco could easily become one note with its sweetness but this cocktail has just enough lemon juice to lift the drink out of the mundane and into one of the most refreshing and enjoyable cocktails on this list.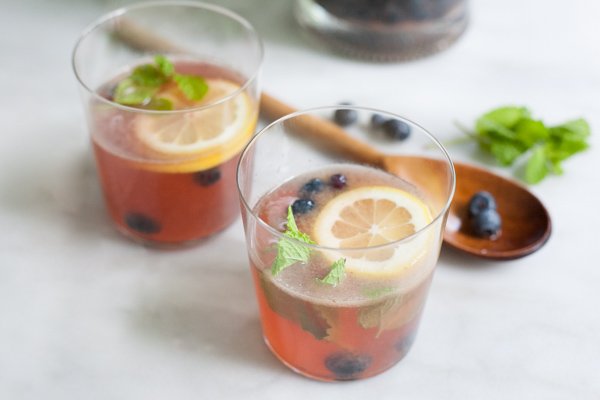 Ingredients
1 1⁄2 tbsp. blueberry jam
3⁄4 oz. fresh lemon juice
1 1⁄2 oz. vodka, preferably Ice Fox
3 oz. Prosecco
5 blueberries, to garnish
Sprig of fresh thyme, to garnish
Instructions
In a cocktail shaker, combine the jam, lemon juice, and vodka with ice. Shake vigorously for 15 seconds and then strain into an ice-filled rocks glass. Top with Prosecco and garnish with the blueberries and thyme.
Gin Campari Sour
Campari, gin, and lemon pair beautifully together, however, they all have their sharp edges. To mellow out the taste of this cocktail we add an egg white, which melds all the flavors together and adds a silky smooth texture and a contrast of color that we adore in this vividly hued libation.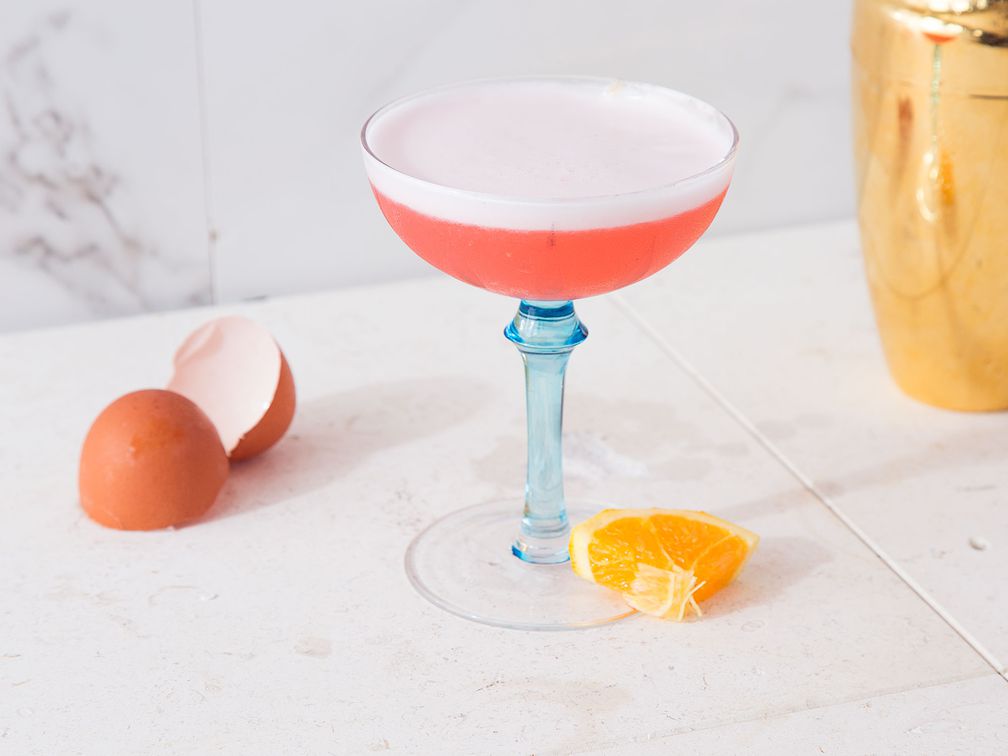 Ingredients
1 1⁄2 oz. gin, such as Plymouth brand
3⁄4 oz. Campari
3⁄4 oz. fresh lemon juice
1⁄2 oz. simple syrup
1 egg white
1 dash orange bitters
1 small orange wedge, to garnish
Instructions
In a cocktail shaker, combine the gin, Campari, lemon juice, simple syrup, bitters, and egg white, and shake until combined. Fill the shaker three-quarters full with ice and shake vigorously until the egg white is incorporated and frothy, about 1 minute.
Strain into a chilled coupe glass. Garnish with an orange wedge.