Come See PJP At The International Restaurant And Foodservice Show Of New York!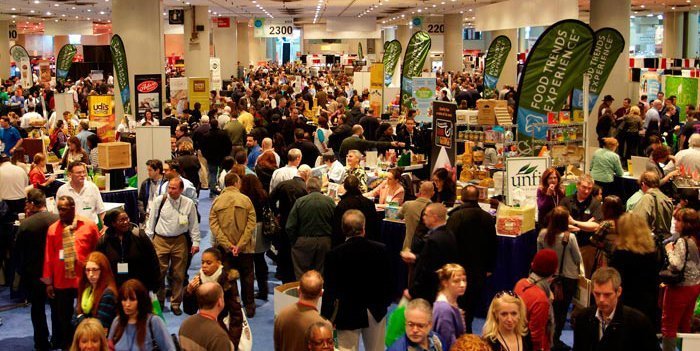 It seems like ever week on this blog we're talking about how PJP is always doing it's best to stay on the cutting edge of the Foodservice Industry. We want to be consultants for our customers, and part of that is knowing the foodservice industry inside and out. We want to know where the industry is going, and help our customers stay ahead of the curve.
A big part of that process is going to industry trade shows like the International Restaurant and Foodservice Show of New York. As you've probably guessed, PJP is going to be attending that show. If you're one of our great customers in New York, we hope to see you there! We decided to take the opportunity to give you a preview of some of the great things you'll see at the show (besides the amazing PJP table, of course).
The Food Trends Experience is an opportunity for you, as a foodservice operator, to find new flavors that can inspire you to create new and exciting dishes for your menu. There will be an amazing array of dishes on display, ranging from health food, organic options, artisanal creations, and much more. This is your chance to get your hands on some delicious, and exciting innovations in the culinary world, and use that to inspire you to create!
The Taste NY & Craft Beer Showcase is another opportunity for you to taste some of the delicious locally-sourced food grown right in New York. You'll get to try locally grown produce, syrups and sauces, cheese, honey, means, posta, wine, baked goods and more, all grown and made in the state of New York. This is a great opportunity for you to talk to local farmers and meet the people who produce the great ingredients you want to use in your restaurant.
The Culinary Demonstration Theatre is an opportunity for you to experience something that is educational, interactive, and entertaining for foodservice professionals. You'll see features chefs hosting live cooking demonstrations, and learn about all of the hot food trends in the industry. Oh, and of course you'll get to taste all of the delicious samples.
The International Restaurant and Foodservice Show of New York is going to be an amazing opportunity for chefs, operators, and really anyone who works in the foodservice industry to learn about what is new and what is trending. And of course, your favorite foodservice supplier, PJP will be there with our very own table! Come on down to visit us and meet some members of our amazing Sales team. You can find us at booth 2059!