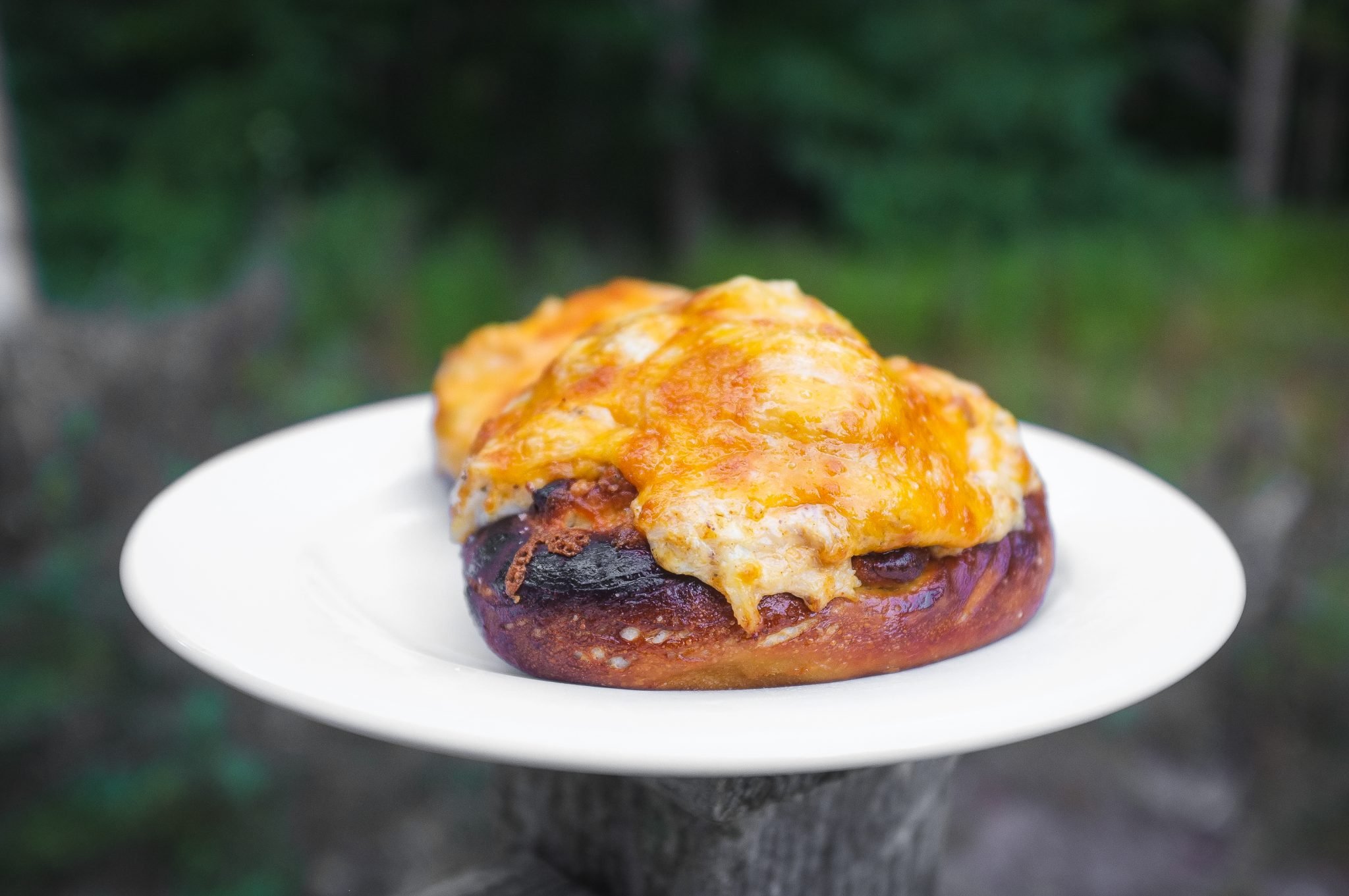 PJP Recipes: Pimento Cheese Crab Pretzel
Growing up in the South, summertime often meant a chance to escape to the beach. This in turn meant getting to stuff ourselves silly with all of the fresh seafood that wasn't as readily available further inland. A family favorite and a must-have item in any seafood feast was the blue crab. Years down the road, I still prefer crab to its nobler, pricier cousin: the lobster.
I'm also a huge fan of savory pastry and bread. Croissant, baguette, bagels, and, nearing the top of my carbo-loaded list: the soft pretzel. So imagine my surprise, my excitement, nay, my bliss, when I learned of the culinary Frankenstein that is the Maryland Crab Pretzel. Broiled crab dip on top of a fresh pretzel? I'm in.
Living in Maine, there's a definite lack of crab pretzels readily available. So I hacked a recipe together for home cooks. While not a "standard" version of the recipe, it's definitely something I would serve to guests, and may or may not have consumed an entire batch of.
Note: While most commercial soft pretzels use culinary lye as a proofing liquid, this recipe uses baking soda. This will produce a passable pretzel without the potential of releasing a caustic mess in your kitchen.
The Pretzel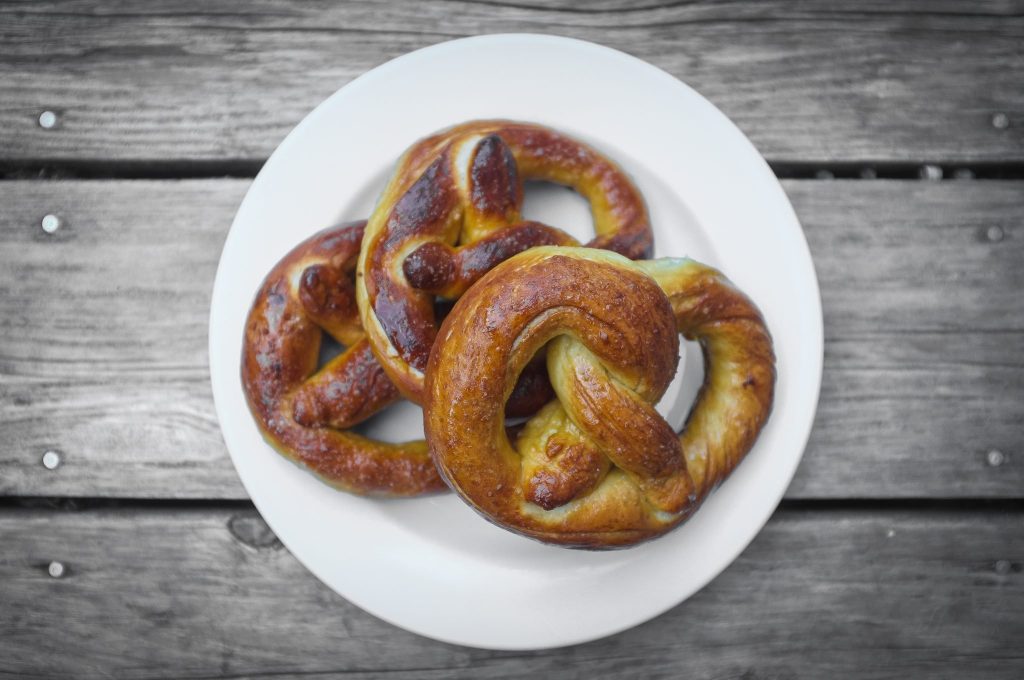 1 standard packet active dry yeast, about 2 1/4 tsp
1 C warm water
1 Tbl unsalted butter, melted
1 Tbl maple syrup
1 tsp salt
3 C all-purpose flour + up to 3/4 cup more if needed
2 cups water
4 Tbl baking soda
1/2C maple syrup
1 egg yolk
2 Tbl milk
1 Tbl coarse salt, for topping
Instructions
Preheat oven to 475 degrees and line a large baking sheet with parchment paper.
Combine yeast with warm water and 1 Tbl maple syrup in bowl. Yeast is activated once it begins to become frothy.
Add flour one cup at a time, mixing by hand, until dough forms and is no longer sticky. Knead by hand for ten minutes, turning regularly, until dough is springy when prodded. Return to bowl, top with tea towel or plastic wrap, and rest for 15 minutes.
Combine 2 C water, 1/2 C maple syrup, and 4 Tbl baking soda in sauce pan. Bring to a boil, then reduce heat to just below a simmer.
Cut dough into 6 evenly-sized pieces, and roll each out into a long rope, about 20in in length. 6. Watch about 30 minutes of videos on YouTube of people really good at making pretzels, resign yourself to the fact that you'll never be that good, then cobble together something that is vaguely pretzel-shaped.
Place pretzels into soda bath, and poach for about 1 minute each (I poached them individually), then arrange on prepared baking sheet. Pretzels should puff-up substantially while poaching.
Whisk together egg yolks and milk, and brush over top of pretzels. Top with coarse kosher salt.
Place in oven for 8 – 9 minutes, or until dark golden brown.

Crab Spread
8oz fresh crabmeat (I used Maine Peekytoe crab, but blue crab would be great, too)
1 C shredded sharp cheddar cheese
1 C shredded Monterey Jack cheese
8oz cream cheese, softened
1/2 C Duke's Mayonaise, or brown butter aioli recipe from our "Maine Lobster Roll" post
1 jalapeno, deseeded and fine diced
1 4oz jar diced pimentos
1 tsp chili vinegar or distilled white vinegar
1 tsp kosher salt
1 Tbl black pepper
Mix all ingredients except crab until evenly distributed, then add crab and gently mix. Further season to taste.
And the final act…Crab Pretzel

Top soft pretzel with pimento crab spread. Broil on high until cheese lightly caramelized.
Enjoy!
Think you have a recipe worthy of the PJP Blog? We want to know! Don't forget to share in the comments below or on any of our social media accounts. Follow us on Facebook, Twitter, Instagram, and YouTube!
Got any other questions for PJP's team of experts? We want to help! Just fill out the form below and a PJP expert will get back to you as soon as possible. PJP has been in the food service business for over 55 years and we are eager to share our knowledge and expertise with you.