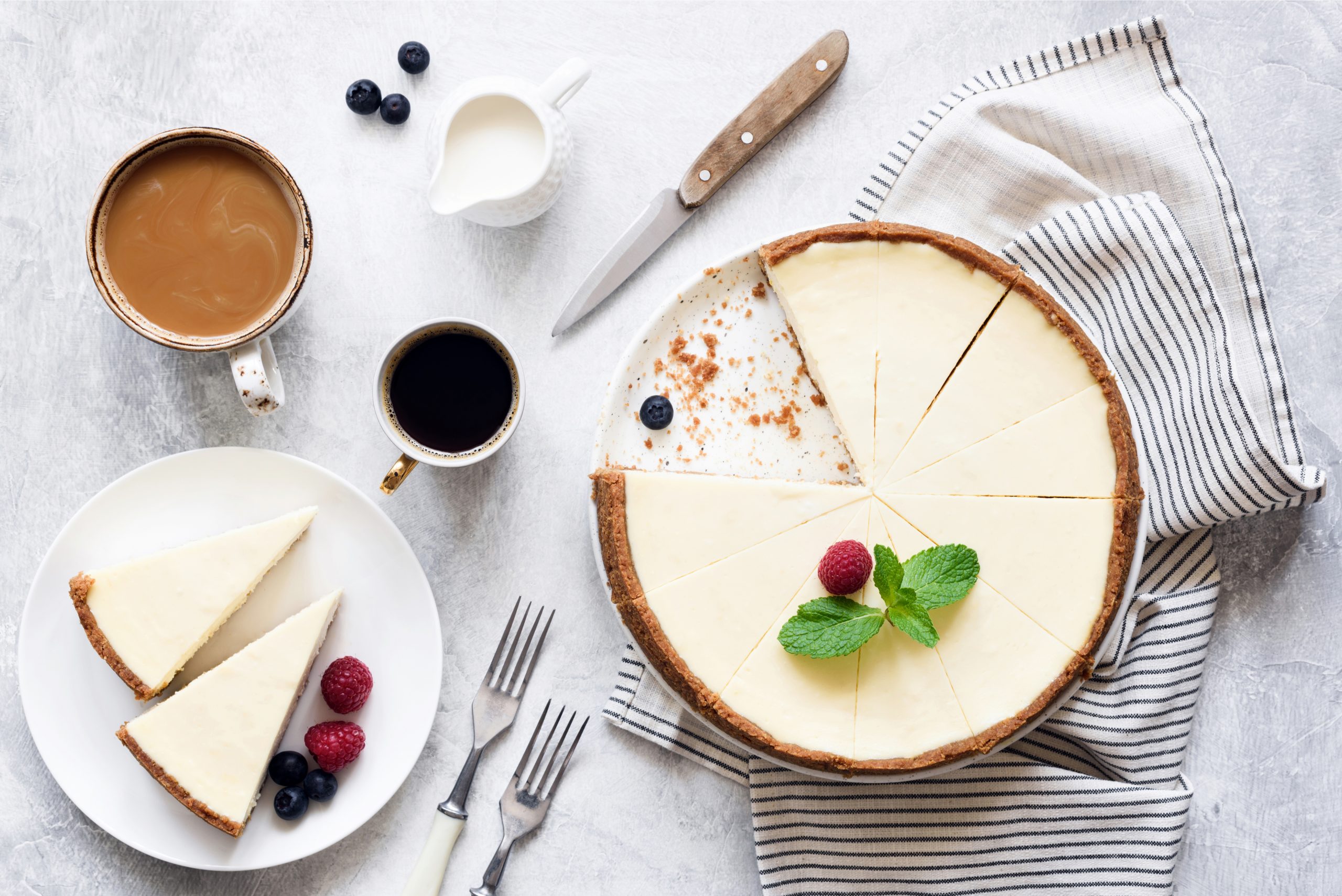 The Perfect Cheesecake Recipe for Your Menu.
Allow us to introduce you to your new favorite cheesecake. This insanely creamy New York-style cheesecake towers above the rest, literally. Measuring in at a whopping 4-inches, not only does it deliver on taste but also on presentation. Bringing all the classic flavors and textures we love about traditional cheesecake, then amping them way up. This cheesecake is creamy and flavorful in all of its perfection.
Preparation is Key
We like to line the bottom of our loose-bottomed cheesecake pan with tin-foil. This prevents sticking or leakage while aiding in separating the cheesecake from the pan. Once the cake has been unmolded, a gentle tug on the tin-foil exposes a small gap and makes it much easier to slip a spatula underneath. This provides a much easier transfer to a more knife friendly cutting surface.
All About that Crust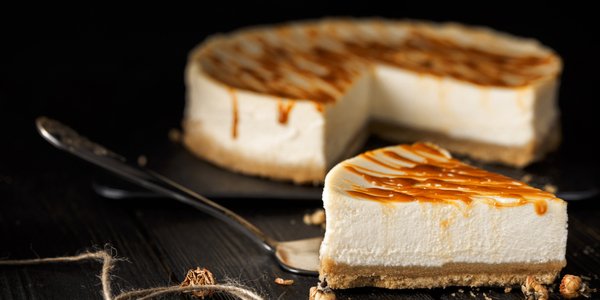 Let's face it, no matter what traditionalists say, the graham cracker crust on a cheesecake is the best way to go. You can use your favorite brand of graham crackers, but we've developed a penchant for Biscoff cookies which pack a delicious graham flavor.
A Surprising Twist
We like to spike our cheesecake batter with a trio of flavors not often encountered in your traditional New York-style cheesecake. Flavored with vanilla, lemon, and orange blossom this blend creates a cheesecake that tastes fresh and bright on the palate. When using just a small amount of each aromatic, the flavors never become too floral or overwhelming.
The Ultimate New York Cheesecake
Makes 9 10-inch rounds
Ingredients
For the Crust:
63 ounces Biscoff Cookies
9 ounces unsalted butter, melted
1 teaspoon salt
For the Batter:
18 lbs Cream Cheese, room temperature
3,090 grams Sugar
297 grams Cornstarch
6.8 ounces Vanilla Extract
2 ounces Orange Blossom Water
18 Eggs
6 oz. Heavy Cream
2.25 ounces Lemon Juice
Instructions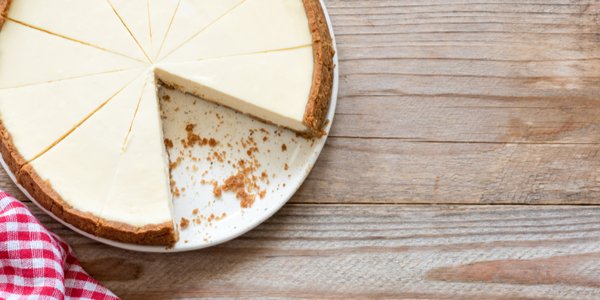 If using a pan with a removable bottom, wrap the round bottom piece in foil before assembly, then tear away any excess that might make your cake uneven. If using a traditional round cake pan, grease it then simply line the bottom with parchment paper.
Preheat the oven to 350F.
In a food processor, blitz the cookies until they form a fine crumb then transfer to a large bowl, add in your melted butter and salt. Then divide crust evenly between your 9 prepared pans.
Bake cheesecake crust for 10-12 minutes til' fragrant and the edges have gotten slightly darker, then set aside to cool while you continue with the filling.


In the bowl of a standing mixer combine cream cheese, lemon juice, vanilla extract, and orange flower water but do not add the sugar yet. Fitted with the paddle attachment begin to mix on low until roughly combined, then increase the speed and mix until no lumps of cheese remain. Pause to scrape the bowl and beater then reduce the speed to medium-low, and add the sugar all at once. Mix briefly, just until combined. Add in your eggs beating after each addition until the batter is homogenous.
In a stainless steel saucepan, bring the cream to a full boil. While mixing your cream cheese amalgam on low, add the hot cream in a steady stream, and mix a few seconds more. This will warm the batter and help release any air pockets introduced during mixing.
Pour the batter into the prepared pans, place on a baking sheet and bake until the outer edge of the cheesecake feels firm, but the center is still wobbly when you shake the pan. This should take approximately 45 minutes. If you still feel uncertain after the wobble test you can check the internal temperature of the cheesecake with a thermometer. Once it registers 145°F you're good to go.
Let the cheesecake cool for several minutes, then run an offset spatula around its circumference to loosen. Continue letting it cool at room temperature for about an hour then cover and refrigerate, at least 12 hours and up to 72.