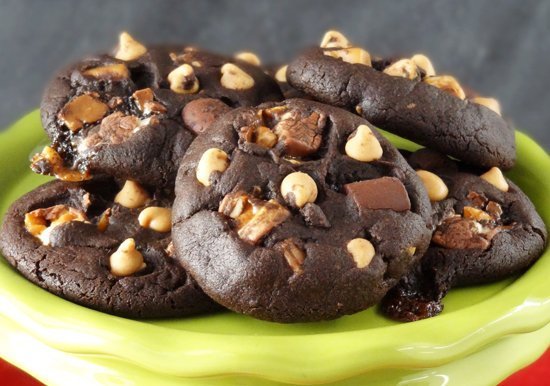 3 Candy-based Dessert Recipes To Make Your Halloween Party A Hit
Halloween is one of our favorite holidays here at PJP. We love taking the opportunity to dress up and impress our coworkers with our awesome costumes. We love sharing spooky ghost stories and trying to see who gets the most scared. We love all the beautiful fall foliage and… Ah, who are we kidding? We just love the candy!
It's no surprise that Halloween is the biggest Candy Holiday of the year. American's purchase 600 Million Pounds of candy for Halloween each year. To put that into perspective, the Empire State Building weighs 730 Million pounds. That's right, American's buy almost an entire Empire State Building's worth of Candy for Halloween in just one year. To be fair to us Americans, candy is really delicious.
Since Candy is so darn delicious and Halloween is just around the corner, we decided to share with you some of our favorite candy-based dessert recipes! If you're hosting a Halloween party this year, your guests will go absolutely crazy for these amazing treats.
1) SNICKERS Chocolate Cookies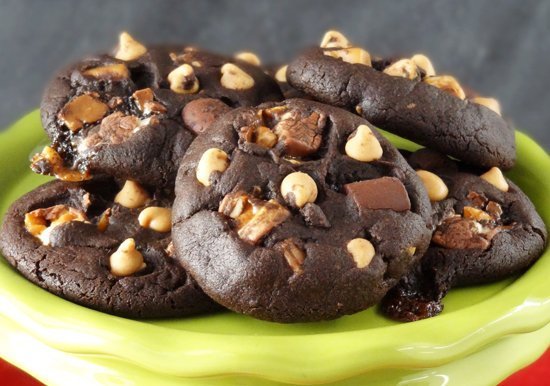 Ingredients:
1/2 cup butter + 2 tbsp
1/2 cup brown sugar
1/2 cup sugar
3/4 cup peanut butter
1 egg
1 tsp vanilla extract
1 1/4 cups flour
1/2 cup cocoa
1 tsp baking soda
2 tsp cornstarch
1/2 cup chopped snickers (about 9 mini bars)
1/3 cup chocolate chunks
1/3 cup peanut butter chips
1/3 cup caramel pieces, chopped (about 8 caramels)
Instructions:
Cream butter and sugars together until light and fluffy, about 3-4 minutes.
Mix in peanut butter, egg and vanilla extract.
Add flour, cocoa, baking soda and cornstarch and mix until combined.
Stir in chopped Snickers, chocolate chunks, peanut butter chips and chopped caramels . Dough will be thick and sticky.
Chill for at least 2 hours or overnight.
When ready to bake, preheat oven to 350 degrees.
Make balls about 1 1/2 to 2 tbsp in size. Flatten out a bit and place onto a cookie sheet lined with parchment paper. Because of the cornstarch in the recipe, the cookies will not spread much.
Bake for 8 minutes, or until the edges look firm but the center is still soft.
Cool for 1-2 minutes on cookie sheet, then finish cooling on a cooling rack.
Recipe courtesy of Live Love and Sugar.
2) Reese's Peanut Butter Cup Surprises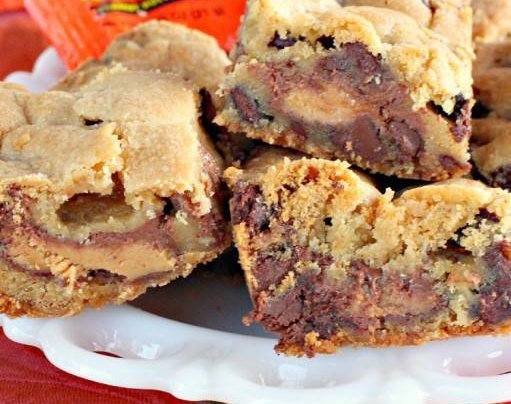 Ingredients:
2 sticks softened butter
1 ½ cups brown sugar
½ cup sugar
2 eggs
2 ½ tsp. real vanilla
1 tsp. baking soda
1 tsp. baking powder
¾ tsp. kosher salt
2 ½ cups Gold Medal UNBLEACHED all-purpose flour (bleached flour toughens baked goods)
12-oz. bag Hershey's semi-sweet chocolate chips
24 .75-oz. Reese's milk chocolate peanut butter cups
Instructions:
Mix butter, brown sugar, sugar, eggs, vanilla, salt, baking powder and baking soda in a mixing bowl with a whisk or electric mixer.
Stir in flour and chocolate chips with a wooden spoon to combine.
Divide half the dough and spread it into the bottom of a 9×13" glass baking dish that's been sprayed with cooking spray.
Remove wax paper wraps from peanut butter cups.
Layer peanut butter cups 4×6 for a total of 24 peanut butter cups.
Press remaining cookie dough over top of the peanut butter cups.
Bake at 350° for about 35-40 minutes or until set.
Recipe courtesy of Can't Stay Out of the Kitchen.
3) Butterfinger Krispie Treats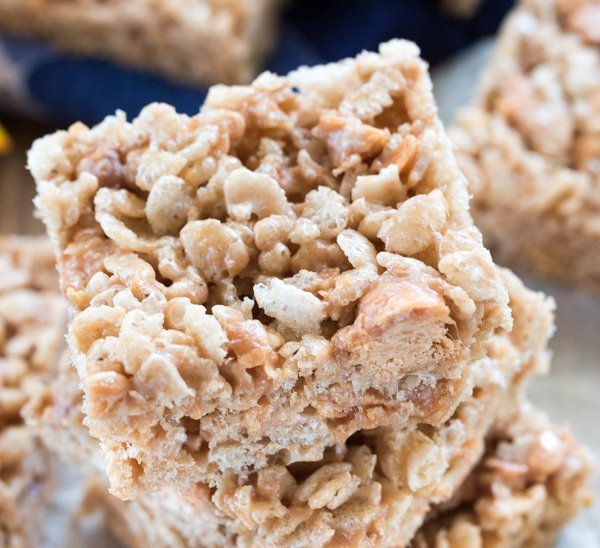 Ingredients:
3 tablespoons butter (salted or unsalted), melted
10 ounce bag marshmallows
1 teaspoon vanilla extract
6 cups rice krispie cereal (or generic equivalent)
2 cups chopped Butterfinger candy bars
Instructions:
Line a 9×13″ pan with foil and spray well with cooking spray. The foil is optional, but it makes it easy to remove the bars to slice.
Place butter and marshmallows in a large microwave safe bowl. Heat on 50% power in 1 minute increments, stirring after each, until melted and smooth (for about 2-3 minutes in an 1100W microwave). While the mixture is heating, measure the cereal into another bowl.
Working quickly once the marshmallows are melted stir the vanilla into the marshmallow mixture. Add the cereal and Butterfinger bars and stir until all are combined with the melted marshmallow. Pour into prepared pan. Spray your hands with cooking spray and carefully press to compact. (The mixture is hot; be careful not to burn yourself!) Cool before cutting into squares. Store in an airtight container for up to 3 days.
Recipe courtesy of Crazy for Crust.