3 Great Flatware Designs To Improve Your Tabletop Presentation
There is much more to a good meal than just the food. Presentation, as you know plays a huge roll in not just how our meals taste to us, but more importantly, in how we perceive the value of that meal. If you are the owner of a high class restaurant, your patrons will expect a certain level of quality in the presentation of your dishes. If they do not get that quality, they won't perceive your restaurant as having been worth the expense, no matter how good your food is. A lot goes into the presentation of a high quality dish, but something that often gets overlooked in that process is the flatware.
It might seem like a silly thing to say, but let's be honest; you don't want to eat Filet Mignon with a plastic fork, right? No, if you're sitting down at a nice restaurant you want to feel the weight of a quality piece of flatware in your hand. It may seem like nit-picking, but there are many small factors that play a role in your customer's overall experience at your restaurant, and quality flatware is one that cannot be overlooked.
So, do you want your restaurant to deliver high quality presentation as part of your customer experience? Do you need similarly high quality flatware to make that a reality? As always, PJP has you covered. One of our vendors is Oneida, who offers a wide range of quality flatware. Oneida has a proud tradition of designing flatware that is both decorative and functional. This tradition is deeply rooted in strong design fundamentals. Below, we're going to highlight three of the design perspectives that inform much of Oneida's newest flatware.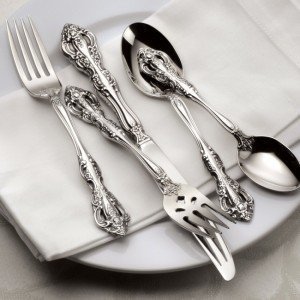 1) Baroque
Newly Unveiled, Oneida's Michelangelo collection is the culmination of intricate, ornamental design and unparalleled craftsmanship. The elegant details show traditional Baroque design of campus leaf and floral elements. Baroque designs are appropriate for vintage or retro cocktail lounges as well as high end hotels and restaurants. This design adds an element of old world class to your table and will enhance the branding of any establishment trying to capture that atmosphere.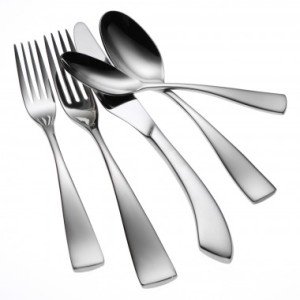 2) Modern
Modern style actually contains three different subsets. Mid-Century, which is typically identified by a 50's-60's "funky" look; Bauhaus which is of German invention and classified by a "form is function" look; and finally Scandinavian design, which is known for a fluid shape and heavy weight. Modern design is a perfect fit for any fine dining restaurant. The weight of the flatware gives your customers the impression that they are getting the quality they are paying for.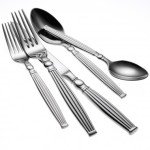 3) Classic
Classic design is known for its geometrical shape. One great example is the Colosseum collection. It's pillared look represents the geometric feel of classic design and can help your restaurant reinforce the identity of your brand.