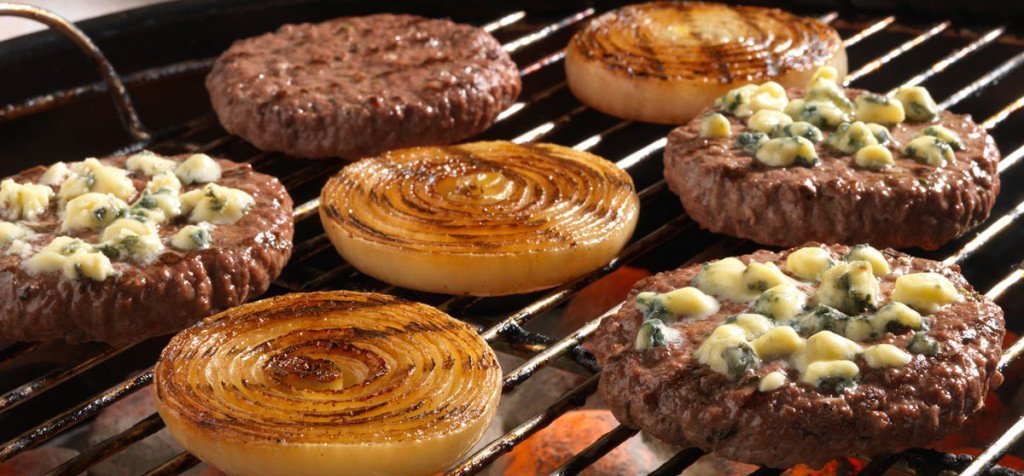 4 Amazing Burger Recipes That Will Make This 4th of July The Most Delicious One Ever
We're just a few days away from the most American of all national holidays. The 4th of July is, as always, a time to celebrate America's independence with incredible fireworks displays, but it's also a holiday for something that is just as, if not more, American: Grilling hamburgers.
That's right. There isn't a food more American than a grilled cheeseburger on the 4th of July. You probably already have plans to to grill up some delicious patties of ground beef for your upcoming backyard barbecue. We're willing to bet that you also hadn't planned on doing anything special with your burgers. Just the standard beef, probably frozen, some cheese, a standard bun.
Boooooooooooring.
Here at PJP we demand a higher culinary standard. Don't get us wrong, we'll chow down on any kind of burger you put in front of us. We're not so snobbish we won't eat a plain old cheeseburger. But, come on. Don't you want to stand out from the crowd? Don't you want to give your guests something to remember and talk about? Don't you want to up your burger game? Last year, we helped you take your backyard barbecue to the next level with some of our products. This year, PJP is gonna help you raise that level even further. We've compiled some of our favorite unique hamburger recipes from around the web and listed them here. Read on, Grillmaster. Be inspired. Take that inspiration to your kitchen and create one of these delicious recipes, or concoct and equally delicious recipe of your own. But this 4th of July, don't settle for mediocre burgers.
1) CHEDDAR BACON RANCH BURGER BOWLS
Video and recipe from the Tasty YouTube Channel.
Servings: 6
INGREDIENTS:
1 ½ cups cheddar cheese, shredded
½ cup cooked bacon, cut into pieces
2 jalapeños, minced
½ cup ranch dressing
2 pounds ground beef
1 teaspoon salt
2 teaspoons pepper
6 burger buns
12 pieces of lettuce
PREPARATION:
1. Combine cheese, bacon pieces, jalapeños, and ranch in a bowl. Stir together and refrigerate.
2. Season the ground beef with salt and pepper in a large bowl, and mix in with your hands.
3. Grab a baseball-sized piece of beef. Roll it with your hands into a ball and place on a parchment lined baking tray.
4. Using a clean, empty soda or beer can, press the ball of beef around the can to create a bowl. Make sure to smooth out any cracks.
5. Fill the bowls with the cheddar mixture and refrigerate for 2 hours.
6. Preheat the grill to 350˚F/175˚C.
7. Cook burger bowls over indirect heat for 25-30 minutes.
8. Serve with or without a bun with your favorite toppings.
9. Enjoy!
2) CHEESEBURGER ONION RINGS
Video and recipe from the Tasty YouTube Channel.
Servings: 6-8 rings
INGREDIENTS
1 pound ground beef
1 teaspoon salt
½ teaspoon pepper
1 teaspoon garlic powder
¼ pound cheddar cheese, cut into 1-inch squares
1 large white onion
1 cup flour
5 eggs, beaten
3 cups panko bread crumbs
Oil, for frying
Ketchup
PREPARATION
1. Heat oil in a pot over medium heat to 350℉
2. In a bowl, mix together the ground beef, salt, pepper, and garlic powder.
3. Peel and slice the onion into 1-centimeter rings, and detach the rings from each other.
4. Take a spoonful of the beef mixture and press it into the bottom of a ring.
5. Push a cheddar square into the center of the beef.
6. Seal the top with another spoonful of the beef, pressing it flat.
7. Repeat with the rest of the rings.
8. Place the flour, eggs, and bread crumbs into three separate bowls.
9. Dip a ring into the flour, shaking off excess, then into the egg, the bread crumbs, then back to the eggs, and one last time into the breadcrumbs.
10. Repeat with the remaining rings.
11. Fry the rings for 5-6 minutes, until deep golden-brown.
12. Drain on a paper towel, then serve with ketchup!
3) LOCO MOCO RICE BURGER
Video and recipe from the Tasty YouTube Channel.
INGREDIENTS:
leftover rice to form rice 'buns'
soy sauce
3/4 lb of ground beef
1/3 cup of onions, chopped
3 garlic cloves, minced
1/3 cup of panko
1 tsp of Worcestershire sauce
1 tsp of oyster sauce
8 oz of sliced mushrooms
1 cup of beef stock
1/2 Tbsp. of soy sauce
1 Tbsp. of cornstarch slurry (1 Tbsp. of cornstarch dissolved in 1 Tbsp. of water)
2 sunny side up eggs (optional)
chopped scallions as garnish
PREPARATION:
1. Form 'burger buns' with rice. Firmly pack rice into your desired thickness. Pan fry until both sides are lightly crisped. Brush soy sauce on both sides of the rice buns and continue to fry until it gets some color. Set aside.
2. Form burger patties with ground beef, panko, onions, oyster sauce, Worcestershire sauce and garlic. Heat pan over medium. Fry patties to your desired doneness. Set aside.
3. In the same pan, add mushrooms. Cook until soft. Pour in beef stock and soy sauce. Thicken with cornstarch slurry.
4. Optional: If using, prepare eggs, sunny side up or over easy go well with this loco moco rice burger.
5. Put the burger together. Start with the rice 'bun', then the beef patty, cover with gravy, top with an egg, sprinkle on some scallions and top with another rice 'bun'. Enjoy!
4) BLACK BEAN BURGERS
Video and recipe from the Tasty YouTube Channel.
Yields 4 patties
INGREDIENTS:
2 cans black beans, rinsed and drained
1 onion, minced
3 garlic cloves, minced
2 carrots, shredded
1/2 cup quick oats
1 Tbsp. soy sauce
1 Tbsp. olive oil
1 tsp cumin1/2 tsp coriander1/2 tsp chili powder1/4 tsp cayenne pepper
Salt and pepper to taste
PREPARATION:
1. Heat one tablespoon of olive oil in a pan. Combine onions, garlic, salt, and pepper and cook until onions are translucent.
2. Add carrots, cumin, coriander, chili powder, and cayenne pepper until carrots are tender.
3.Remove pan from heat.
4. In a bowl, mash the beans and then add the contents of the pan along with the soy sauce and quick oats.
5. Mix and form four patties. Place in freezer for 30 minutes to set.
6. Cook patties on a pan coated in cooking spray over medium heat, flipping halfway.
7. Use patties to create your dream veggie burger.
There you have it, Grillmaster. Now you know how to make the best burger ever. Making great burgers is the dream of ever host on the 4th of July, and now you have 4 easy hamburger recipies to work with. And don't forget, that PJP has all of the equipment and supplies you will need to get the job done.