4 Packaging Resolutions For Your Business This New Year
As we approach the end of another year the time as come to reflect on our successes and our failures. The New Year is a time to take an honest look at yourself, figure out what is going well, and what isn't. It's a time to make the necessary changes to improve your life. We make New Year's Resolutions to lose weight, to spend more time with our families, to finally beat Brian in fantasy football and wipe that smug smile off his face. Stupid Brian…
At PJP, we thought it would be a good idea to apply the same reasoning to our businesses. What steps can we take this year to take our company to the next level? What daily changes can we make that will help us get our desired results?
One of the most common missed opportunities we see from food service operations is the opportunity to take their packaging more seriously. Sometimes it isn't always the best option to just go with an inexpensive white foam clam shell container. So, with that in mind we came up with a few resolution ideas for you to take your packaging to the next level.
1) GO GREEN


We only have one Planet to live on, and we're all aware that disposable plastic and Styrofoam can cause huge ecological problems. If you want your business to be a little more eco-friendly you can always make the switch to greener solutions when it comes to your packaging. There are a lot of options out there that look fantastic and are also compostable or biodegradable. Luckily, PJP has partnered with a lot of vendors with a commitment to the environment and sustainable packaging solutions.
One such vendor is World Centric.
World Centric is a company that was started in as a socially responsible company that provides zero waste solutions to reduce environmental impact. They envision a world where everyone's basic needs are met with a beneficial impact on the environment. Not only are all of World Centric's products sustainable, but they also donate at least 25% (sometimes as high as 90%) of their profits to environmental charities.
As an added benefit, if you have environmentally friendly packaging, you will attract like-minded individuals to your business. People who are conscious of the environmental hazard packaging can have on our planet will seek out businesses like yours when they spend their money.
2) BE MORE FUNCTIONAL


Let's be honest. Packing is about function. Don't get us wrong, presentation is as important with packaging as it is anywhere else, which we'll talk about in a minute, but you should never sacrifice functionality.
For example, when buying packaging you'll want to look for PET plastics instead of things like OPS. First, PET is a lot more widely recycled, and therefore fits more in line with our first resolutions. Second, PET is great for both hot and cold foods, whereas OPS is only good for cold foods. Finally, PET is usually a lot more transparent than OPS, which lets the packaging get out of the way and lets your food tell the story.
Another way to go with more functional packaging is to pick something that your customers can microwave. Like Anchor Packaging's Microraves line of microwaveable packaging. Whether your a restaurant using it for to-go boxes, a bakery sending your customers home with fresh baked goods, or a grocery store with take-out options, you'll want to send your customers home with packaging they can use to reheat their food if they want. This may seem like a small thing, but your customers will love it, and it will be another reason they'll want to return to do more business with you.
3) STAY WITH THE TRENDS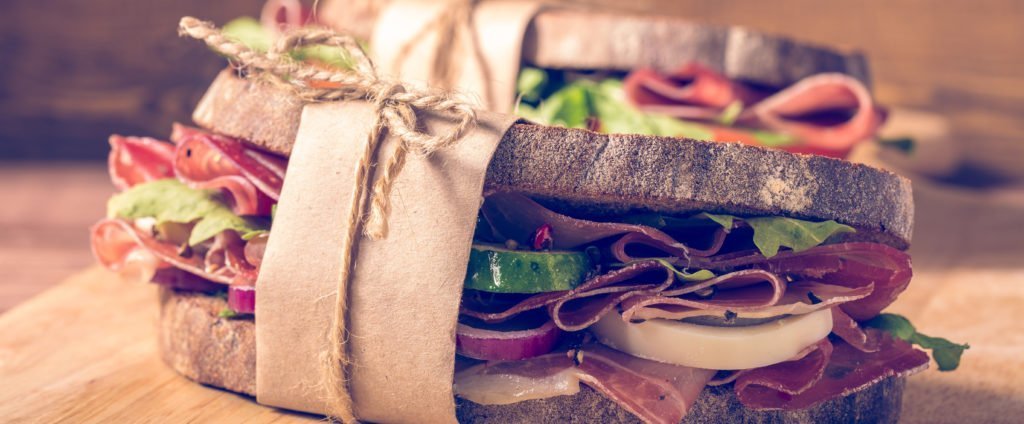 Part of running a foodservice operation means keeping up with an the ever changing world of food trends. And that doesn't end with your food. It continues through to every part of your business. If you want your business to seem modern, you need to keep updating it, and that includes your packaging.
Depending on your business, this could mean anything from switching to a craft paperboard box, to forgoing a to-go box entirely and switching to something like a paper bag. There are plenty of unique ways to present your food that will make you stand out in your customers eyes.
We all know that presentation is part of providing a great dish. If your food doesn't look good, your customers will actually assume it tastes worse. Most people don't consider it, but the presentation of your food extends beyond the food itself. It extends to the china you serve it on, the flatware your customers use to eat it, the overall decor of your restaurant. It all factors in to your customers assumptions about how your food will taste, and those expectations will affect their final opinion of your food. Packaging is no different. If you don't take the same care with your to-go containers as you do with everything else, it will affect your customer's perceptions of the food. So make sure your to-go food looks as good as the food you are serving in house.
4) BRANDING, BRANDING, BRANDING


We've spent plenty of time on this blog talking to you about the importance of branding, and nowhere is it as important as on your packaging. The beauty of branding your to-go packing is that your customers take it home with them to be a constant reminder of the positive experience they had at your restaurant, supermarket, etc. Putting your logo on your go to packaging will make your brand more recognizable to your customer base, and make them more likely to remember to come back.
At PJP, we offer tons of options when it comes to custom branding your packaging. We can mock up what your new branded packaging will look like and present it to you before you place an order. Branding your to-go boxes and bags really is a no-brainier for a business of any size.
Got any other questions about how to up your packaging game? Just ask your sales person!