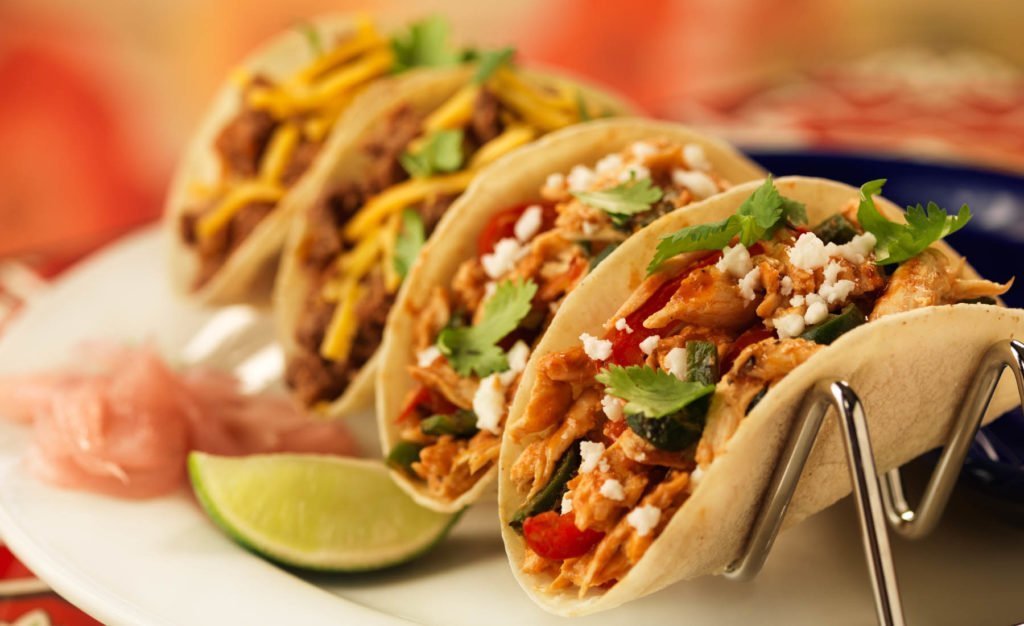 5 Delicious Taco Recipes Even Though We're Two Days Late For National Taco Day
Okay, yes. Technically National Taco Day was two days before we released this blog. We're late again. Obviously we're not great at being timely when it comes to blogging about national days.
But you know what? Who cares? It's tacos. At PJP, every day is National Taco Day!
To celebrate, we decided to share with you some of our favorite taco recipes from the Tasty youtube channel! Get your bib ready, because these videos are going to have you drooling.
SLOW COOKER CARNITAS
Serves 4-6
INGREDIENTS
3 ½ – 4 pound boneless pork butt/shoulder, cut into six equal pieces
2 teaspoons salt
1 teaspoon pepper
1 tablespoon oregano
1 tablespoon cumin
8 cloves garlic, crushed
1 medium onion, quartered
3 bay leaves
1 lime, juiced
1 large orange, juiced (save the spent halves)
Optional Toppings
Tortillas/taco shells
Rice
Black beans
Salsa
Guacamole
Sour cream
Cilantro
Cheese
PREPARATION
In a slow cooker, add cut pork, salt, pepper, oregano, cumin, garlic, onion, bay leaves, and lime juice. Juice the orange and add it to the cooker as well. Mix together until the meat is well-coated.
Cover and cook on low for 8-10 hours, or until the meat pulls apart easily.
Remove the pork and transfer to a foil-lined baking sheet. Shred the pork and spread across the baking sheet in a single layer.
Pour about 1 cup of the liquid remaining in the slow cooker over the shredded pork. Broil for 5-10 minutes until the meat browns and crisps along the edges.
Serve immediately. Great as a filling in tacos, burritos, salads, or nachos!
Enjoy!
Grilled Shrimp Tacos with Creamy Cilantro Sauce
Servings: 12 Tacos
INGREDIENTS
2 pounds shrimp, deveined & tails removed
1 teaspoon paprika
1 teaspoon garlic powder
½ teaspoon dried oregano
1 teaspoon cumin
½ teaspoon red pepper flakes
½ teaspoon salt
24 bamboo or metal skewers
4 tablespoons olive oil
Creamy Cilantro Sauce:
1 cup sour cream
3 tablespoons cilantro, minced
1 teaspoon lime zest
¼ teaspoon salt
2 tablespoons lime juice
1 ½ cups green cabbage
1 ½  cups red cabbage
1 tablespoon jalapeño, minced
24 corn tortillas
Toppings
PREPARATION
In a large bowl, season shrimp with paprika, garlic powder, oregano, cumin, red pepper flakes, and salt. Toss gently to combine.
Using 2 bamboo or metal skewers poke through the top and bottom of the shrimp and push down to the bottom of the skewer. Add 3 more shrimp to the same skewer and repeat until all of the shrimp are used.
Right before you put the shrimp on the grill, brush each skewer with a generous amount of olive oil, to prevent sticking.
Grill over high heat for 3 minutes, brush the top side with more olive oil, flip, and let cook for an additional 3 minutes. Remove from skewers & set aside for taco assembly.
In a bowl, combine all creamy cilantro sauce ingredients. Stir well to combine.
In a large bowl, combine green cabbage, red cabbage, and minced jalapeño. Pour half of the sour cream mixture over the cabbage, saving the other half for extra sauce to put on the tacos.
Assemble the tacos on corn tortillas. Add the cabbage mixture, followed by the shrimp. Top with the creamy cilantro sauce, cilantro, and a squeeze of lime juice.
Serve & enjoy!
Buffalo Cauliflower Tacos
Servings: 6-8 tacos
Ingredients
For the cauliflower:
1 Head of Cauliflower
2 tsp garlic powder
1 tsp salt
1/4 cup hot sauce
2 tablespoons butter, melted
For the tacos: (mostly optional, but recommended)
10 flour tortillas or 1 head butter leaf lettuce (or both, go crazy!)
1/2 cup halved cherry tomatoes
1 avocado, cubed
1/4 cup blue cheese or ranch dressing
Instructions
Preheat oven to 425ºF / 218ºC
Cut the head of cauliflower in half. Using your hands, pluck bite sized florets from each half. Trim bottoms of florets as necessary.
Toss the cauliflower in a large bowl with the garlic powder, salt, hot sauce, and melted butter.
Spread cauliflower on a baking in a single layer and roast for 40 minutes, mixing after 20.
Assemble your tacos with your preferred toppings and shell and eat.
Shrimp and Avocado Salad
Ingredients
1 lb jumbo shrimp
3 limes
salt and pepper, to taste
1 head of romaine lettuce, chopped
1/2 cup cherry or grape tomatoes, halved
1/3 cup cilantro leaves, roughly chopped
2 avocados, chopped
4 Tbsp. olive oil
1 Tbsp. honey
1/2 tsp chili powder
blue corn tortilla chips
Instructions
In a medium bowl, toss shrimp with salt, pepper, and juice from one lime.
Sauté shrimp around 1-2 minutes each side, until the shrimp is pink and cooked through. Avoid overcrowding the pan, so you may need to sauté the shrimp in batches. Set aside.
Place chopped lettuce, tomatoes, cilantro, avocados, and shrimp in a large salad bowl.
In a small bowl, mix olive oil, juice from 2 limes, honey, chili powder, salt and pepper to form the dressing.
Toss salad with dressing. Add tortilla chips to the sides of the bowls and enjoy!
Crunchy Taco Cups
Servings: 12 taco cups
INGREDIENTS
1 pound lean ground beef
1 envelope (3 tablespoons) taco seasoning
6 ounces diced tomatoes
1 (4 ounce) can diced green chiles
1 1/2 cups shredded sharp cheddar cheese
6 large flour tortillas
PREPARATION
Preheat oven to 375º F.
In a large skillet, brown the ground beef and drain any remaining fat. Transfer to a bowl.
Add taco seasoning, tomatoes and green chiles to the ground beef and stir to combine.
Cut flour tortillas into a square shape and cut each into 4 smaller equally sized square pieces.
Generously coat a standard size muffin tin with nonstick cooking spray.
Line each cup of prepared muffin tin with a tortilla sheet.
Add 1.5 tablespoons taco mixture. Top with 1 tablespoon of cheese. Press down and add another layer of tortilla sheet, taco mixture, and a final layer of cheese.
Lightly brush the top edges of the tortilla with cooking oil.
Bake 18-20 minutes until cups are heated through and edges are golden brown.
Enjoy!
Got any questions about how you can make better tacos at your restaurant? Just fill out the form below! PJP has been in the food service industry for 55 years and we want to share our knowledge and expertise with you. Fill out the form and we will get back to you as soon as possible.