5 Details for a Perfect Wedding Cocktail Hour
Cocktail Hour serves as a perfect intermission to take a breather post-ceremony, go through outfit changes, conquer the final touches of the reception, and have a drink or two.
Keep these 5 details in mind when planning your wedding or a wedding for one of your customers.
Cocktails (duh)

We won't talk about the obvious, but having a strong cocktail game is key. Ask your serving staff to welcome guests with cocktails in hand to avoid cluttering the bar right away.
Themed cocktails or seasonal cocktails always compliment your general wedding vibe. They can add a fun little element for photos and toasts. If you're avoiding serving alcohol for personal, cultural or budgetary reasons – Mocktails are a fun way to add variety to your beverages, and give guests a tasty sip before the reception. You can also find non-alcoholic beers, wines, and champagnes!
Food


The cocktail hour is the chance for your guests to get a taste of your menu and sate some of their hunger before the real celebrations begin. Guests are often late to order or eat their main course because they're dancing the night away with you! When choosing a menu for your cocktail hour, keep in mind the level of comfort when eating standing up. Stay away from saucy bites, and those that need proper eating utensils. We recommend adding a whimsy flare to your cocktail hour. Single portion hors d'oeuvres are easiest to decorate and a platter of well-presented finger foods gets everyone excited. #fact
Music
Keep music volumes moderate, as this will be the time conversation. Cocktail hour is the first place that guests get to interact with each other and catch up. You want to set the mood for just that! Keep the music styles rhythmic and moderately upbeat. This will keep your guest's energy high and they'll be ready to get on the dance floor when the time comes. If you have live music at cocktail hour make sure you speak to your musicians about the atmosphere you're trying to set.
Seating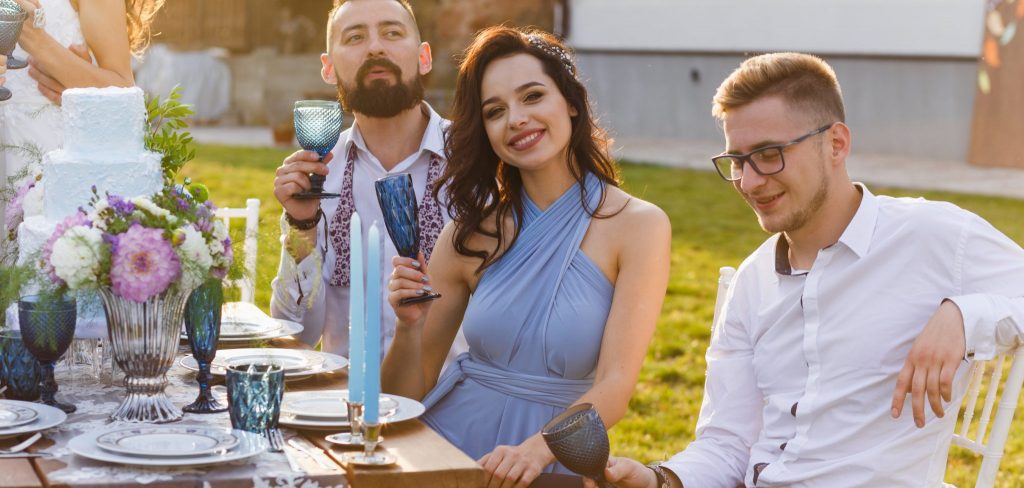 This seems to be one of the most dreaded things about cocktail hour. Yes, we understand that we're meant to stand, and we will, but providing seating for your older guests and those wearing heels is necessary and thoughtful. If space allows, adding a few high-top tables will be a life-saver for your guests to set down a drink. If you have a large wedding and chair rental would be ridiculously expensive for just an hour, ottomans are a budget friendly alternative to provide seating and can be used throughout the night for those that step out for some air.
Photography


As rule of thumb, the photographer follows the bride and groom to their costume change post ceremony. Setting up a mobile "Step & Repeat" banner that can later be moved inside is a cool way to encourage guests to take photos. This will help capture the moments of reunion before they've had one too many. Make sure to provide fun props and a special hashtag for photo sharing!