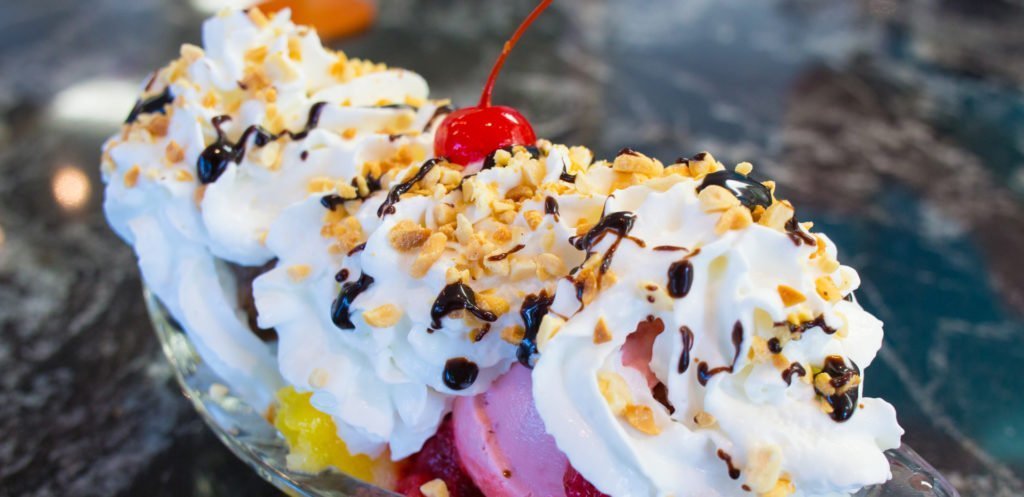 Beat The Heat With 5 Great Ice Cream Recipes
Summertime in Philadelphia gets pretty hot. Hot and humid. Muggy. The dog days of summer are upon us, and we've got another month or so of this oppressive heat to deal with. What is the best way to stay cool when it seems like the sun is doing it's best to light the entire world on fire?
Ice cream, of course!
That's right. Ice Cream. I scream, you scream, the police come, it's awkward, ice cream. If you meet someone who says that they don't like ice cream, be on high alert, because they are probably an Alien. Ice Cream is delicious. It's not really up for debate.
On that note, we want to bring you 5 of our favorite ice cream recipes from around the web! Check out these amazing videos and recipes from Tasty and use them to make the humidity of the summer a little more bearable.
But first, did you know that PJP sells ice cream sundae toppings? We totally do! That along with all of the supplies you need to make a killer ice cream sundae bar for your establishment! Check it out here!
Now, onto the recipes:
INGREDIENTS
½ cup butter
2 cups graham cracker crumbs
2 tablespoons sugar
2 cups heavy whipping cream
14 ounces sweetened condensed milk
20 ounces apple pie filling
1 teaspoon ground cinnamon
Optional Toppings:
Extra graham cracker crumbs
Caramel sauce
PREPARATION
In a bowl, combine butter, graham cracker crumbs, and sugar. Mix until well-combined.
Line a 9×13 inch baking pan with parchment paper and add graham cracker crumb mixture. Press down to make a firm crust. Chill in the refrigerator.
Pour heavy whipping cream into a large bowl and beat with an electric mixer until soft peaks are formed.
Add sweetened condensed milk to the bowl and gently mix into whipped cream.
Gently, fold in apple pie filling and cinnamon.
Pour cream mixture over graham cracker crust and smooth out with a spatula.
Freeze until the ice cream is solid enough to cut, about 12 hours.
Lift the parchment paper to remove from the baking pan and cut into bite-sized pieces.
Dip the tops in extra graham cracker crumbs and top with caramel sauce.
Enjoy!
INGREDIENTS
1/4 cup butter /cubed
2 Tbsp. brown sugar
1/2 tsp salt
1 cup water
1 cup flour
1 tsp vanilla
4 eggs
cooking oil spray
oil for frying
cinnamon sugar
ice cream
hot fudge and caramel topping (optional)
PREPARATION
In a medium saucepan over medium/high heat – add butter, brown sugar, salt, and water – bring to a boil. As soon as the butter has fully melted and the mixture begins to boil, reduce the heat to medium/low and add in flour. Using a wooden spoon, stir until the dough comes together into a ball (about 1 minute). Remove from heat and let cool for 5 minutes before proceeding to the next step (to prevent accidentally cooking the eggs).
Mix in the vanilla extract and add in the eggs, one at a time, being sure to fully incorporate each egg before adding the next. Once all the eggs are incorporated, transfer it to a piping bag with a small star tip.
Invert a muffin tin and spray thoroughly with non-stick cooking spray. Pipe the dough around the inverted cups in spirals to form the bowls. Immediately transfer the tray to the freezer and freeze until solid (about 3 hours or overnight).
Heat oil in a deep pot to 350˚F (175˚C). Remove the muffin tin from the freezer and flex it to release the churro bowls (you may need to also use a small knife under the bottom edge to initially release them). Return any extras to the freezer while you wait to fry.
Fry them in batches, until nicely browned – no more than 3 at a time. Be sure to carefully tip them into the oil so they sink to the bottom. Once desired color is reached remove them from the oil to a paper towel lined plate. Dab off any excess oil then roll them in a cinnamon sugar mixture. Fill with you favorite ice cream and toppings. Enjoy!
INGREDIENTS
1 6-count pack of biscuit dough
Vanilla ice cream
Canola oil, for frying
½ cup powdered sugar
1 tablespoon milk
Raspberries and mint, for garnish
PREPARATION
Open the pack of biscuit dough and cut each biscuit into halves.
Take one half and press it into a flat and circular shape.
Place a small spoonful of ice cream into the center of the dough.
Carefully wrap the edges of the dough over the ice cream, creating a very tight seal.
Repeat with the remaining biscuit dough and freeze them for 1 hour.
Heat oil over medium-high heat.
Fry the frozen dough balls until golden brown.
Drain them on a paper towel.  Freeze for another 30 minutes.
In a small bowl, combine powdered sugar and milk, stirring until smooth.
Pour the glaze evenly over the donut holes.
Serve immediately!
INGREDIENTS
8 ounces cream cheese, softened
1 pint strawberry ice cream
1 cup graham crackers, crushed
1 cup strawberries (chopped)
7 ounces (2 bars) dark chocolate
Garnish:
graham crackers, crushed
PREPARATION
In a large bowl, blend cream cheese with an electric mixer until smooth.
Mix in the ice cream and blend well.
Add graham cracker crumbs and strawberries and mix into the ice cream.
In a parchment-lined 9×9 pan, pour in the ice cream mixture and even out the surface.
Freeze for 4-6 hours or until frozen.
Lift ice cream out using the parchment then cut into desired size.
In a small bowl, melt the dark chocolate until smooth.
Evenly coat each piece with the melted chocolate and immediately sprinkle with graham cracker crumbs.
Place back in the freezer for 30 min.
Enjoy!
INGREDIENTS
16 oz Heavy Whipping Cream
14 oz Condensed Milk
1 Cup of Strawberries
1/4 Cup Powdered Sugar
3 Whole Avocados
PREPARATION
Whisk Heavy Whipping Cream until you reach soft peaks.
Blend the strawberries, Avocados and Condensed Milk.
Mix everything into the whipped cream and add powdered sugar.
Place the mix into the avocado shells and add a thin slice of strawberry on top.
As an option, put leftovers in a bowl with slices of strawberry.
Freeze for 2 hours.