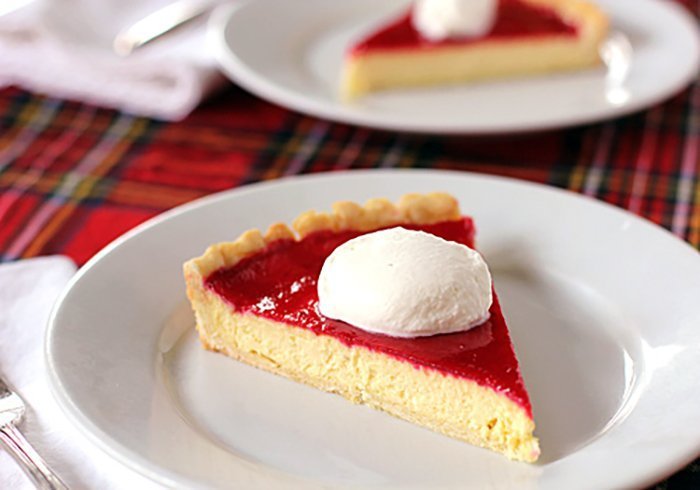 Cranberry Eggnog Tart Recipe
Christmas is fast approaching, and we have the perfect dessert for your holiday menu. This blend of creamy sweet eggnog custard married with the tart sourness of cranberries is not only delicious but simple to prepare and looks positively regal on the dinner table.
Cranberry Eggnog Tart
Ingredients – Makes 6 Tarts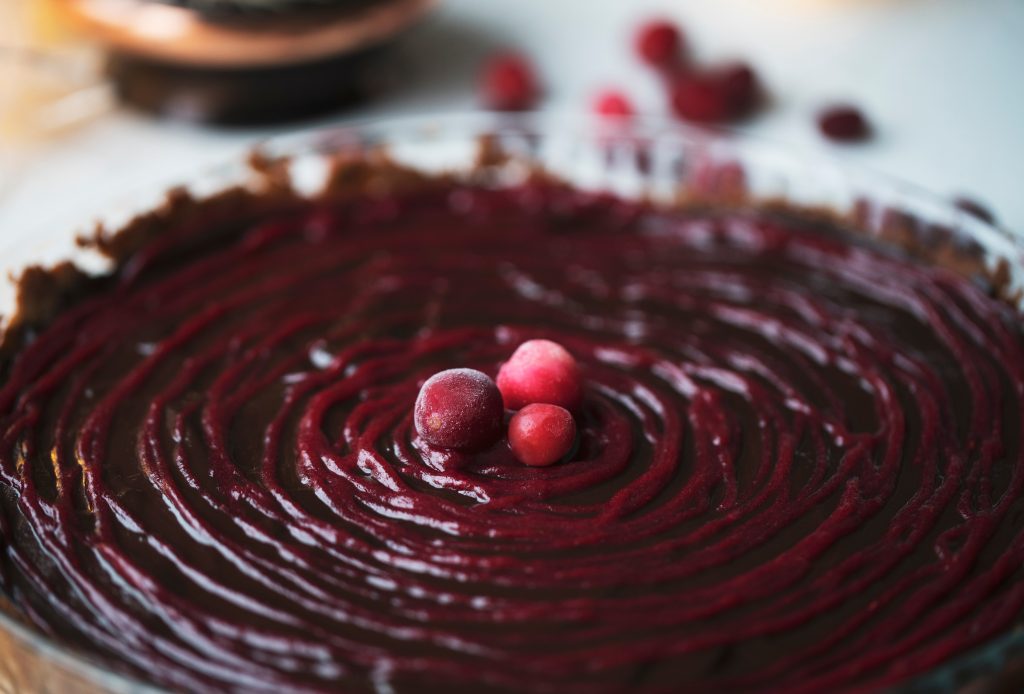 For Cranberry Coulis
72 oz cranberries, frozen
42.6 oz (6 cups) sugar
24 oz (3 cups) fresh orange juice 48 oz (6 cup) water
For Gingersnap Crust
48 oz gingersnap cookies ( we like the traditional Swedish Pepparkakor cookies for this) 12 oz butter, melted

For Eggnog Filling
72 oz cream cheese, softened
6 oz (3/4 cup) eggnog (if you have it, heavy cream if you do not)
27.6 oz (3¾ cup) sugar 18 oz (12 large) whole eggs
7.2 oz (12 large) egg yolks
9 oz (1 cup + 2 tablespoons) bourbon
1 oz (2 Tablespoons) vanilla
3 teaspoons freshly grated nutmeg
.3 oz (1½ teaspoons) salt
6-8 ounces white chocolate (for decoration)I
Instructions:
Cranberry Coulis:
Combine all ingredients in a heavy-bottomed saucepan. Bring to a boil over moderate heat, stirring occasionally. As the mixture hits a consistent boil, reduce the heat and simmer, uncovered, for about 20 minutes until the cranberries have all popped and the amalgam has slightly thickened. If it doesn't seem thick enough at this point, fear not, as the jam cools it will continue to thicken.
Transfer the contents of the pan directly into a food processor or blender then blend until very smooth. Allow the cranberry coulis to rest in the blender until ready to use.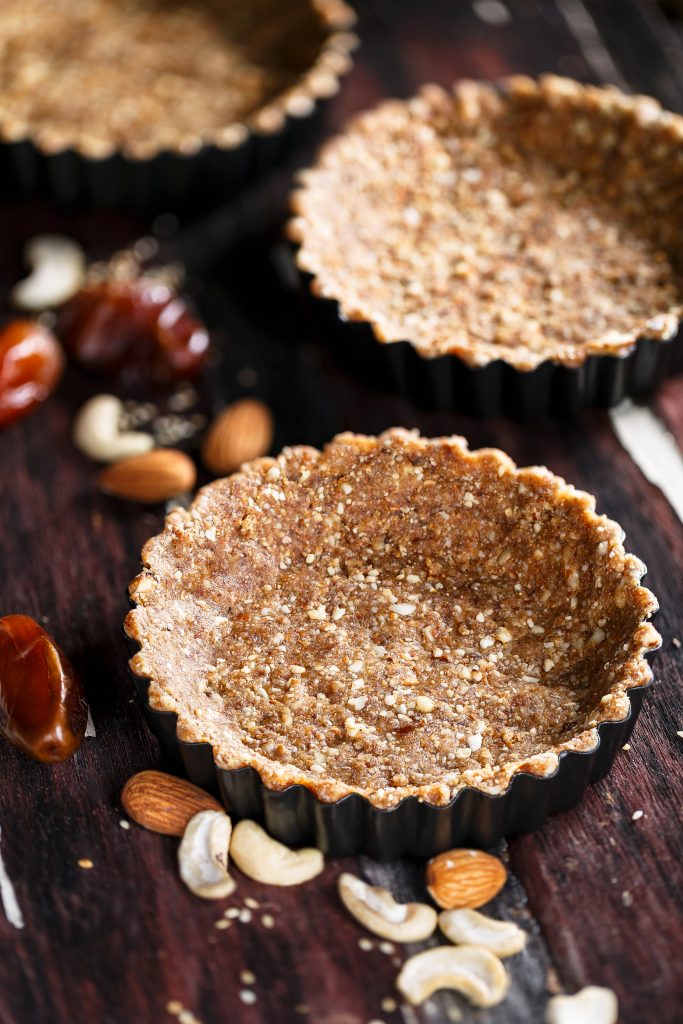 Gingersnap Crust:
Melt butter in a small saucepan on the stove top or in the microwave.
In the bowl of a food processor blitz together the gingersnap cookies until they reach the consistency of fine sand. The finer you make your cookie crumbs the smoother and tighter your crust will be once it is combined with the melted butter. Now add in the butter and pulse together until well combined.
Form and Chill:
Transfer the ginger-snap crust to a 9-inch tart pan and using your fingers, press the crumbs into an even layer and up the sides of the tart pan. To help ensure a level crust and sharp corners, go over the crust with the flat bottom of a measuring cup. Press the crumbs firmly into the edges of the tart pan.
Once your crust is prepared, chill it in the refrigerator for at least 20 minutes prior to baking. While the crust chills preheat your oven to 325°F. Par-bake your crust for 15 minutes then allow the crust to cool thoroughly before adding the filling. Reduce oven temperature to 300°F.
A note on crumb crusts: with lightly colored crumb crusts, like the traditional graham cracker crust, it's quite easy to tell when it's done as it darkens and becomes a lovely golden brown. But with darker crusts, like our ginger-snap or chocolate wafer cookie crusts, it can be harder to tell. In situations like this rely on your other senses to assess when your crust is done baking. Follow your times carefully, and don't forget to smell your way. The crust should release a wonderful aroma when done and should feel slightly dry to the touch.
Make Filling:
Blend cream cheese, eggnog or heavy cream, and sugar into a cleaned food processor until creamy, about 1 minute. Add whole eggs, yolks, bourbon, vanilla, nutmeg, and salt then process until smooth.
Assembling:
Rewarm the coulis, adding a little water to thin if necessary. Once warm and smooth, spread half the coulis evenly over the bottom of the shell, reserving the rest for later use. Allow the cranberry coulis time to set up, about 5-7 minutes, then add your eggnog filling. With an off-set spatula smooth the filling then place it in the oven to bake.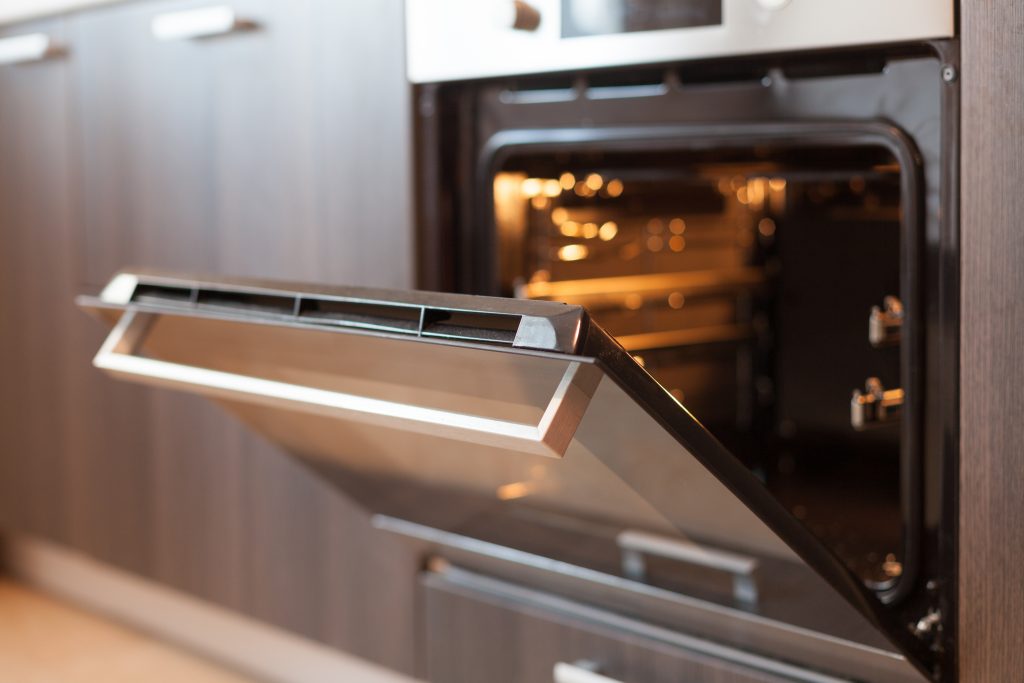 Bake tart:
Bake the tart until the filling has set on the edges but the center still trembles slightly when you shake it, this should take about 35-40 minutes. When the tart has finished baking, transfer it to a rack and allow to cool down completely. Once thoroughly cooled, reheat remaining jam over low-heat, stirring, until pourable. Proceed to pour over filling and spread evenly with offset spatula. Chill tart, uncovered, until cold at least 2 hours.
Decorate:
Warm the white chocolate in a double-boiler until thoroughly melted, transfer to a decorator's bag with a small tip (size 2 or 3).
Feel free to check out some other PJP Holiday Recipes!