Fall is Finally Here: 4 Seasonal Cocktails that will Warm You Up
Fall has arrived! We've got four outstanding cocktails to add to your seasonal menu that embody the changing of the seasons.
Apple Toddy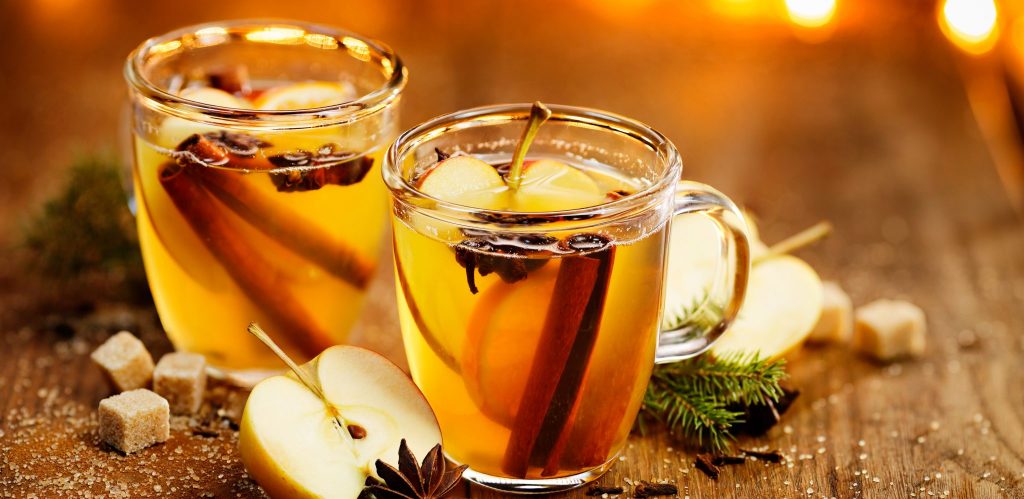 While some reserve this drink as a pleasant way to cure a cold, we believe you shouldn't have to be under the weather in order to enjoy this classic. Try mixing up the traditional combination by using apple-brandy in lieu of whiskey.
Ingredients
1 ounce apple-brandy, we recommend Calvados 1 ounce clover honey
4 ounces water, boiling
½ ounce fresh lemon juice
Garnish with a cinnamon stick and a thin slice of apple
Instructions
Bring water to a boil, add in honey and stir to dissolve, In a heatproof glass or mug combine all the ingredients, stir together with the cinnamon stick, garnish with apple and serve.
The Apple Harvest


Apple brandy and Orgeat meld into a beautiful full-bodied cocktail. Complex yet easy to sip, it is the perfect cocktail to serve your guests on a brisk fall evening.
Ingredients
1 ounce London dry gin 3/4 ounce apple-brandy 3/4 ounce dry vermouth 3/4 ounce apple cider 1/4 ounce Orgeat
3 dashes of Angostura bitters Garnish with a twist of orange
Instructions
Add all ingredients, minus the garnish, to a cocktail shaker filled with ice. Shake well until the cocktail is thoroughly chilled. We like to serve this drink in a small chilled coupe and garnish with a single orange twist.
Ginger Sparkler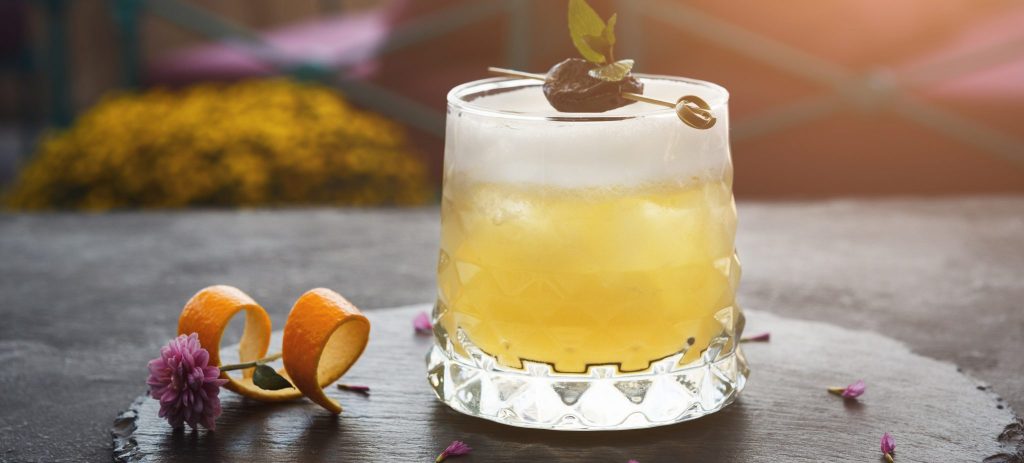 It might be getting cold but some guests still want something light and refreshing. Switch out brandy for a sour apple liqueur and add a little effervescence with sparkling ginger beer. The result is a light fun drink whose flavors still say fall.
Ingredients
1 1/2 ounces citrus vodka
1 1/2 ounces sour apple liqueur Splash of Angostura bitters
4 ounces chilled ginger beer 1 Luxardo cherry
Instructions
Fill a cocktail shaker with ice. Add the vodka, liqueur, and bitters and shake vigorously. Strain into a tall slim glass, something like a highball glass if you have it. Fill the glass with the ginger beer garnish with the obligatory cherry and serve!
Whiskey Chai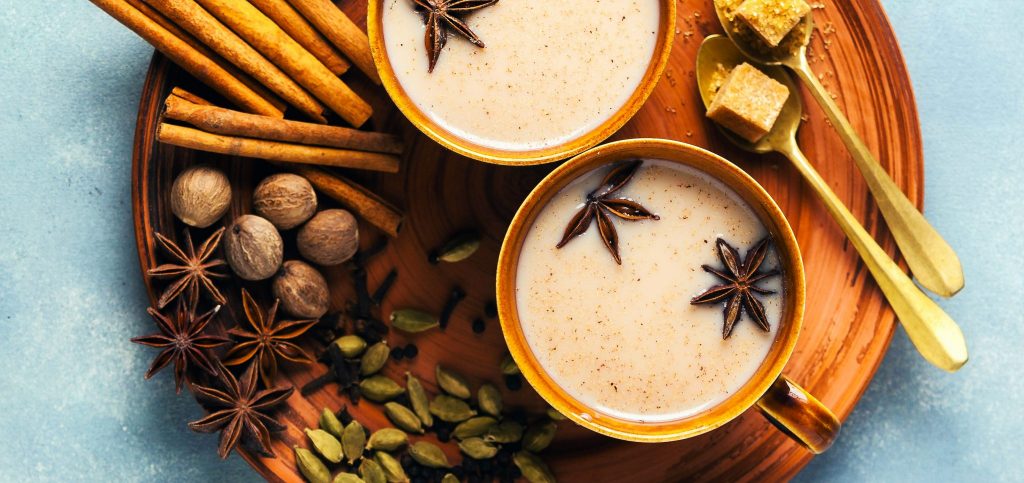 For the tea-lover make this traditional Indian libation with a whiskey kick. A great drink to make in large batches, it has a complex flavor that just gets better as it sits around and comes together easily behind the bar.
Ingredients
2 cinnamon sticks
20 black peppercorns
16 whole cloves
8 cardamom pods
1 teaspoon ground ginger
⅛ teaspoon freshly grated nutmeg
1 quart whole milk
¼ cup light brown sugar
1 tablespoon loose black tea
6 ounces bourbon or rye whiskey Aniseed, for garnish
Instructions
Combine cinnamon, pepper, cloves, and cardamom in the bowl of a spice grinder. Pulse the spices until you have achieved a fine powder then add the ground ginger and nutmeg.
In a saucepan bring the milk to a simmer. Once the milk has started to steam and just begins to bubble, remove from the heat and add in the spices, sugar, and tea. Whisk together briefly and allow to steep for at least ten minutes, but longer if you have the time.
Pour the now cooled milk mixture through a fine-mesh sieve into a lidded container.
When ready to prepare your cocktail rewarm in a saucepan. Pour into serving glasses, we like the Turkish variety, pour in an ounce and a half of whiskey and stir to combine. Garnish with an aniseed.