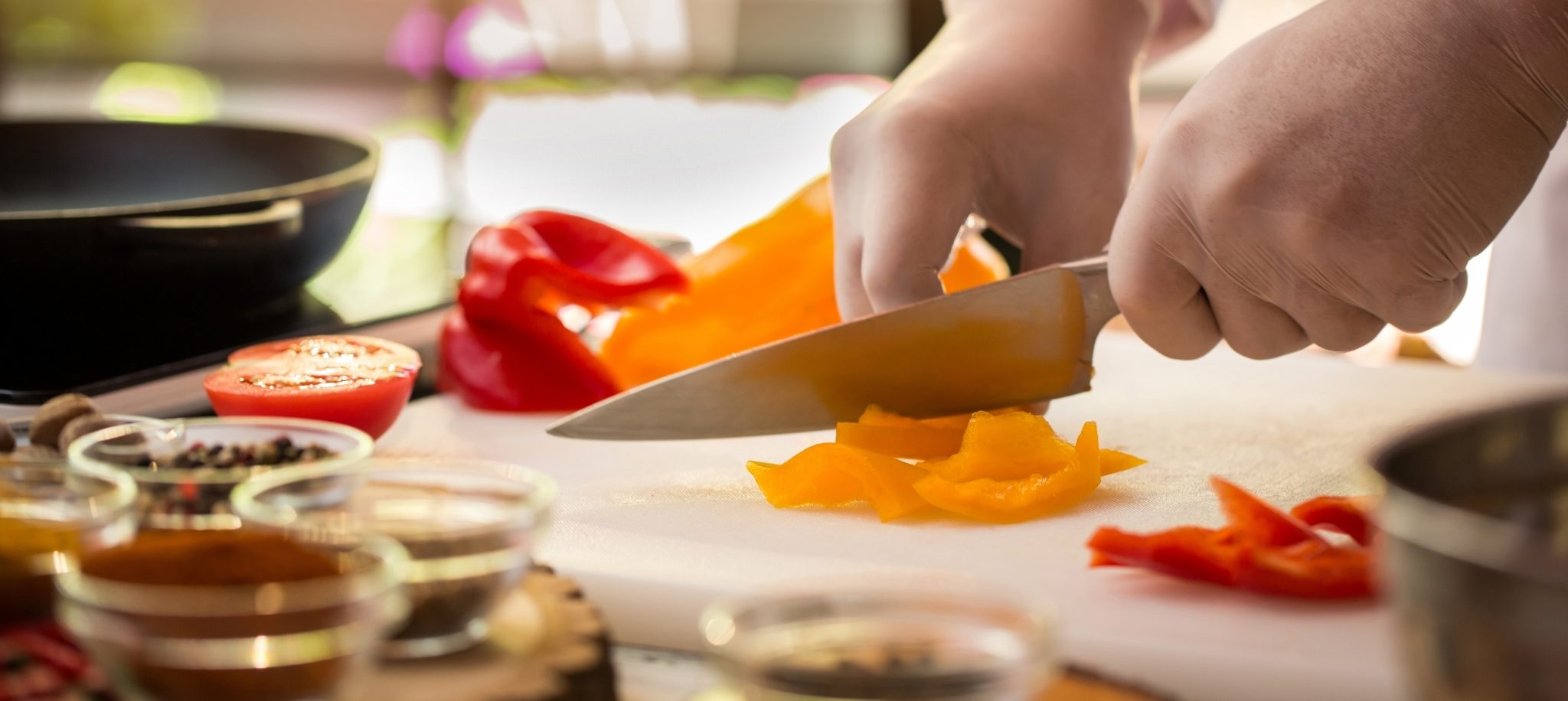 Get Your Chef the Knife of His Dreams
A chef's knife is his best ally in the kitchen. A quality knife can make all the difference in the world in the productivity of your kitchen staff.
But what makes a quality knife?
Edge is important, to be sure. A knife isn't really a knife at all if it's not sharp enough to get the job done. Being able to hold that edge is also important. If you need to have the knife professionally sharpened every week, it gets expensive an inconvenient. Balance is obviously an important feature. A knife with a blade that's too heavy will grow unwieldy after hours of use in the kitchen.
But there's one feature that you probably don't think about terribly often, but if you ask a Chef, they will say is definitely one of the most important features of any knife. And that's how it feels in your hand. Without a comfortable grip, the sharpest, most durable, most balanced knife in the world is going to be a pain for the chef to use all day long.
You've probably heard of the term "ergonomics" before, but you've probably heard it used in reference to working in an office setting. But Ergonomics is a practice used to reduce the incidences of Musculoskeletal Disorders such as carpal tunnel syndrome, and it is used across a wide range of industries. Any job where you are performing a task that requires repetitive motion puts you at risk for these disorders. Working in a kitchen is no different. That's why, even though it might seem like a minor detail, getting a knife that perfectly fits your chef's hand is incredibly important. Using the science of ergonomics to make a job fit the person doing it can improve productivity and morale and reduce the risk of injury.
Try the Dexter UR-Cut Knife
Imagine a knife handle that molds exactly to your very own hand, matching your own unique grip, finger for finger, knuckle for knuckle. That is what you get with Dexter's UR-Cut: a fully moldable and personalized handle. The blade is manufactured from proprietary stain free, high-carbon steel and individually ground and honed. So you'll get the ultimate edge. Dexter has been making blades since 1818, so you know the balance will be just right too. But the grip is what makes the difference.
Remove your new Dexter UR-Cut from the package. Use an oven mitt to dip the handle in boiling water for two minutes. Remove it and quickly dip it in cold water for one second, then grip and squeeze the handle as you would when using it. Dip the handle back into cold water for ten seconds to set the shape and then let it cool. When you're done, the knife grip will be form fit and ergonomically molded to your very own hand for a sure grasp and unmatched comfort.
Watch the video below for a demonstration of how you can create your own custom knife grip with UR-Cut from Dexter. The UR-Cut line includes a great selection of fillet knives, chef's knives and more to come.
What do you look for in a knife? We want to know your thoughts! So, don't forget to share in the comments below or on any of our social media accounts. Follow us on Facebook, Twitter, Instagram, and YouTube!

Interested in Dexter's UR Cut Knives? Ask your sales person or fill out this form!
Speak to a PJP Consultant