3 Questions You Should Ask Before Buying A New Dishwasher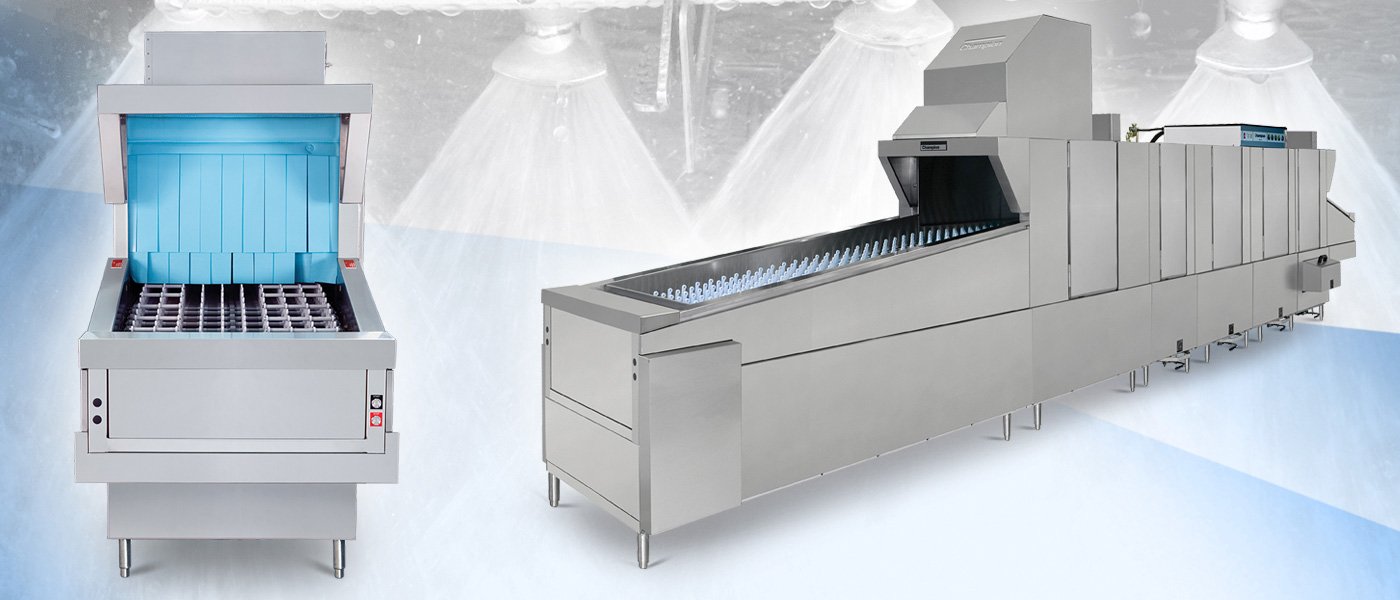 At PJP, we are always looking for ways to add value to our customer's experience. One of the many ways we try to do that is through a series of helpful blog posts that you have probably seen before. That's right, our "Questions You Should Ask" series is back and better than ever! This week, we're talking about dishwashers.
If you already own and operate a restaurant, you already know just how important your dishwasher is to your business. Buying the right dishwasher is absolutely essential to keep your kitchen running smoothly. Without the right equipment, you may not be able to keep up with demand, and could end up seeing a lot of money walk out the door.
So, without further ado, here are 4 questions you need to ask yourself before buying a new dishwasher.
1) How many seats are in your restaurant?
There are four main kinds of dishwashers that restaurants will use: Under-Counter, Door Type, Conveyors, and Flight.
Under-Counter Dishwashers are typically for smaller restaurants, usually establishments with 50 or fewer seats. Under-Counter Dishwashers will usually wash about 35 racks of dishes per hour (a rack of dishes generally holds about 36 glasses or 18 plates). Door Type Dishwashers are more efficient, usually good for small to medium sized restaurants. Door Types can handle as many as 150 racks of dishes an hour, a big jump up from Under Counter machines. Conveyors and Flight Dishwashers are designed for very high volume establishments and can handle up to 400 and 1,000 racks per hour, respectively.
So, the question you are undoubtedly asking yourself at this point is: "How do I know how many racks I need to wash per hour?" Don't worry, we've developed an easy formula to help you calculate how much you'll need to wash.
First, know that approximately 35 racks of dishes need to be washed after serving 100 meals. So, if you know that your restaurant serves over 100 meals an hour, you know that you'll need at least a Door Type Dishwasher to handle the volume. Secondly, you want to make sure that your dishwasher can easily handle the workload required at peak times, so if you're unsure about your exact volume, make sure you round up to be safe. Moreover, if you're a new restaurant it's important to know that dishwashers have a lifespan of 5-10 years, so if you expect to grow significantly in customer volume it's important to make sure your restaurant can keep up in the future.
2) What Will You Be Washing?
This may seem a bit obvious, but know exactly what your dishwasher will be expected to handle is an important step in the process of determining what equipment is right for you. For example, if you are expecting to wash greasy pots and pans in your dishwasher, it might be prudent to consider buying a high temperature dishwasher. However, if you're washing delicate glassware, a lower temp machine might be better suited to your needs, and you can install a three compartment sink for pots and pans.
3) What Are The Differences Between A High Temp and a Low Temp Machine?
Beyond what you're washing, there are many pros and cons to having a high temperature dishwasher versus a low temperature dishwasher. We've developed a simple chart to help you determine which is right for you below.


Additional Tips:
-Pay Attention to your Dishwasher's pressure gauge, if it is showing higher than 25 psi, you might be using more water than necessary. Most dishwashers only need 20 psi.
-Turn off your dishwasher at night to save electricity costs.
-Repair any leaks, replace worn heads and torn wash curtains quickly, the longer you wait the more money you waste!
– Always buy EnergyStar! Energy Star dishwashers can save you $720 annually on your electric bill and $300 annually on your water bill.
NEED HELP WITH THIS?
Get immediate help with this topic from a certified PJP Product Specialist.
Typical response within 24 hours.
Was this Helpful?