Health Inspection Helpful Tip #2: Food Must Be Protected From Contamination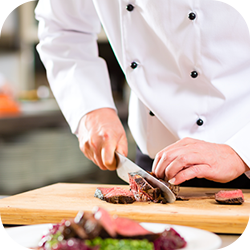 Food must be protected from potential sources of contamination at all times. Contamination can occur during food storage, preparation, transportation, display and service. To reduce your risk be sure to use proper food storage containers, cutting boards, and follow proper procedures for cleaning and sanitizing of food prep areas.
By designating different colored cutting boards for food types such as using red cutting boards for beef, yellow for poultry, green for produce, and blue for seafood, you will reduce your risk of cross contamination between food types. Following use, cutting boards should always be properly washed, sanitized, and stored in a secure clean place such as a cutting board rack for the next use.
NEED HELP WITH THIS?
Get immediate help with this topic from a certified PJP Product Specialist.
Typical response within 24 hours.
Was this Helpful?