4 Products To Help Your Business Capture The Grab-N-Go Customer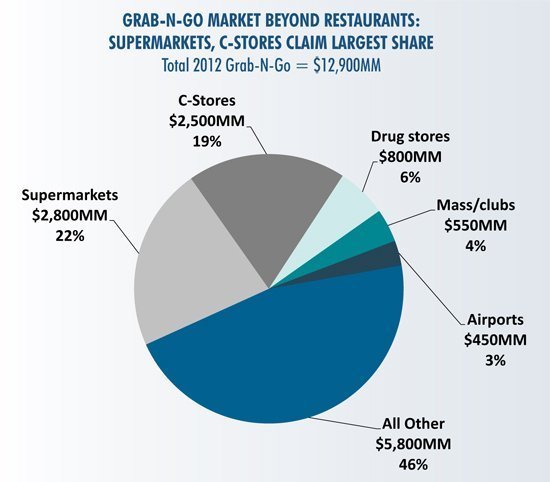 American's are always on the go, more so than ever before. As technology continues to develop and becomes more and more integrated into our daily lives we all have become accustomed to convenience, and the ability to take our work with us wherever we go. With our cell phones and laptops, we are constantly accessible, checking emails, answering calls, texting, browsing the web and much, much more. Everything we can do at the office we can now do while on the move. With America's work force now being constantly in motion, foodservice businesses are being forced to keep up. Consumers don't just want their work on the go, they want their food on the go as well. As a result, the Grab-n-Go food industry has taken off in the last few years, bringing in $12.9 Billion in 2012. A staggering 94% of consumers, when surveyed, said that they believe that plastic food packaging adds value and creates a more upscale presentation for a food item. 76% of consumers say that the convenience of to-go packaging solutions influences their decision to purchase.
That data speaks for itself, but I'll say it anyway, American's want plastic grab-n-go packaging, and it's the perfect time for your business to start offering packaging solutions. You can start serving your delicious meals in convenient packaging, and PJP is here to help. We've compiled a list of 4 great to-go product lines that is going to help your business capture some of that huge Grab-n-Go revenue stream.
1) Placon – Crystal Seal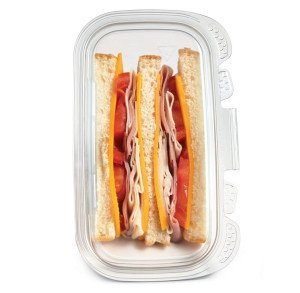 Placon's Crystal Seal line of hinged thermoformed plastic food containers are the perfect solution for any business looking to put their delicious food on display. The completely transparent packaging allows your delicious products to take center stage and allows the packaging to get out of the way. On top of that, they are manufactured with 100% recycled food-grade EcoStar PET. This means that this product line helps keep approximately 1 billon plastic bottles out of landfills each year. They are durable, crack and leak-resistant and they more than live up to the high standards we've come to expect from Placon. Crystal Seal is a great choice for your business and for the planet.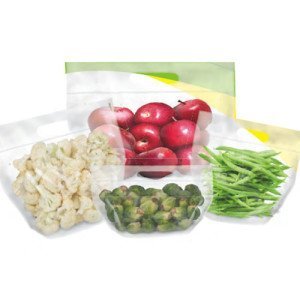 Robbie's produce pouches will showcase your fresh fruits and vegetables in a convenient, clear, and re-sealable package. Research shows that 68% of consumers prefer the convenience able to pick up pre-packaged produce items rather than have to sift through the contents of a bulk display. The macrow perforation in the bags prevents condensation and helps the products stay fresh on your selves for longer. If you get your produce from a local source, you can buy Robbie bags that are clearly labeled "Locally Grown." This lets your customers know that they are supporting local farmers and businesses by buying local.
3) Anchor – Culinary Classics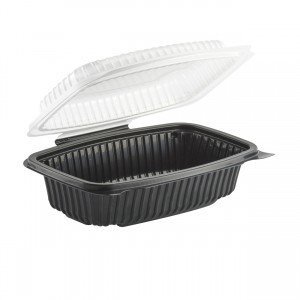 Anchor's line of Cullinary Classics to-go containers can withstand temperatures up to 230 degrees Fahrenheit. This means that they can be placed under a heat lamp and store your delicious hot meals. The lids have anti-fog technology and venting allow the steam to dissipate so that your food is clearly visible through the packaging. The venting also keeps your fried food crispy. The secure snap closure makes sure that there are no spills while the food is being transported. Culinary classics are also crack resistant and cut resistant which allows your customers to eat out of the packaging without fear of breaking it.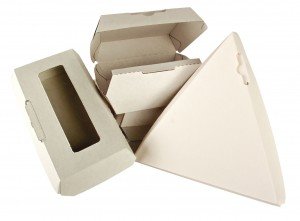 Vegware, based out of the United Kingdom, is a company pioneering the development and manufacturing of eco-friendly catering disposables. All of their products are 100% compostable. Vegware's line of deli containers is made from a plant-based PLA plastic, which contains 79% less carbon than oil-based plastics. Another eco-friendly option is the Burrow's eco-flue line of cardboard to-go containers. Eco-flue products are compostable and made from recycled materials, so they are much more environmentally friendly than polystyrene hinged lid containers.
NEED HELP WITH THIS?
Get immediate help with this topic from a certified PJP Product Specialist.
Typical response within 24 hours.
Was this Helpful?