4 Questions To Ask Before Buying A New Convection Oven


If you're a regular reader of our blog then you're probably familiar with our "Questions You Should Ask" series of blogs. This series is all about trying to help you, as a restaurant owner, make the most informed decision possible when purchasing new kitchen equipment. At PJP, one of our primary goals is to try to add value to the customer experience, and what better way to do that than by making customers as knowledgeable as possible? In previous posts, we've covered blenders, combi ovens, deep fryers and reach in refrigerators, but this week we're going to discuss Convection Ovens.
Convection ovens use forced air to be much more efficient than a conventional oven. By using fans to constantly circulate hot air over the food, rather than just using radiation from a singular heat source, convection ovens are able to heat food much quicker and more evenly. Convection ovens are a great choice for kitchens that need to turn out a high volume, but can also be purchased in smaller, counter top sizes for businesses that don't deal in mass quantities. A convection oven can be a great choice for any kitchen.
So… if you think a convection oven could be in your future, what will you need to consider before you make the leap? As always, PJP is here to help you out.
1) What space limitations will you need to consider?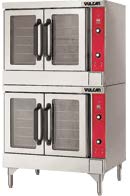 As with any piece of large equipment, you need to know where it's going to fit in your kitchen. The good news is that convection ovens are pretty versatile. They can be built as range ovens with a traditional range on top or as a deck oven, which stands alone and has no range on top. As we mentioned above, if floor space is a concern, they do come in countertop variations, but it's important to know that these models will be smaller. Countertop convection ovens also use more electric power than traditional countertop appliances, so you'll want to make sure that your electrical set up will be able to handle it. If you need a lot of space, convection ovens can also be stacked to maximize your space.
2) What is on your menu?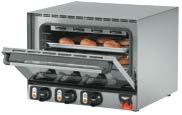 Your menu offerings are going to play a big factor into what features you'll want in your convection oven. For example, if your chefs are going to need to see the food as it is being prepared glass doors on your convection oven are a must. Or if you cook a lot of items of varying sizes you'll want to make sure your pan racks are adjustable. A lot of convection ovens also come with programmable cooking options to make things easier on your kitchen staff.
3) How fast do you need to be?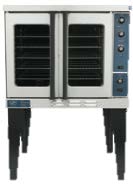 If speed is a major concern, you may want to consider getting a microwave/convection oven combination. Even though convection ovens will cook a lot faster than a traditional oven, the inclusion of the microwave feature can make it go even faster. If you are a fast food establishment this feature will help you turn out evenly cooked food in a drastically reduced amount of time, and will definitely be worth the investment.
4) Electric or Natural Gas?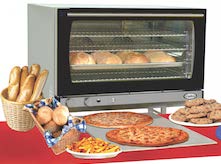 This may seem like an obvious question, but it's still very important. If you don't have a natural gas line into your kitchen you'll need to go with an electric model. You'll also want to consider utility costs in your area. If both options are available, you'll want to choose whichever option saves you money on utilities. And, as always, choosing an Energy Star convection oven will save you hundreds of dollars a year on gas/electric costs.
NEED HELP WITH THIS?
Get immediate help with this topic from a certified PJP Product Specialist.
Typical response within 24 hours.
Was this Helpful?