Why Should You Take A Servsafe Course With PJP?


As you know, PJP is always trying to educate our customers. We try to achieve this goal by having a highly trained sales team, by putting our customers directly in touch with the vendors who make their products, and of course by posting this informational blog once a week.
But there's another way to get educated at PJP that you may not be aware of. Did you know that we offer ServSafe® courses right here at our PJP Corporate Headquarters? We do! They're taught by our very own King of Tabletop, Bill Daily.
What is ServSafe®? ServSafe® is a food and beverage safety training and certificate program administered by the National Restaurant Association. The program is accredited by ANSI and the Conference for Food Protection. Sanitation certification is required by most restaurants as a basic credential for their management staff. Basically, if you want to know how to safely serve food and beverages to your customers, ServSafe certification is the way to go.
"But why should I have to take special ServSafe® training?" It's a fair question, but there is little arguing that our industry, as well as our customers, benefit every time a ServSafe® Certificate is earned and issued.
Foodborne illness impacts customer health, an operator's reputation, a business's profitability, and in some cases, their complete viability. The CDC estimates that there are as many as 47 million cases of foodborne illness in the U.S. each year, and the key to understanding the need for ServSafe® training is to recognize that food safety decisions are made (or not made) at every point of the foodservice process from construction of the building right up to daily operations that include cooking and cleaning.
Designers create layouts that promote the safe and efficient flow of food throughout the facility. Builders use materials that are easy to clean and resistant to bacteria. Consultants specify equipment that is easy to clean and includes additional food safety features and benefits. Dealers sell equipment and smallwares that help Operators maintain safe practices. Operators, Chefs and employees implement procedures to receive, store, prep, cook and serve food. They also implement warewashing and facility sanitation practices. Even the person who empties the garbage at the end of the day takes steps that can limit bacterial growth and prevent insect and vermin from becoming a problem. But for all of this to happen, knowledge of the issues and best practices is required.
The National Restaurant Association's ServSafe® Food Protection Manager Course and certification is accredited by the American National Standards Institute (ANSI)-Conference for Food Protection (CFP). It is recognized by more federal, state and local jurisdictions than any other food safety certification. In most jurisdictions, either State or County regulators require that foodservice managers gain certification, or demonstrate knowledge of food safety practices.
The ServSafe® curriculum teaches: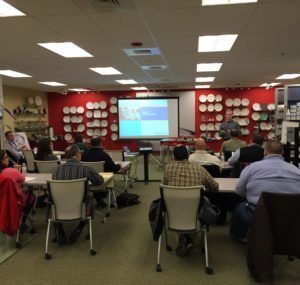 The importance of food safety for customers and operators
Good personal hygiene for food handlers and servers
Time and temperature controls that help protect food
How to prevent cross-contamination in foodservice operations
Proper cleaning and sanitizing for foodservice operations
Safe food preparation practices
How to properly receive and store foods
Safe methods of thawing, cooking, cooling and reheating food
Food safety regulations
Pest control for foodservice operations
And more.
If you're an Operator, invest in your own reputation and success by training your employees and managers with ServSafe®. If you're an employee, invest in yourself by taking a ServSafe® class. Even if you're not a foodservice manager, maybe you'd like to be one. Taking the course shows current and future employers your level of commitment and initiative. If you work in a profession that provides goods and services for foodservice operators, then take ServSafe®. It will help you provide solutions for your customers. That earns you sales and helps them succeed.
For more information on ServSafe®, go to www.servsafe.com. If you want to find out about how to take a ServSafe® course with PJP click here. 
Food Safety, National Restaurant Association, ServSafe, Training
NEED HELP WITH THIS?
Get immediate help with this topic from a certified PJP Product Specialist.
Typical response within 24 hours.
Was this Helpful?