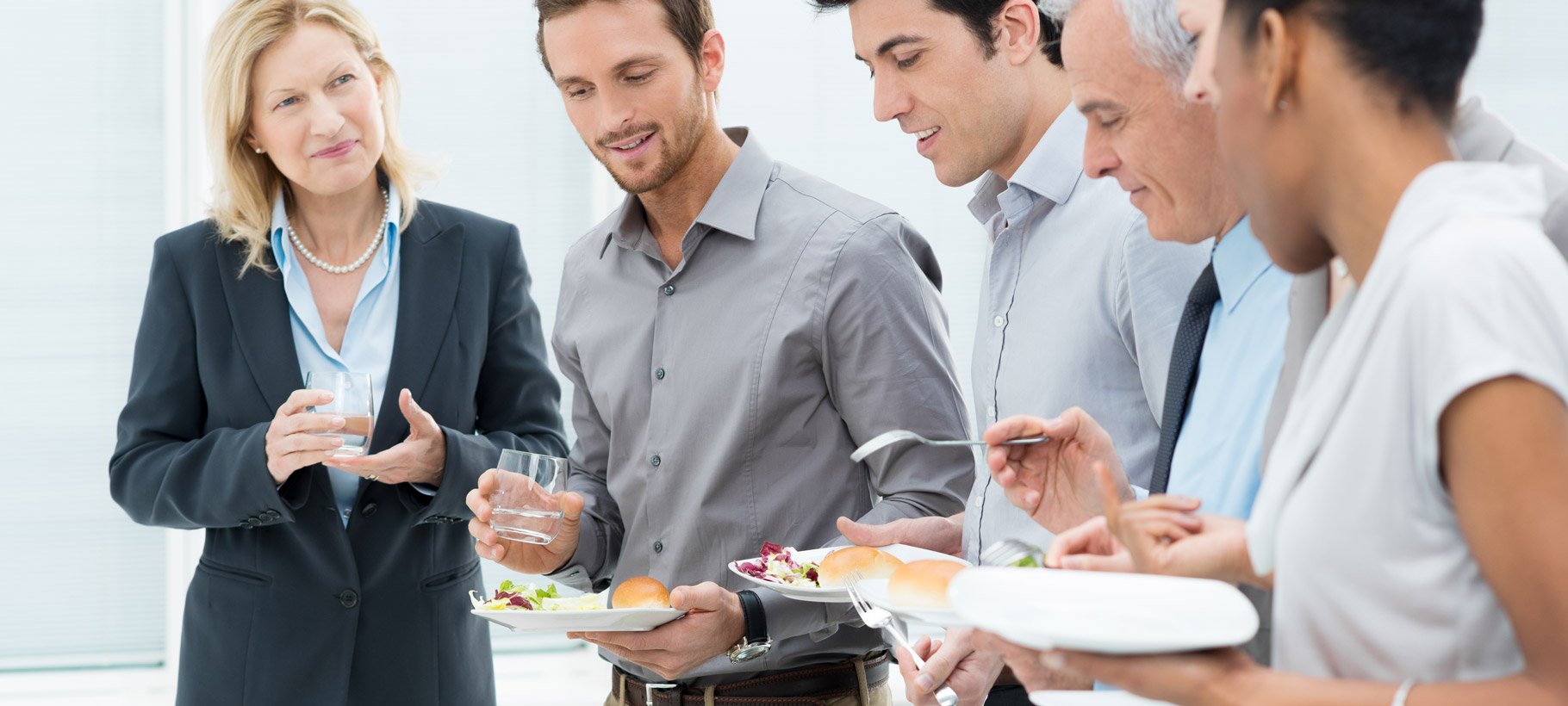 How To Cater In The Office Setting
In the hyper-competitive food service industry, entrepreneurs are constantly looking for ways to outpace their competition. One of the many ways innovators in the field are finding success is by expanding their existing catering business to capture the office business. More and more often corporations are providing meals for their employees, whether it's just a company benefit or a special work event, the market for office catering is growing. As this trend expands, so too does the demand for diverse options.
As always, PJP wants to help our customers succeed. What steps can you take to get your piece of the office catering pie? We've come up with a few tips to help you out.
GIVE YOUR CUSTOMERS OPTIONS
Anybody can deliver a tray of deli sandwiches. There's nothing wrong with a good old-fashioned deli sandwich, but if you're looking to grow a new revenue stream, you're going to have to provide something that differentiates you from the competition. As offices order catering more frequently, they're also going to be looking for new options. What can you offer that will intrigue them? What's unique about your menu? Do you offer vegan, gluten free, or other health style options? Do you have a signature dish that lends itself to catering? Offer that!
The trick is to make your unique dish work in a catering setting. Remember, the most important part of catering for an office is that they're going to want something easy to serve and something that won't make a mess. If this food is for a meeting it's going to be eaten in a conference room, which might not support a ton of sauce being spilled on the table.

MORE THAN JUST LUNCH
While lunch is certainly the most common meal to get catered in the office, it will be beneficial for you to offer options for breakfast and even dinner. A lot of meetings take place early in the morning, and employers might want to give their employees a boost with a coffee & juice bar, or maybe something a little more extravagant.
Remember to apply the advice from the first tip to breakfast as well. There's nothing wrong with the classics of breakfast catering, but don't be afraid to expand beyond those things as well. Maybe you can offer breakfast smoothies that will provide a much needed healthy energy boost in the morning to get things kicked off the right way. Make no mistake, people appreciate originality and creativity, so don't get stuck in a rut just because that's "how things are done." Don't be afraid to show up differently.
MAKE IT EASY
Pick up? Delivery? Set up? Clean up? A Server to work the event? Offer it all as an option. You can charge for these services accordingly. Cost isn't the important thing. The important thing is that you are making things as easy as possible for your customers. They're already at work trying to motivate their team as best as they can. They already have enough on their plate. The easier you make the catering process for them, the more they will appreciate you. The better equipped you are to handle office catering of all shapes and sizes and needs, the more business you're going to get.