How to Help Your Customers Plan An Excellent Wedding Menu
Wedding season is upon us. As a caterer, it's your job to help the happy couple plan a wedding menu for their special day. You want it to be fun and creative and satisfy all of the guests. However, for many couples, looking at a multitude of available options and details can be mortifying and at times overwhelming. We're giving you a business plan of sorts, of tips to make this experience easier and hopefully help you make your customer experience that much better.
Set a Budget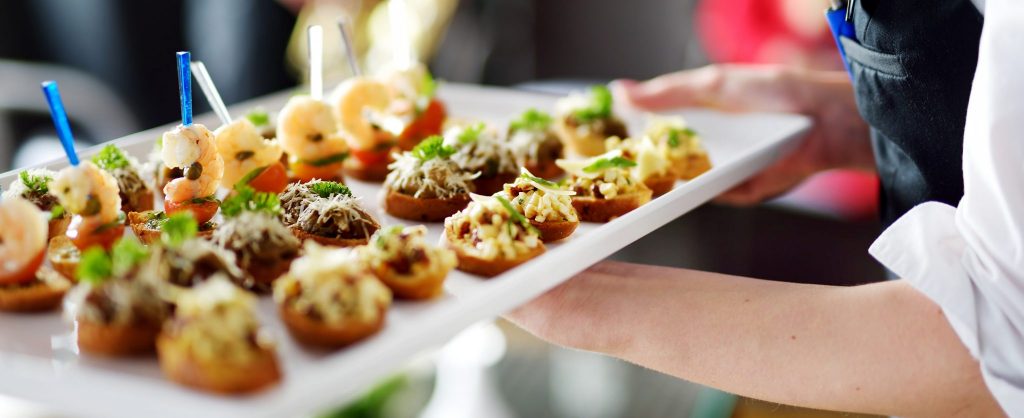 Expensive champagne and black caviar isn't in everyone's budget, and frankly, it's not the right choice for every wedding.
Knowing your customer's budget will help you narrow down the options and get set a foundation for what you can offer. This is a lot of couple's first steps when choosing a caterer. To make this easier, get an idea about the number of guests they are anticipating and set a "price per person". This will save the back and forth and you can offer them only options that fit within their budget. This saves you the risk of scaring them off by offering something way outside their price range, and can also save you the time for people who simply aren't in your target demographic.
RSVP


The RSVP is an important tool for planning any wedding. Of course, this gives the bride and groom a much-needed head count, but it can also be useful in collecting information and showing their guests they care about them. Suggest to your customers that they utilize the full power of the RSVP when planning the menu. Ask about allergies or even alcohol preferences to make sure you have a well-stocked bar.
*Tip: You can also suggest that they ask "Which song will get you on the dance floor?" is a cool way to build a wedding soundtrack for your memories and get your crowd dancing. Providing tips like this will let your customers know that you care about them and are invested in making their reception as memorable as possible.

Decide on a Style


So, what will it be? Prix Fixe? Buffet? Family Style? Passed hors d'oeuvres? Is cocktail hour necessary if you have an open bar?
If you're an offsite caterer, it will be good to include the venue in these discussions.
You'll obviously have discussed this with your customers during the pricing discussion, but you'll want to nail down exactly what the expectations are and how the flow of the evening will go. Here is the spot for you to take the lead. You have experience about events and how they work, and most times your customer will not. Don't expect your customers to lay everything out for you. Come to the table with a plan. Ask questions about their vision, and then execute. This is your time to shine.
Portions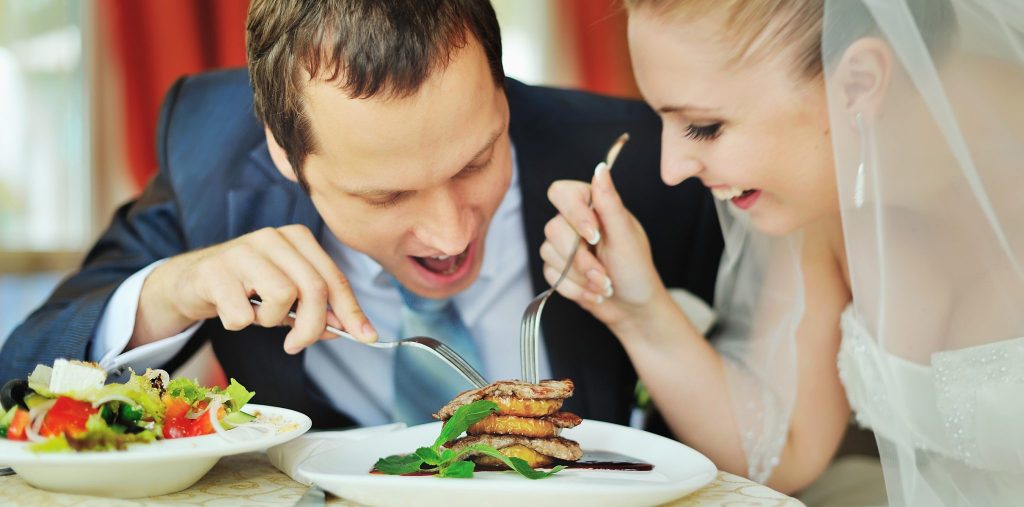 Please don't leave anyone hungry. That's not to say that you should treat this like Thanksgiving, but providing your guests with proper portions is of dire importance. This seems obvious, but it's a mistake that happens. Your guest might want to try to skimp on portion size in order to save money, but you should strongly discourage this. There is no faster way to a miserable wedding than 100 hungry guests.
Think Local and Seasonal


Keeping things fresh and natural is always appreciated. Allow the season to shine on the guest's plate. The food will compliment the wedding. Obviously you have to defer to the Bride and Groom's wishes, but be sure to suggest some seasonal options so the meal ties into the seasonal themes of their wedding. Creating menus using the seasonal ingredients, and if possible from local vendors, will not only enhance the quality of your fare but also the taste! Keep your menus light and crisp for weddings during the warmer months, and allow for some comfort food during Winter Wonderland Weddings.
Diversify your Style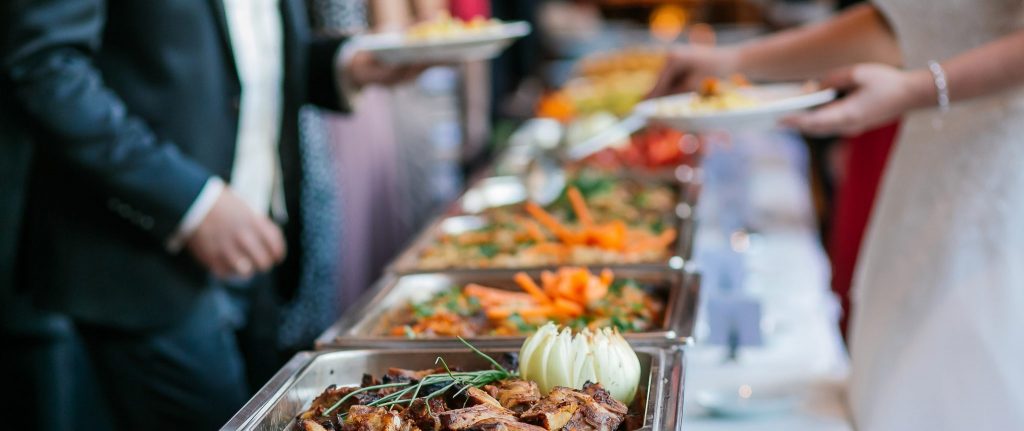 The Bride and Groom choosing the menu may be very adventurous when it comes to food. It's your job to remind them that not everyone is as outgoing as they are.
Be sure to take note on the guest's demographics, and include something for everyone.
If the wedding is multicultural, a blend of classics from both cultures will satisfy the more traditional guests, and creative fusions are sure to impress your foodie customers.
Personalize your Menu



Allow your customers to create a custom cocktail and name it after them or one of their interests. This will add another personal touch to the reception and your customers will love it. Have a mixologist create a Brides Cocktail and a Grooms Cocktail based on what they like. This can be a great way to cater to those who like it a bit lighter, and those who take it neat.