How To Plan And Execute A Successful Menu Change
The food on your menu may be created by your chef, but the success of that menu is determined by the customer.  Sometimes it is necessary to make changes to a menu to maximize your profitability. You need to keep up with trends, refresh stale dishes, or introduce exciting new creations to stay ahead of the competition. But changing your menu isn't easy or simple. It requires careful planning.
When planning a new menu, you need to take these things into consideration.
Product Mix

Your Point of Sale Software is your best friend when it comes to knowing your menu's strengths and weaknesses.
Running a monthly report to see what's selling and what isn't will help you make decisions about what's worth keeping around. Keeping items that don't sell on your menu only hurts you because it increases costs from food waste. Ordering ingredients for a dish that no one orders takes up valuable real estate in your walk-in and when the food expires you've paid for something and got no return on that investment.
On the other hand, it's important to keep around your top sellers. If it ain't broke, don't fix it, right? These items become your signature dishes, and they're often popular among your most loyal customers. You'll want to keep those people happy.
Menu Cost & Price Check
Changing things up can be a great way to revitalize your business, but you have to be careful about how this effects pricing. A major shift in pricing alarms your customer in one of two ways: either your prices drop which creates concern about the quality of your food, or prices increase and your customers will expect a similar increase in quality of food, so you better deliver.
Moreover, you have to make sure that these new dishes have appropriate profit margins. New menu items bring in new ingredients and new costs. Make sure you're pricing these dishes in a way that keeps you in the black. Menu Cross Utilization is a great way to control these new food costs.
Don't Forget The Booze

With new menus come new drinks! Use your bar as a tool to compliment and further promote your new dishes. Your bar is a profitable center, and stocking beers wines and cocktails that dance well with your dishes shows that you know your flavors and went the extra mile to create a delicious experience. This also adds another outlet for marketing opportunities and buzz surrounding your restaurant.
Inventory
When you're making menu changes you're often left with a bunch of useless ingredients left over, and you'll need to make room for the new ingredients coming in. Sure, you could just toss the old stuff in the trash, but there might be a better way to utilize them. Consider sending some complimentary dishes to tables. Table compliments are always appreciated and create a feeling of exclusivity for your guests.
Proper Point of Sale Integration
Your POS is in charge of delivering information. Effectively programing your new items and organizing kitchen routing plays an important role in efficiency and consistency. For practice & familiarization, create a few orders for your staff to punch in. This will give them the opportunity to learn about the new menu and ask any questions they might have about the new dishes. Hands on practice is always a good idea.
Promotion and Buzz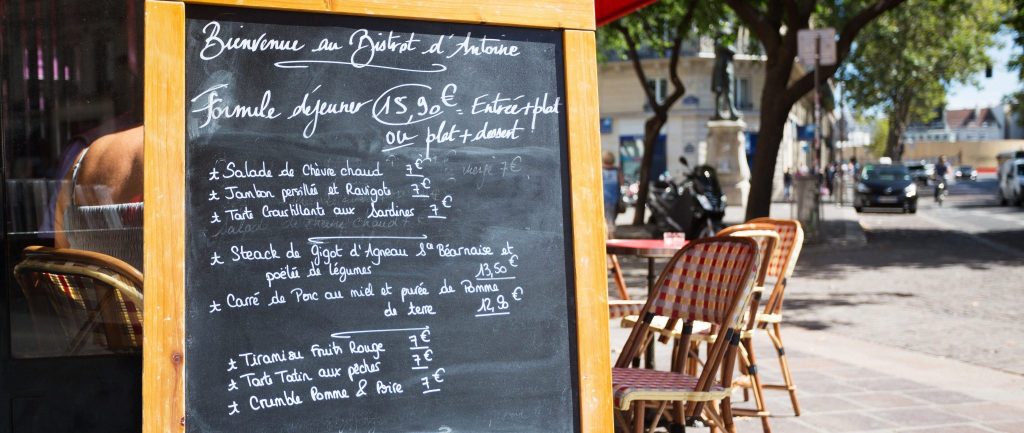 Your customers will expect you to have a reason for the menu change, and you want to have one!
Timing is key when introducing a new menu. A great excuse for a big change is a change in season. Introduce your menu at a time when change is already on your client's mind. This makes for smoother transitions! Promoting your menu a few weeks before creates a buzz and curiosity. After all, all press is good press. Sneak peaks and strong marketing content is key to successful cliff hangers.
Tastings & Training
A final tasting for your staff is going to help them sell the new dishes. Take time for an extended team brief and allow everyone to taste, learn, and understand the components of your new dishes. For your kitchen staff, this sets a standard of taste, texture, presentation and temperature. For you servers this gives the opportunity to answer customer questions and provide recommendations based on your client's preference, and effectively avoid allergy disasters.
Launch

Launching your new menu is exciting, so you should celebrate!
Creating an event around the reveal of all of your new creations will bring excitement and interest. Host an event with a Prix-Fixe menu which you can use to showcase the range of your new additions as well as give your staff one more day of practice. A la carte can be overwhelming until routine is established. This can serve as a dress rehearsal of sorts.
Circle Back
One week into launch, take a moment to reflect and see where you can improve. Another extended team brief is probably necessary. This will give you the chance to tackle operational flaws during your transition. A month post-launch, make sure to run a sales report to see which items your customers are receptive to, and improve from there.
What new items do you want to add to your menu? We'd love to hear about it! Don't forget to share in the comments below or on any of our social media accounts. Follow us on Facebook, Twitter, Instagram, and YouTube!