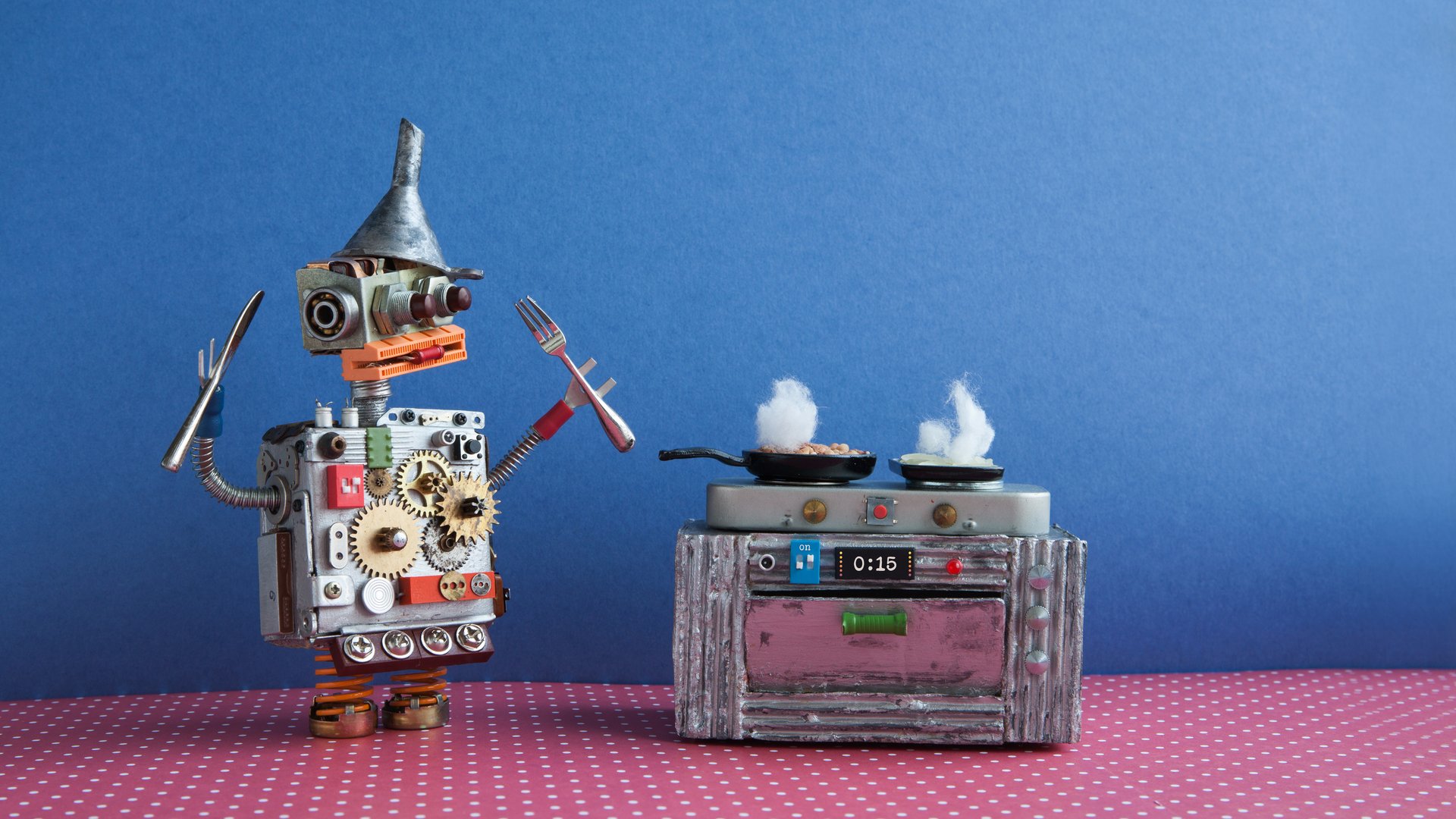 Is Technology Taking over the Kitchen?
I watched a video recently, it was just something that popped onto my social feed, about an automated, robot operated omelet station.
In the video a customer steps up to a futuristic-like cafeteria station, although, not that much different looking from any hotel or conference catered breakfast bar. The customer places desired ingredients into a designated basket and chooses between buttons marked for sunny side up or omelet. The only other "human" step? Making sure the plate is placed in it's designated spot.
Now, this wasn't the Joel Robuchon, Daniel Boulud, or Hubert Keller picture perfect, classically meticulous omelette. This was a cafeteria, quick serve omelet. Nothing pretty but tasty, speedy and with purpose. I was floored.
For years I've been joking with colleagues, my husband, my friends, and family about the wave of technology, robotics and artificial intelligence take-over being felt in 'other' industries.
This video showed me just how far technology has come in my lifetime. No industry or business sector will be left untouched! The AI and robots aren't just coming, they're here. Let's take an exploratory look into what's happening in kitchen technology.
Whose behind some of these tech advances? What tech devices are leading the charge? What might be coming to our facilities in the near future?
Smart Appliances

Not quite omelet making robots, (we'll work up to that) but smart appliances are sweeping into the consumer market and trickling into the professional kitchen.
Wifi connectivity, built-in cameras, touchscreens along with compatible apps… you'd think I was talking about someone's smartphone. This tech has been piloting a revolution in the home appliance sector since 2016.
You are now able to view the inside of your refrigerator while you're at work! From there you can order your groceries online, to be delivered through an app, incredible. There are even developments in process now that will scan your refrigerator's contents and place the order for you (as scheduled)!
Processes that are already available at market are expanding into smart dishwashers, stoves, and even microwaves. Amazon has stepped up with their Alexa technology and compatibility with several brand name equipment suppliers. Just ask Alexa to monitor your cookies baking in the oven.
How is this smart appliance boom effecting the Food Service Industry?

Like I said earlier, trickling, but developing.
Restaurant smart technology is evolving around IoT (Internet of Things). IoT is meant to function as a network between the appliances and devices using a digital connection to communicate with one another, without using human-to-human or human-to-computer interaction. This would enable kitchens to be remotely controlled. Appliances, product ordering, staffing, and sanitation practices can be monitored remotely and essentially be automated.
You've probably already seen ovens utilizing smart technology providing "set it and forget it" reassurance. Now, image that scale and reassurance set to all of your appliances, time keeping records, POS, inventory…everything!
Self Serve Technology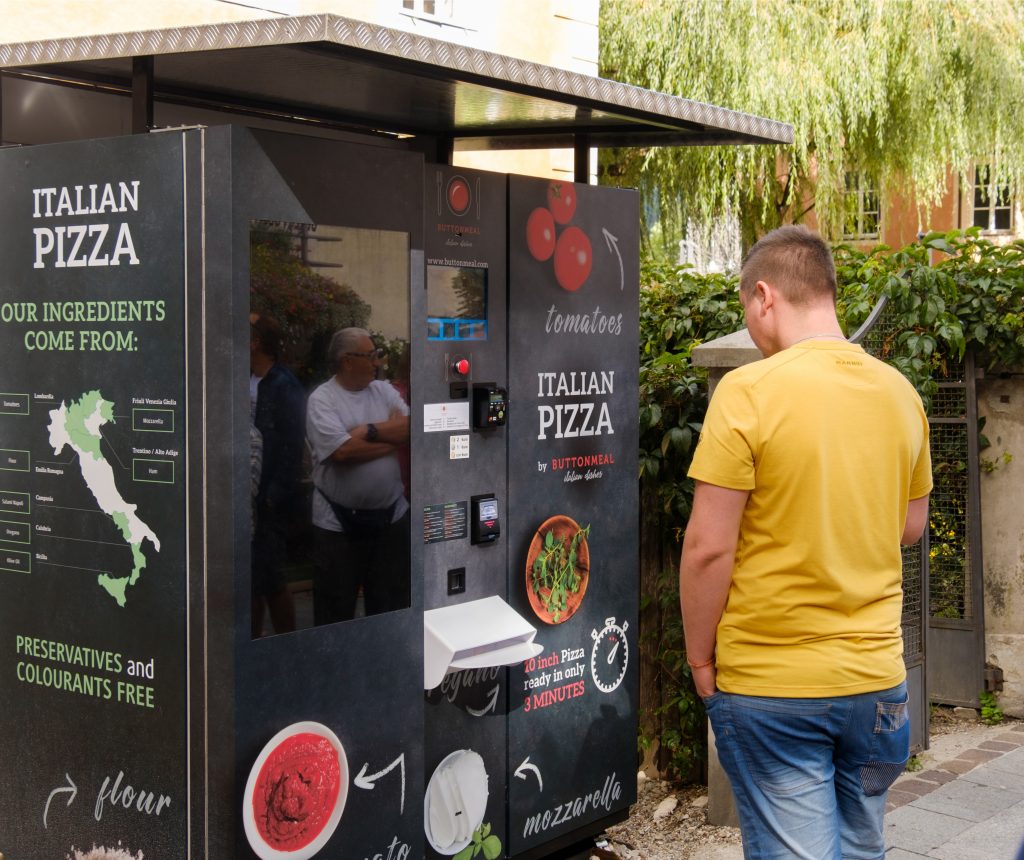 My first brush with the self serve vending technology was in 2012 in London. We were working on a contract basis for the London Olympics and the host company set us up in a college dormitory (fancy, right?). In the lobby was this machine, a pizza vending machine, where you inserted your money, 2 minutes later, out popped your pizza.
Fast forward 5 years and my husband and I are traveling through Japan on our honeymoon. Japan being the Mecca of self serve technology. There were street side vending machines for ramen, takoyaki, even sushi! Again, insert money and a moment or two later food!
All a far cry from the days of break room stale sandwiches, potato chips and candy bars. Self serve technology is blossoming.
There are two factions of this tech, what we'll call: 'The Total Vending Package' (described above) and the 'Order Ahead, Avoid the Lines, Kiosks' (described below).
McDonald's has launched it's own line of self serving kiosks in many of their stores. You've probably experienced this tech at a Wawa or Sheetz, although unlike the MTO ordering, these kiosks act as a cashier. Self serve technology is already at work in Shake Shack and Taco Bell.
How will vending and self service impact the Food Service Industry of the future?
This is just further cannon fodder for the 'food on demand' trend we're experiencing now. With third-party food delivery apps and online ordering, delicious food is more accessible than ever.

There is already a more 'online' experience being curated for fine dining and mid-range dining restaurants, feeding into the CRM (customer relationship management) side of software development and overall customer service in our industry. Tablets for ordering built into tables or servers using tablets for order taking.
Now for the Robots…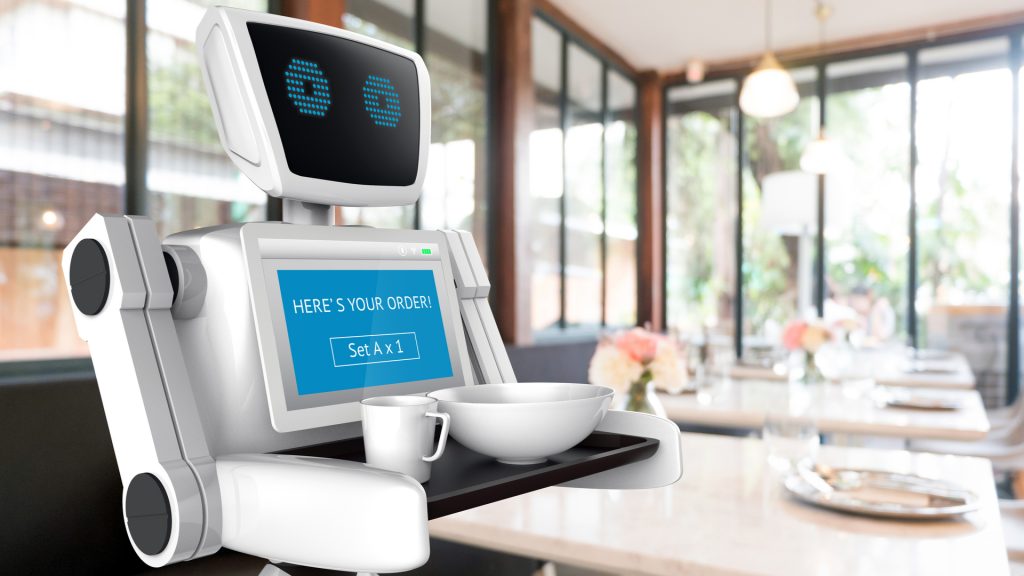 I promised and now I'm delivering. Let's highlight two companies that are piloting, championing, and pushing the envelope in terms of AI and robotics technology in the kitchen. This is Moley and Flippy, both of which have prototypes out there in the real world, cooking.
Moley – The world's first robotic kitchen
Moley Robotics has created the first fully-automated and intelligent cooking robot. In order to operate this robot does need it's own style of kitchen, it is fully integrated with recipes and cooking techniques. A touchscreen unit has a list of recipes and with just a touch of the finger, the robot cooks, prepares and cleans up the meal.
The team behind Moley worked with Master Chef Tim Anderson to develop the skills needed to 'mimic' the movements of a chef in action. Everything from precision knife cuts, deglazing and garnishing. There is even a development where the robot can learn from YOU, in order to recreate heirloom family recipes.
Flippy – from Miso Robotics
Flippy is a little different caliber of robot, still AI, still tech, but meant for food service not the home. There are two levels of Flippy options; Flippy at the fryer and Flippy at the grill.
Miso Robotics developed a robotic kitchen assistant that "can learn from it's surroundings and acquire new skills over time."
This robot is complete with integrated support technology. Flippy cleans its equipment, guarantees cooking perfection, can recognize and monitor the products being cooked. Flippy is OSHA compliant and can run for 100,000 hours! All monitored through the cloud.
Lastly, this robot has already received job offers, working at Dodger's Stadium and CaliBurger, with future plans of other large food service operation launch. Robots are not just coming, they are already here.