Outside the Box Ideas for your Kid's Lunch Box
Growing up I was a terror for my parents, unwilling to accept any packed lunch other than a plain Salami sandwich. How I even developed a taste for Hard Salami on a kaiser roll is beyond me, however this made my parents life simple in packing my lunch. Over time I grew out of eating the same thing day after day and almost demanded that I buy lunch. Don't fall into this trap. Here are a few outside the box ideas for your kid's lunch box.
It would be ludicrous of me to suggest an outlandish entree that takes hours to prepare, and it'd be equally ludicrous of me to suggest dishes that a child would not appreciate. In an attempt to help parents everywhere here are a few lunches that won't break the bank but will bring a little zest to lunchtime.
The Fan Favorite – Mac & Cheese
It's going to be hard to get your child to buy into new lunch items. Here's a quick way to trick those little devils into accepting whatever you have to offer, Mac and Cheese.
Understanding that Mac and Cheese is typically eaten hot and that young ones don't have access to a microwave, it's important that you make a Mac that will hold its value while eaten cold. This means no Kraft or Velveeta, we're making Mac from scratch.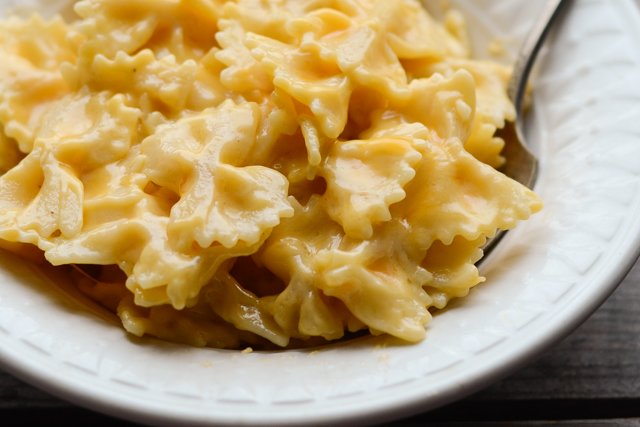 Ingredients
8 oz. Farfalle (bow tie) Pasta
8 oz. Shredded Three Cheese Blend
2 cups of 2% Milk
Dash of Old Bay
4 tbsp of Butter
Dash of Salt
Dash of Pepper
Instructions
Boil the bow tie pasta until ready, upon completion strain then pour 1 cup of milk back into the pot along with 2 tbsp of butter. Once the milk is simmering dump the pasta back into the pot with the milk and butter, stir continuously while adding cheese. While adding the cheese turn down the heat on your burner to avoid burning too much cheese, but leave enough heat to darken some of the pasta. Season the Mac with salt, pepper, and old bay. Continue to stir while adding the rest of the cheese and butter. Keep the extra milk on hand in case the Mac is looking dry.
In the end your Mac should look a little baked, the cheese stringy immediately after making. The time this snack spends in the fridge will bring it all together. Throw it in a container to be taken to school, top with a little bit extra cheese, maybe some bread crumbs and then send it to school!
If your child is open to veggies, we suggest adding broccoli to this dish. Ham pairs well for the youngsters as well. A sensible side dish would be applesauce or yogurt to balance out the meal.
Ham & Cheese Pinwheel
The difference between a ham & cheese sandwich and a ham & cheese pinwheel are little to none in the eyes of a child. However, flour and corn tortillas last far longer in your refrigerator than sliced bread could ever. This lunch time favorite is better nutritionally for your child and less of a hassle for you, the parent.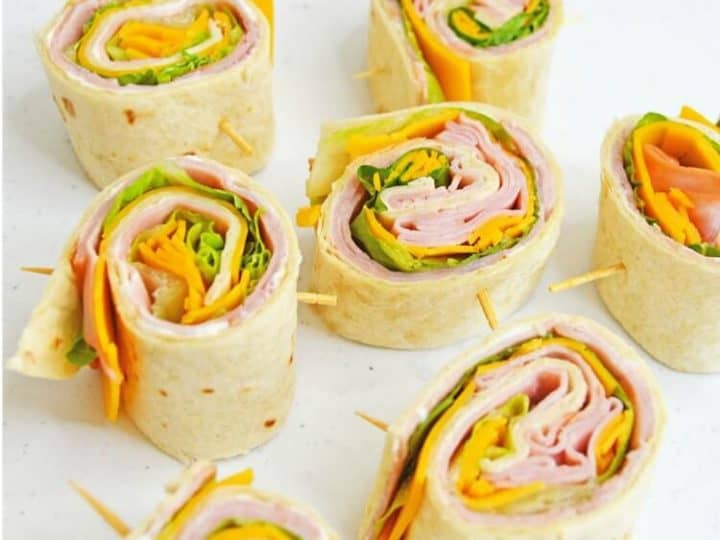 Ingredients
2 large tortillas
10-12 slices of ham
8 slices of cheese
2 tbsp of mayonnaise or aioli
Instructions
Lay the tortillas flat and spread your condiment of choice across it's plain. In the ingredients section I wrote mayonnaise, but I must intervene and suggest ranch or an aioli base if your child is open to those flavors.
Place the ham then the cheese atop the tortillas. Roll these tortillas tightly then slice into 2-inch sections. Make sure to get rid of excess tortilla, to thwart your child from making a mess taking apart the tortilla at the lunch table.
Use a toothpick to hold these pinwheels together or just lay then flat in a container that will hold them together. Easy as 1, 2, 3.
Buffalo Chicken Sandwich
First of all, I know that this may seem a tad extreme for a child, bear with me. By no means am I saying "you should send your kindergarten student off to class with a sandwich drenched in hot sauce" however, if your child is more inclined to spicy food hear me out.
Buffalo chicken is standard at almost any deli. It makes for a significantly more flavorful sandwich than traditional turkey or chicken. Deli sliced buffalo chicken is significantly less spicy than buffalo wings or buffalo tenders which typically come smothered in hot sauce. This could serve as a great introduction to mild spice.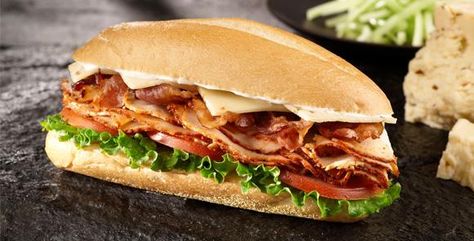 Ingredients
1 Kaiser roll
4 slices of buffalo chicken
3 slices of white American cheese
1 tbsp of ranch or bleu cheese dressing
Instructions
This section should essentially say "make a sandwich" nevertheless I'll explain.
Cut the Kaiser roll in half and spread ranch or bleu cheese along the roll like one would mayonnaise. Place two slices of cheese on the base of the sandwich then top with buffalo chicken. Lastly, place the final cheese slice atop your sandwich then top with the top slice of bread. Perfection.
"Dinos in Santa Fe" Salad
At a glance the prospect of sending your child to school with a salad may seem like a bad idea. That's where the dinosaurs come in. This recipe is a playful, child friendly approach to the Santa Fe Salad. Similar to the aforementioned Buffalo Chicken Sandwich, this recipe can serve as an introduction to salads for your children. So, what exactly is this salad?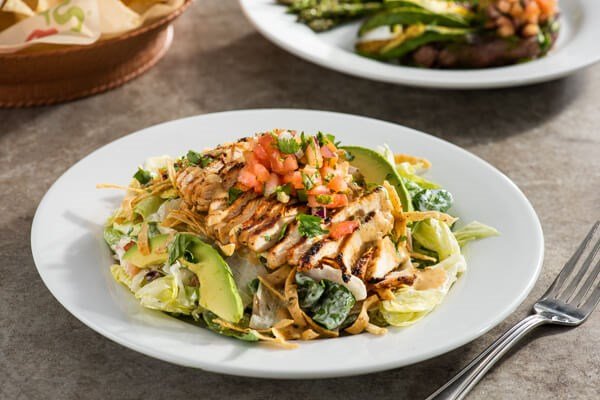 Ingredients
4 dinosaur shaped chicken nuggets
2 cups of romaine lettuce
2 oz. of your child's favorite snack
.5 cup of mixed cheese
2 oz. of corn
2 oz. of chipotle ranch dressing
Instructions
This recipe involves a bit of prep work unlike the others. First, bake the dinosaur nuggets to their specifications, when completed place the chicken at the bottom of the salad container. Secondly, trim corn off the cob and consider roasting on the stove top for better texture.
Bury the dinosaur nuggets underneath two cups of romaine lettuce. Top the dinosaurs and lettuce with mixed cheese and corn, then top with your son or daughters favorite cracker or chip. Last but not least pack some chipotle ranch (or regular ranch) for your child to dress the salad at lunch time.
This recipe involves a bit of trickery. First of all, burying the dinosaur nuggets at the bottom is a tactical move done to ensure that your child does not eat solely the nuggets and throw out the salad. Secondly, your child's favorite snack is used in lieu of tortilla strips which is the typical Santa Fe topping to encourage them to give the salad a shot.
Conclusion
In conclusion, these recipes all attempt to introduce your child to food they may not otherwise be interested in without being unreasonable. Whether the buffalo chicken sandwich is introducing Susie to spice or the Santa Fe Salad is Tony's introduction to lettuce; these recipes were designed to show the fun side of food. How many different meals does your child eat on a regular basis? The hope is that one of these recipes can become your son or daughter's favorite, opening the doors to new possibilities.