Pâte à Choux: The Pastry Chefs Secret Weapon
One dough, a multitude of names, and a seemingly endless amount of uses. Pâte à choux is the pastry chef's secret weapon.
Pronounced (pat-a-shoe) it is one of the most versatile and adaptable kinds of dough within your classic French pastry arsenal. For example, take your basic pâte à choux; when baked in the oven they are transformed into what we call cream puffs or profiteroles. These can be filled with endless variants of sweet or savory fillings. Pipe the same dough into 3 or 4 inch long lines, bake, and behold the eclair. Deep fry balls of choux and cover in powdered sugar, there's your beignet. Mix with cheese and you've got gougéres. Mashed potatoes render the crispy savory pommes dauphine. The list is virtually inexhaustible.
Obviously it behooves every pastry chef worth his salt to know how to make a foolproof pâte à choux recipe. For a simple dough containing no more than six ingredients, there are a lot of things that can go wrong. We'll break down the basics of pâte à choux and highlight the pitfalls that can be involved. Then we'll share a new technique we've developed that saves you a ton of time and guarantees perfect results.
Pâte à choux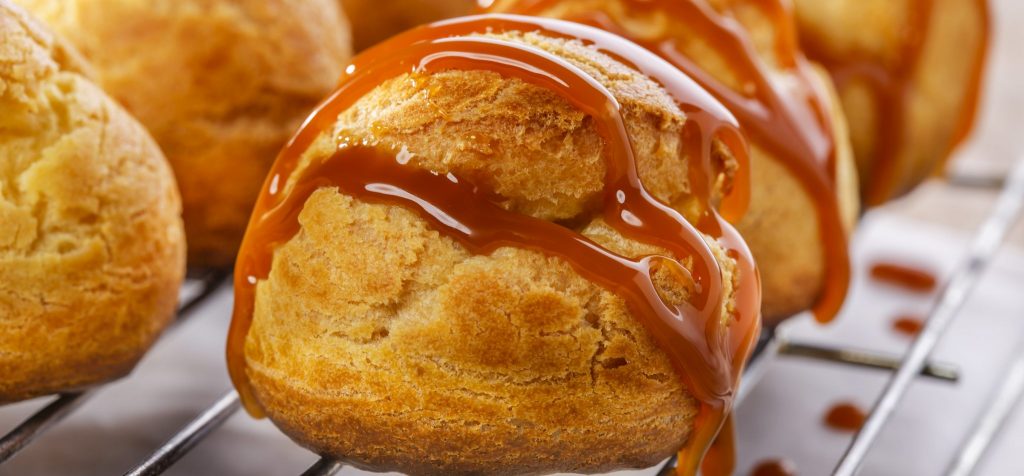 Yield: 7 lbs 6 ounces
Ingredients:
18 ounces Water
18 ounces Milk, whole
18 ounces Butter, unsalted
0.36 ounces (2 teaspoon) Salt, kosher
24 ounces Bread Flour
2lb 8 ounces Eggs
Instructions:
Traditional Method:
In a saucepan bring the water, milk, butter, salt, and sugar to a boil.
Immediately remove from heat and add in the flour. (It's important to add the flour all at once, because if you add it gradually, some of the starch molecules absorb more water and swell more than others.)
Using a wooden spoon stir vigorously. Return to medium-high heat and cook continuing to stir briskly for 1-2 minutes. (This dries out excess water from the dough. The drier the dough, the better it absorbs the eggs, and the more it puffs up during baking.)
The dough should begin to pull away from the sides and form a ball in the pan, and a film should develop on the bottom of the pan.
Transfer the dough to the bowl of a standing mixer and using the paddle attachment mix on low until cooled (7-10 minutes). (This is one of the most important steps in the making of pâte à choux. Be patient and allow your dough plenty of time to cool. The bottom of the bowl should no longer feel hot at all. if you don't let the dough get cool enough in this step, it could end up getting soupy once you add the eggs.)
Once you are satisfied with the temperature, add in the eggs one at a time, thoroughly combining each egg into the mixture before adding the next. Keep mixing until the dough gets quite thick and stiff.
Alternative Method:
The traditional method for making pâte à choux works, don't get me wrong, however, if you have a Vitamix or some other high powered blender I would suggest an alternative approach. It's faster, in my opinion easier, and the results are always perfect.
The beginning of the recipe remains the same, it diverges only after you've finished cooking your flour, milk, butter mixture on the stove top. Instead of transferring the dough to the bowl of a standing mixer, transfer it to your blender. Allow to cool for 5-6 minutes or so then using a spatula press the dough over to one side so the blades and bottom of at least half the blender is visible.
This is a thick dough and allowing space for your eggs makes it much easier on the blender. Now add in all your eggs and blend until smooth. Your end product should be thick enough to hold its shape when piped and ultra smooth. If it's not thick enough just blend it a little longer it will be.

At this point you have created perfect pâte à choux, you can now pipe it out onto a parchment lined baking tray to create cream puffs or for more inspiration you can check out our full list of pâte à choux possibilities below:
Think you have a better recipe? We want to hear about it! Don't forget to share in the comments below or on any of our social media accounts. Follow us on Facebook, Twitter, Instagram, and YouTube!