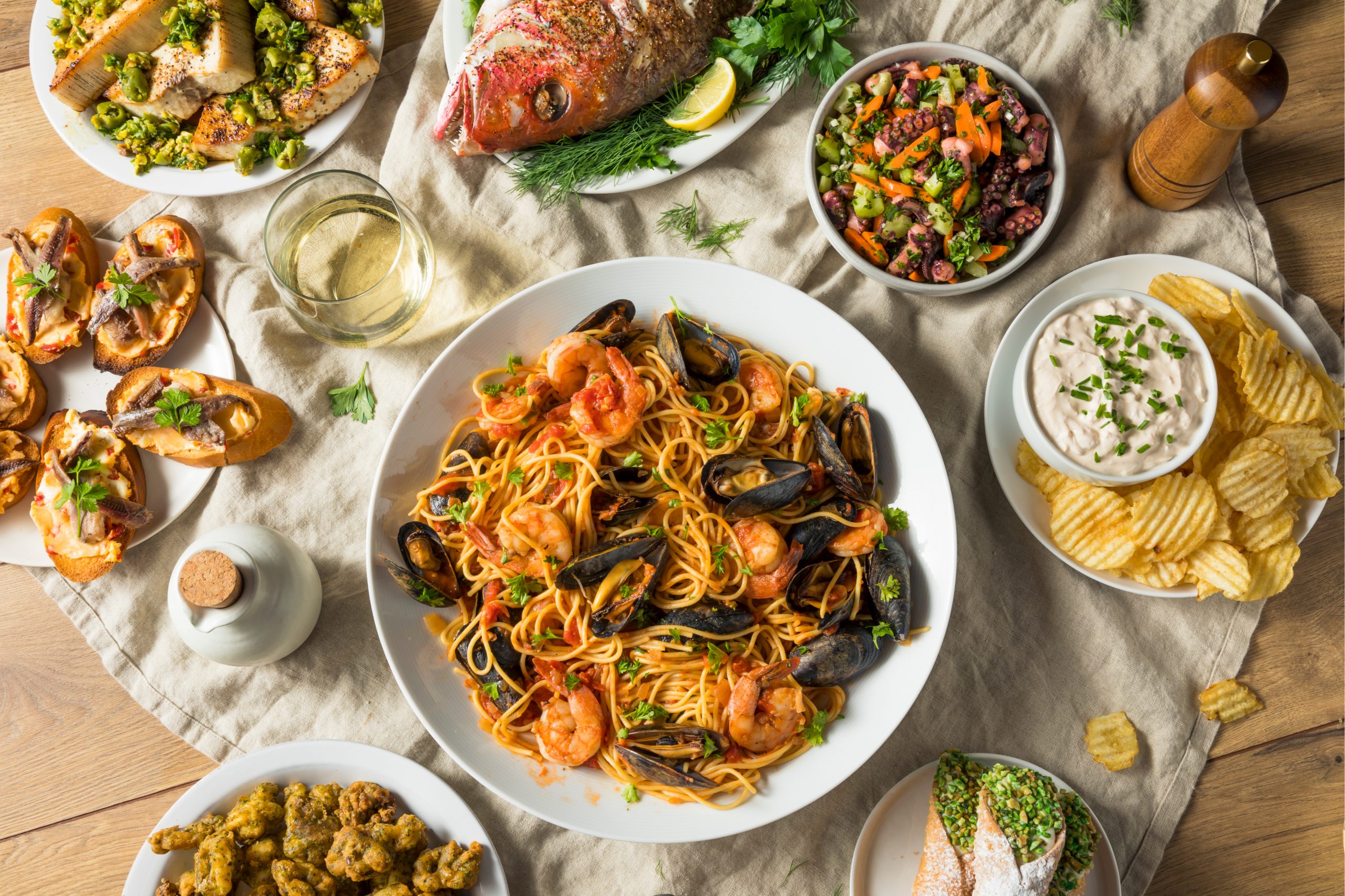 The Feast of the Seven Fishes, Favorite Dishes.
Every Christmas Eve my family partakes in the same tradition. We all gather at my Aunt Renee's house in South Philly for the Christmas Eve Tradition known as "the Feast of Seven Fishes." As a child, I hated this tradition. Now my palette is more refined, and I look forward to the delicacies that only seem to appear once a year.
Although my last name may be "Peters," I come from a long line of DiDonatos and Pepes who have been preparing the Seven Fishes for generations. This Italian-American tradition is a holiday staple for my family. We typically have far more than seven fishes scattered throughout the house buffet style, but I wanted to share my favorite seven fishes dishes.


For a novice mollusk eater, clams casino provides a palatable and friendly introduction to clams. Toasted bread crumbs and notes of bacon fat can ease newcomers into the tradition. Clams casino is a dish that you rarely cross paths with in everyday life so take advantage of its seasonal arrival.
Simple, familiar, and dependable. Calamari or as my family would say "calamad" is likely the least foreign or alienating dish involved with the seven fishes. Served great marinara sauce, chipotle aioli, or just fresh lemon juice, calamari is a simple dish that you can cook an abundance of. This is my favorite of the seven fishes dishes.
Likely the most refreshing pasta dish you'll ever eat. Linguini, mussels, garlic, and white wine complement each other superbly. Most pasta dishes leave you feeling heavy and exhausted, linguini does not. A plate of linguini and mussels paired with toasted bread (to soak up the garlic butter sauce) is as classy as a pasta dish gets.
Whereas all the previous options have been casual or something one might consider an appetizer, baked flounder is unquestionably an entrée. This flaky white fish topped with parmesan cheese is perfect when laid atop asparagus. This is one of the quicker recipes to whip together. Flounder is a flavorful fish that makes for a flavorful dish.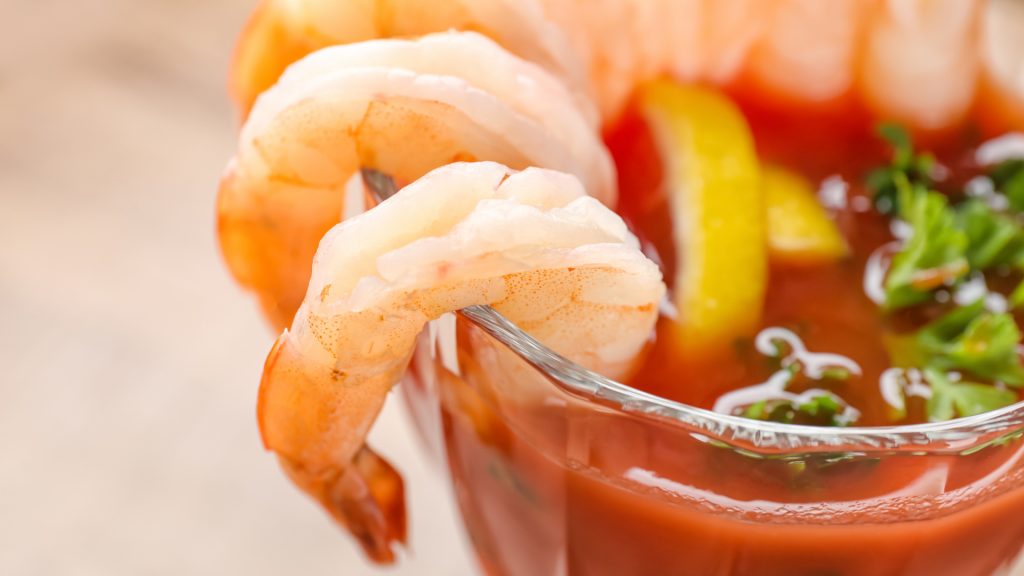 Shrimp cocktail shouldn't count towards the "seven fishes count." This is a very specific delicacy, cold shrimp dipped in a bitter sauce. Shrimp cocktail can be found year-round at any variety of functions. Those who love it, love it. Those who hate it, are correct.
This far superior cousin to the shrimp cocktail shows how shrimp can achieve its full potential. Popcorn shrimp is a family favorite; children love it, adults adore it, it's a fan favorite! Reuse the marinara or aioli that you use with calamad. In addition, popcorn shrimp can also be added to pasta dishes for further versatility.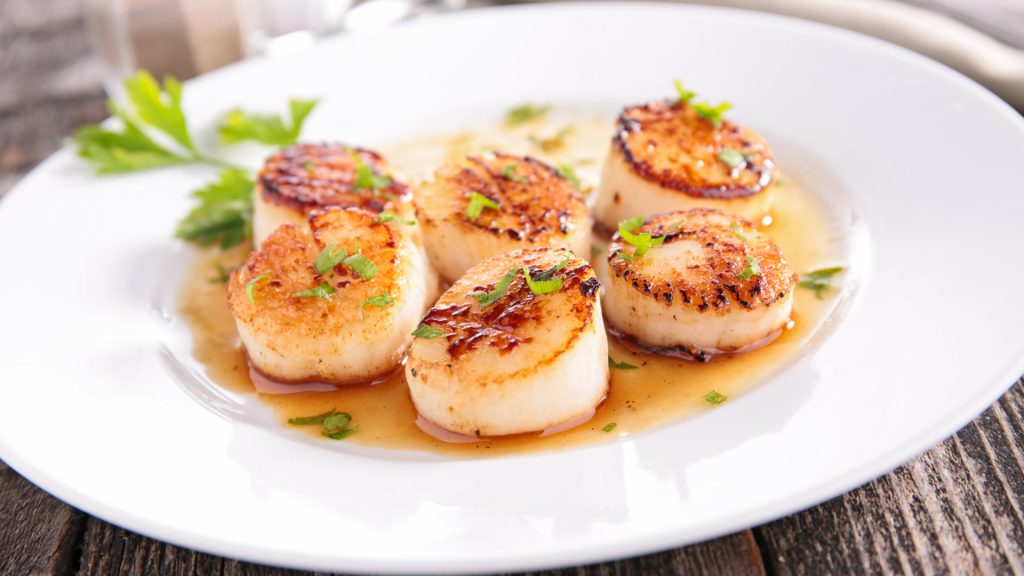 Scallops don't get the respect they deserve. Often, people feel the need to wrap scallops in bacon or dress it up a million ways. Cooked in some lemon butter with garlic gloves, scallops can steal the show. This is another light dish that can be picked at alongside six other fish dishes.
Seven Fishes Dishes – Conclusion
These are merely seven of the food options available. Often, my uncle brings $30+ worth of McDonald's burgers for those less interested in the taste of the sea. Be sure to stock up on cannoli, biscotti, and coffee for after dinner. Christmas Eve is always a very long night, luckily the children are typically fast asleep after the feast of seven fishes, waiting for Christmas morning.