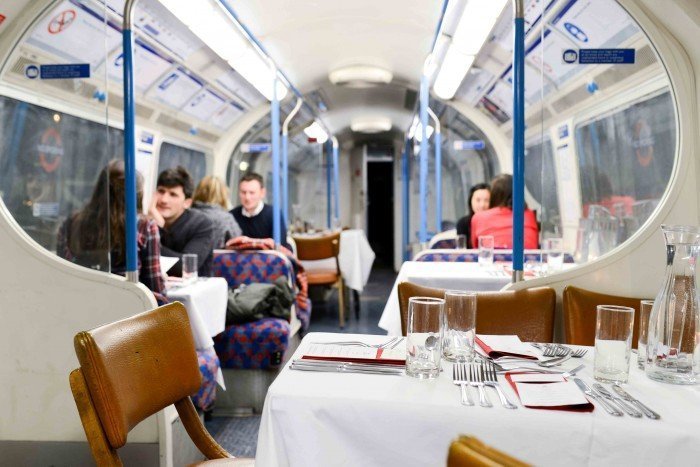 The London Supper Club Trend
It seems that for some restaurants just aren't cutting it anymore. More and more I have been noticing a high demand for exclusive dining experiences in London. I must admit London is delivering. The flexibility for execution and less hassle with licensing allows for an intimate dining experience that's considered quite casual for the average Londoner.
In New York, supper clubs are often too exclusive and only available to those who can afford a pricey dinner. In London, while the prices do range, you can dine exclusively and intimately with the presence of the chef starting at £45 per person. This dining format typically includes multiple courses, the option of a wine pairing, and sitting beside strangers who are eager to experience a specially prepared meal.
I've been pleasantly submerged in the London food scene and decided to try a few supper clubs for myself.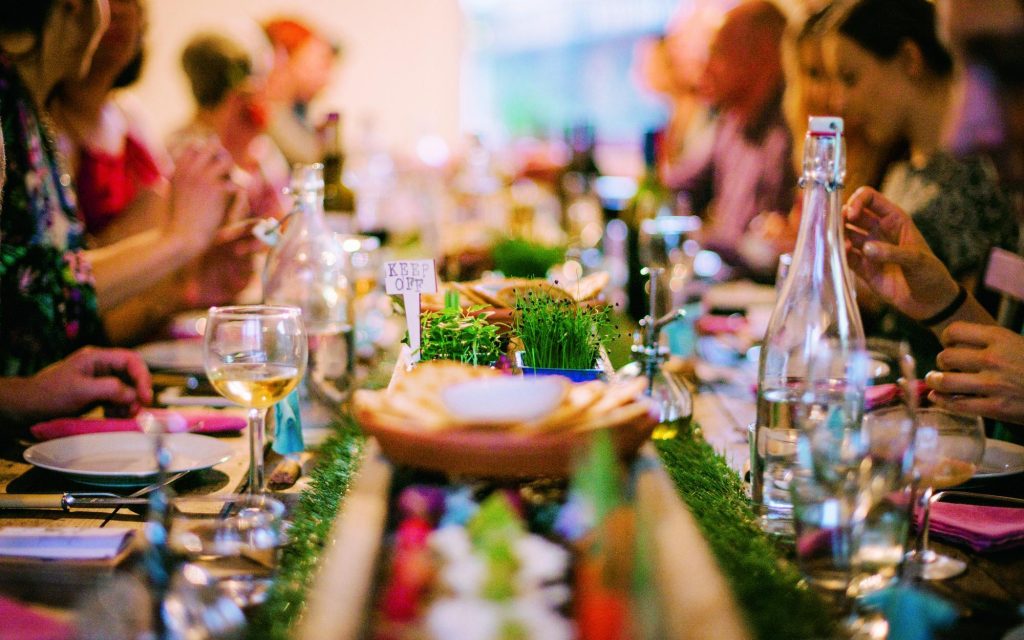 Created by Gabriel Waterhouse (previously worked in Michelin-starred Galvin La Chapelle), who had a goal to make fine dining accessible. He started by buying a table from Ikea and began welcoming diners into his modest Bethnal Green home for a more informal culinary experience. Since that day, The Water House Project has hosted thousands of hungry diners. The experience has been featured in TimeOut and Monocle Magazines, and was awarded "Top 5 London supper club" status by The Evening Standard.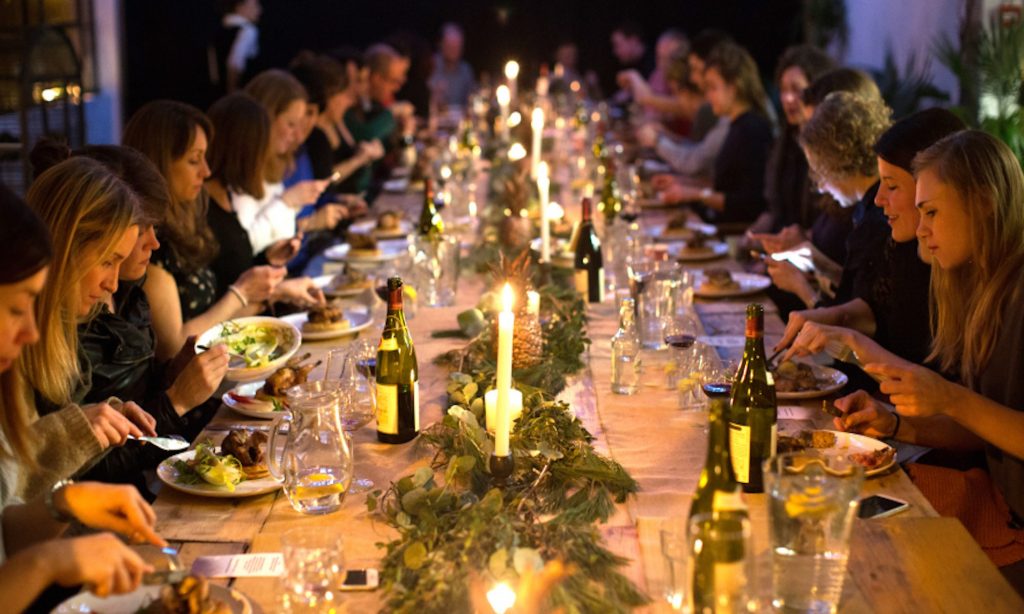 Honoring my Russian roots, I had tp give KinoVino a try, I was not disappointed. The concept is a journey through food and film to different corners of the world.
This set up orchestrated by Alissa Timoshkina merges Kino (meaning film in Russian) and Vino (meaning wine in French) into an intimate and vibrant culturally rich experience. The supper club features different chefs, who each take the guests on a tour by way of taste, vision, and sound. It's a new level to "dinner and a movie".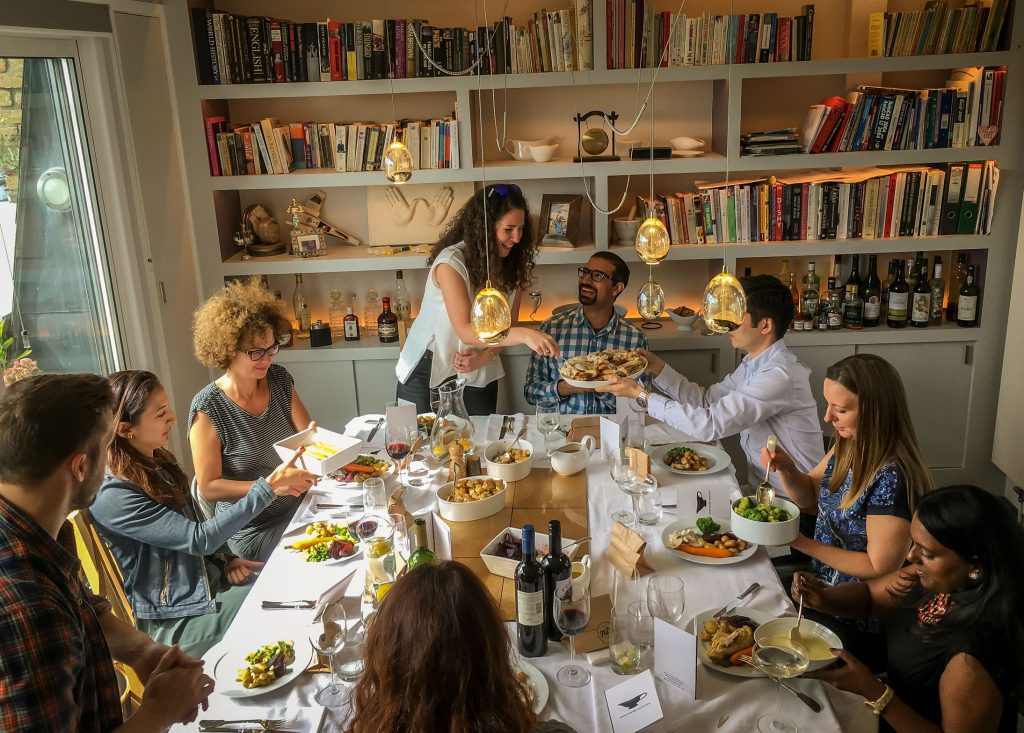 Hosted in the "Home of Emily" in the heart of Notting Hill among London's enchanting secret gardens, lies this supper club. Secret Sunday Lunch Club offers a family brunch experience like "mum used to make." Providing a set menu and set price, along with a "Bring your own Wine" policy, it offers an opportunity for strangers to gather around a table and simply brunch.
The menu features traditional British Sunday brunch with an array of seasonal vegetables, plenty of condiments and gravy. All the food is set mid-table and served family style. This is an experience for easy-going people who don't shy away from getting to know new people and enjoy communal dining. It's cozy, traditional, and feels like you're at home with new friends.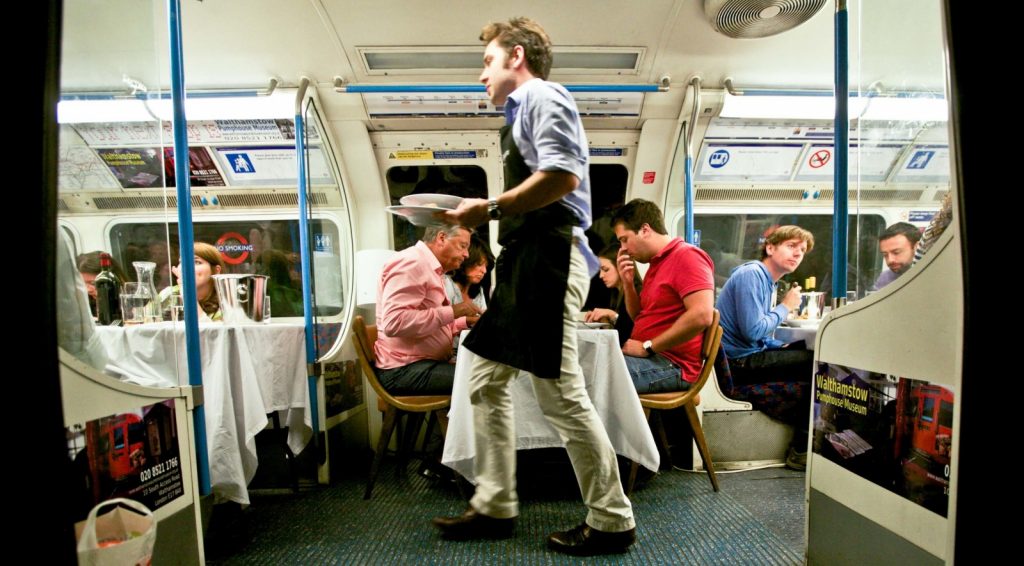 A dining experience in the "tube." This supper club hosts its dinners in a decommissioned 1969 Victoria Line tube carriage in Walthamstow. Founded by Le Cordon Bleu-trained chef Alex Cooper – this experience is one for the books. Head Chef Shiann Stuive took over in 2017 and continues the push to keep serving up refined classics.