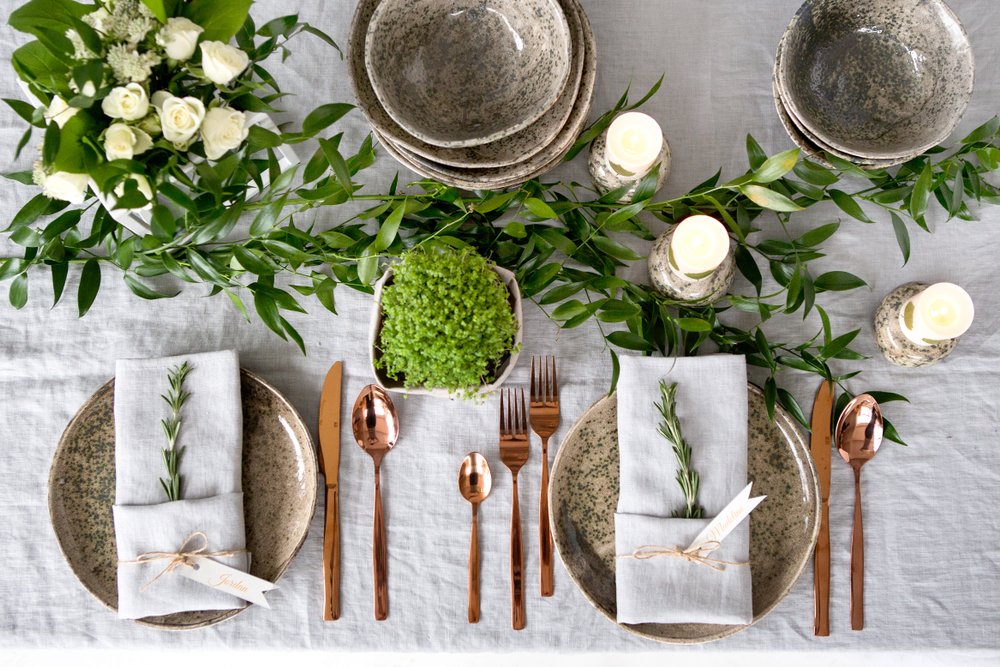 Top Trends in Serviceware
Just as food and beverage trends ebb and flow through our kitchens so do tabletop trends. The past few decades have seen a significant shift from white cloth covered tables, carnation filled vases, and ornate silver service to styles much more approachable, hip, and modern. We'll discuss the current trends in plates, glassware, flatware, and tabletop decorations so you can impress your customers with a modern dining experience and get a leg up on your competition. Let's zoom in on the top trends in serviceware.
Plates
Boho and Bright


Boho (Bohemian) is a trend from the fashion/clothing industry that is finding a home in restaurants. Bright colors with geometric patterns are common and captivating, with visual effects that draw the eye inward … toward the food. Many designers and decor experts recommend combining patterns with a bright complementary color, such as a bright single colored dinner plate served with a patterned sauce bowl. Another element of the boho trend is intermingling patterns, styles, and looks to create a 'home spun' yet still bright and cheery feel. This effect leans heavy on nostalgia, conjuring big family dinners where none of the plates matched the bowls or saucers. Even in the most minimalist of presentations, a boho pattern and style can add excitement to the dining room table.
Earthy and Natural

A steadfast industry trend is the use of earthy and natural plates, platters, and serviceware in a rustic theme. These can range from slate and wood plates, share plates and platters to marble-like chargers and demi bowls. A new outlet for this evergreen trend is the use of stoneware, which is having a slight renaissance, especially in the minimalist or simplistic decor realms. These pieces remain beautiful while not drawing too much attention away from the food. The popular color schemes range from natural whites, gray and dark blues, browns and black. Some intertwine the color schemes – such as an off-white stone bowl with a dark rim or a dark colored plate with a light rim or undercoating.
Glassware

Simple and Classic
Current glassware trends are taking a page from mid-century modern and retro styles in classical design – think your grandparent's crystal cocktail glasses. These glasses are simple, sturdy, and functional while remaining stylish. With mixologists and sommeliers designing beverage menus with creative, visually stunning drinks that need to be observed to be experienced and enjoyed, the glassware needs to be subtle and discreet.
Specialized Ceramics
On the other end of the spectrum from simple and classic glassware, bar managers and mixologists are looking for specialized ceramic glassware to serve a specific purpose for the cocktails they serve. This can be whimsical, like Jose Andre's popular DC spot Bar Mini serving drinks in a ceramic dinosaur or textured ceramic glasses like those served in Mexico City's Fifty Mils (keeps the frosty condensation laden cup from slipping out of patrons' hands). Plus, with the boom in tiki-style drinks, ceramic glass is always needed.
Flatware

Warmth, Two-Toned, and Iridescence
There are three heavy hitting trends in the flatware scene – warm metals, two-toned (metal/wood or metal/ceramic), and iridescence. Warm metal flatware is the most common when frequenting restaurants or trade shows. They range in color from bronze, copper, and gold and are extremely popular with decor experts and restauranteurs. They offer a hint of warmth on the tabletop as opposed to the stark brightness of classic silverware. These metal tones are also muted slightly, either with a matte finish or vintage style polish to look more worn and used.

Two-toned flatware is a new industry trend and the look is ultra-modern and sleek. It combines the warm metal with a stoneware, wood, or ceramic base. The top is usually metal, but occasionally you'll see the pattern inverted.
Lastly, the iridescent flatware. This is the flashy, fun, and funky option for those looking to spruce up their table setting – it will certainly catch the customer's attention! You can find these in bright ultraviolet rainbow colors or in muted tones.