You're Opening A Bar! An Essential Buying Guide Part 1: Equipment, Glassware, and Extras
This is the first installment in a four part series where we're going to go through all of the essential elements your new bar needs. We want to ensure that you are ready for success from the word GO! In this installment we'll cover all the non-consumables that you'll need behind your bar.
"A workman is only as good as his tools." That's how the saying goes anyway, and it's not far from the truth. As with any trade there is a certain element of skill or art. However, if one does not have all the tools or the correct tools then one's skill is limited by their functionality.
Your bar is built, your sinks installed, your ice bins, rails, fridges, soda guns, etc are all in place. But what other items does your bar need to make it in the real world? Here, I'm going to list all of the equipment, that's not stuck down, that your bar will need.
Cocktailing Tools

Cocktail Shakers – Boston shakers are what you'll want, and you'll want both size tins. The size of your bar will determine how many you needs, but 3-4 per station is an adequate amount.
Muddlers – Two varieties available, one has a flat head the other has either a spiked or grooved head, to speed up and improve your crushing. Either one, it's your choice, just make sure the handles are long enough so that your bartenders aren't bumping their hand on the sharp shaker.
Strainers – Hawthorn strainers -the most popular behind the bar- are what you'll want. Two per station is a suitable amount. You may wish to purchase julep strainers also, but they're not necessary.
Bar Spoons – Long spoons with twisted handles. One per station with some backups is all that's necessary to begin with.
Paring Knife – For cutting the perfect twists.
Glassware


Beer Glasses – 16oz is the standard pint size, 20oz are available, but rarely used regularly in bars. Your standard conical pint glasses also double as mixing glasses, and a case or two can often be secured from your beer reps. Whilst this might not be enough to fill your bar it certainly helps. If you're going to be all about beer and have a variety of craft beers at your bar then you might also need snifters, tulips and a few other glasses behind your bar for beers.
Wine Glasses – There are many shapes available, but you can just get away with one generic size if you wish, although two shapes, one for red and one for white, are usually best.
Cocktail Glasses – The classic and self explanatory. Make sure they're all the same shape and size.
Old Fashioned Glasses – For old fashioned cocktails and neat whiskey pours.
Brandy Snifters – Serving brandy? you'll need brandy snifters to give your guests the true experience. Some also use these for whiskies.
Highball or Collin Glasses – For those gin and tonics, vodka sodas, whiskey gingers, and other easy mixing cocktails you'll be making.
Shot glasses – Many sleek looking tall ones are out there, but your standard shape is the best, working perfectly for both shots and bombs. Make sure the size -volume- you choose fits your pricing.
Other Key Items

Wine Keys – Some bartenders will turn up with their own, many will not. Have one that's kept in a specific location on there bar so there's always one available. Talk to your new wine rep, they'll often be happy to give you a few.
Bar Blades – Many bartenders have their own, but they're always an appreciated gift.
Cocktail Rimmer – Those margaritas need their salt! The standard three tiered rimmer suits every bar, although their functionality is highly questionable. If you're going to be a high end cocktail place applying some snazzy rims to your speciality cocktails then look into a draw based rimmer; they're less messy and a lot easier to use.
Pour Spouts – Make sure you get one size across all your spirits, so that they pour at a uniform speed. Also ensure that you buy some spares. You may also want to buy stoppers to plug them at night to prevent fruit flies from getting in. I have seen one place, inventively, using golf tees for this purpose.
Jiggers – You might be free pouring everything but when someone orders that high-end Scotch or bourbon that you don't keep a pour spout in you're going to want to make sure that you pour no more, and no less, than what they purchased.
Store 'n' Pours – For storing and easily pouring juices and mixers that don't come from your soda gun.
Wine stoppers – Only a few, in case you loose the cork or screw cap after opening a bottle.
Wine Buckets/Coolers – Many styles available and, if you're going to be big on wine, these are a necessity. You may also be able to snag some from your rep, but these are not such a common item for them to give out.
Even More Key Items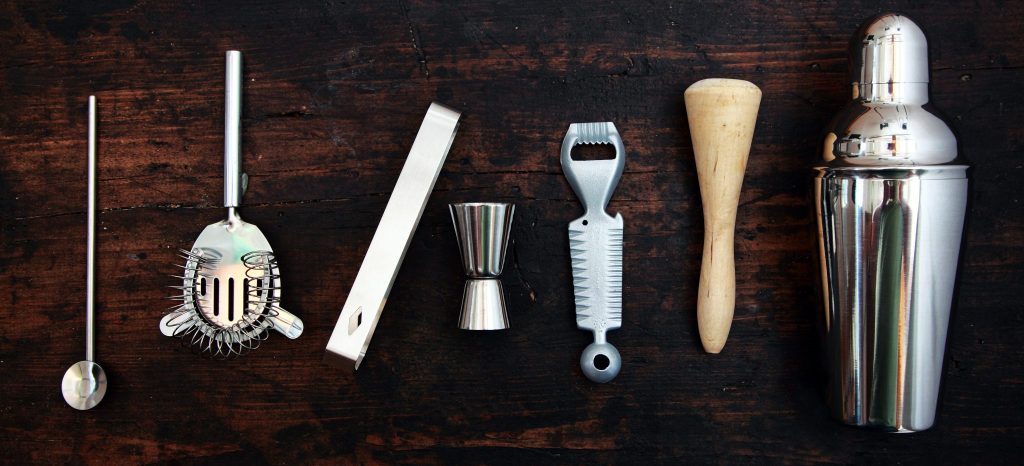 Blender – If you're a summer spot then frozen drinks will be key to your sales and a good blender is paramount to achieving top notch frozen beverages.
Fruit Knife and Cutting Board – A small cutting board and serrated fruit knife should live behind your bar, solely for bar fruit purposes.
Ice Scoops – Some places use shakers, this is rather unsanitary and way to common a practice. Get your bartenders some ice scoops.
Bar Mats – Available in all shapes and sizes you'll need to see what you need to fit your space.
Fruit Tray – Again, talk to your liquor reps, they often have these and will sometimes give you a couple. You'll need one per station, and don't forget the service well.
Napkin Caddies – These hold your straws and napkins, or beer mats. These will need to line your bar, with one every four feet or so; ideally you always want one within reach of a bartender. Again, your liquor reps might be able to provide these, all you have to do is ask.
Bar Towels – Available as a pickup and drop off service but if you have your own washer and dryer you could buy and wash your own. Either way, begin by ordering -or having- more than you think you need; you can always reduce your order size or put some on the shelf.
Trash Cans and Bags – Make sure your bags adequately fit your cans, there's nothing worse than undersized trash bags.
Saran Wrap – That fruit needs to be covered every night.
Tupperware Containers – If you use a lot of fruit or garnishes, varying sizes of Tupperware contains will help you store them and any backups you need.
This list may seem extensive, and it is. But it will have you set up and ready to rock and roll from day one. You'll need to budget all these items into the start-up costs for your bar. As for items that can come branded -like bar mats, caddies, glasses, and fruit trays- definitely ask your reps to see if they can help you out. As a new bar they may already have offered them up as a goodwill gesture, jumping at the opportunity to have their brand facing your customers, which will help cut down on your costs.