Bar Blenders vs. Food Blenders: What's The Difference?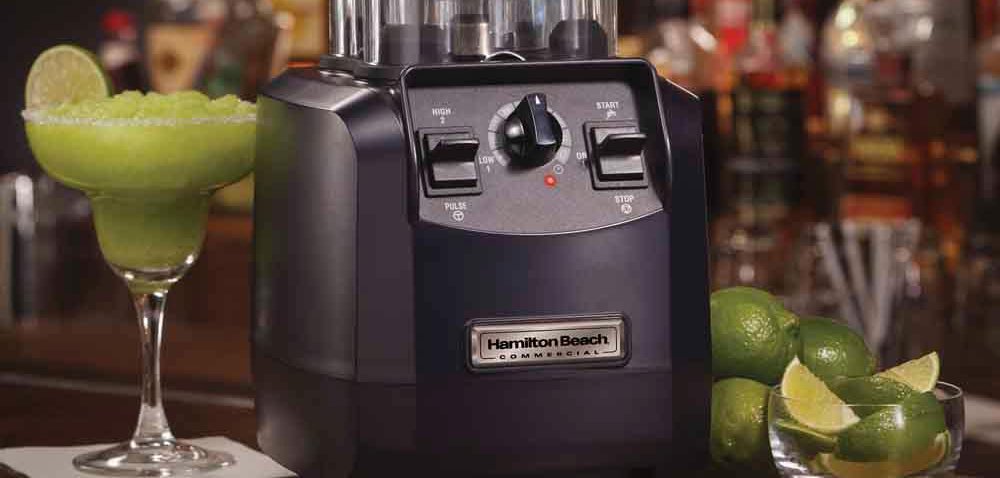 At PJP, we're always trying to help educate our customers. Just a few weeks ago we tried to provide some information for you on the difference between Commercial and Residential Blenders. But there are more than two kinds of blenders, so we wanted to continue with that theme and talk about two more today. Specifically,
I was recently asked how a commercial bar blender differs from a food blender. It's a good question. The easy answer is: "a bar blender is designed to make frozen drinks and a food blender is designed for processing food." While there is truth in that answer, it's not terribly helpful in differentiating features and design details. I reached out to my friends at Hamilton Beach to learn more.
Bar Blenders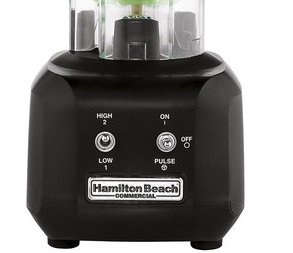 Bar blenders are pretty much intended to perform just one function. That is to turn ice, liquid, and sometimes fruit, into creamy, smooth, frozen cocktails. Of course most bar blenders can do more than that, but creating frozen drinks is their primary function.
To do the task, a bar blender needs a motor of somewhere between ½ and 1 horsepower. Consistency from drink to drink is important, as is ease of operation. So a simple on/off switch, and perhaps a high and low power switch is all that's really needed (see photo above). A pulse feature gives the user a bit more control, and a timer with auto shut-off really ensures blend consistency.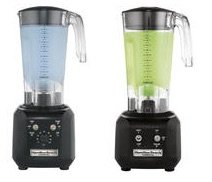 The Hamilton Beach Rio and Tango blenders are perfect examples. With ¾ and 1 HP motors respectively, both lines feature high and low power settings with a pulse option. The Tango also includes a timer with auto shut-off. Various size containers are available, and all feature Hamilton Beach's patented Wave-Action system that turns the mixture back down into the blades to ensure a smoother drink profile.
Food Blenders
Food Blenders are designed to do a much greater variety of tasks with a greater variety of ingredients. A food blender might be used to blend frozen fruits for a smoothie, puree cooked vegetables for a soup, chop fresh vegetables for a salsa, or grind dry grains into flour for artisan baking. Power settings and timing will be different for each application.


To allow maximum flexibility in the kitchen, most food blenders have a larger motor, typically 3 horsepower, with a wider variety of speeds. A variable speed dial with pulse action provides chefs with complete control, and a chop function runs the blades at an extra slow speed to chop, rather than puree, foods.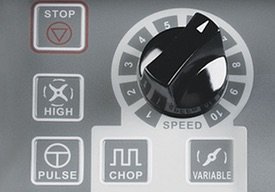 The Hamilton Beach Tournant culinary blender (see photo) is a great example of this. In addition to the features just described, it also comes with a dosing cup and temperature gauge. The dosing cup makes adding liquid for emulsions easy when blending hot and cold food applications. The temperature gauge alerts the user if the blender overheats while blending back-to-back batches. The Tournant line also includes the Wave-Action system and many other useful features.
Blurred Lines
A review of any manufacturer's catalog may well reveal a few models that blur the lines between bar blenders and food blenders. Blenders are extremely versatile pieces of equipment. Extra powerful bar blenders, with additional features for high volume and specialty applications, may well have what it takes to perform many tasks in the kitchen. Similarly, an entry-level food blender, stripped free of extra features, may begin to look more like a bar blender.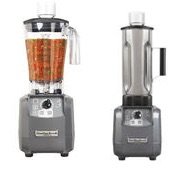 In the end, it's not so much a matter of whether the blender is classified as a bar blender or a food blender. You want a blender that will do the tasks you need it to do, quickly, consistently and reliably. Examine all the applications you need it for, or might need it for, and match your selection to the task at hand.
For more about Hamilton Beach Commercial Bar Blenders, Food Blenders and High Performance Blenders, call your PJP Sales person!
NEED HELP WITH THIS?
Get immediate help with this topic from a certified PJP Product Specialist.
Typical response within 24 hours.
Was this Helpful?