What's The Difference Between A Salamander And Cheese Melter?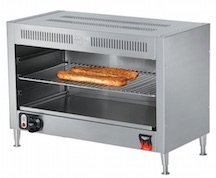 At PJP we are always looking to answer the tough, hard-hitting questions plaguing the restaurant industry, like covering all the important questions you need to ask before buying a major piece of kitchen equipment. Today we're continuing to look into an often-asked question about two popular piece of equipment:
What is the difference between a Salamander and a Cheese Melter?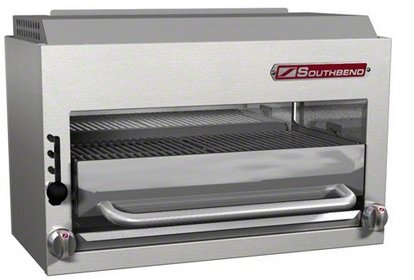 The word "salamander" comes from Latin, Greek and Old French. It refers to a "legendary lizard-like creature that could live in fire." It seems that over time, the zoologists adopted the lizard reference in that etymology to describe those slithery little amphibians that live under rotten logs. The chefs, on the other hand, focused more on the fire reference, and adopted the word to describe their flaming-hot top-fired broilers.
Either way, what is important for those of us in the foodservice industry, is to understand the difference between a Salamander and a Cheesemelter. Although the two terms are often used interchangeably, the differences in price and function can be significant. Be sure you know which one you need when making a decision.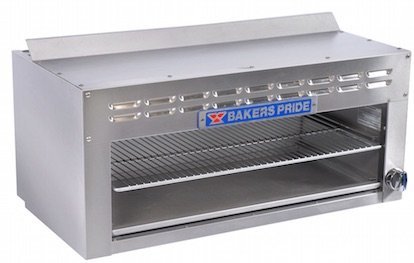 A Salamander (or "Salamander Broiler") is commonly mounted over and to the back of a range. It provides very hot heat from above that is focused down onto a cooking grate. The grate slides in and out for loading, and with the assistance of a counterbalancing spring and lever handle, can be easily adjusted up, closer to the heat source, or down, further away from it. Typically, a Salamander will feature a slide out grease pan below the grate. Commonly used for browning casseroles and similar dishes, it's also used for broiling individual cuts of meat or for raising the temperature on rare cuts, such as slices of Prime Rib. Oh, and it can melt cheese too.
A Cheesemelter is also commonly mounted over and to the back of a range. It also provides heat from above that is focused downward, but the temperature output of a Cheesemelter is typically much lower than that of a Salamander. Instead of a cooking grate and grease pan, the typical Cheesemelter will feature something more like an oven rack with a crumb tray. Producing much less heat, Cheesemelters are commonly used to brown au gratin dishes and melt cheese on nacho chips or open-faced sandwiches. They are sometimes used to warm and hold plates.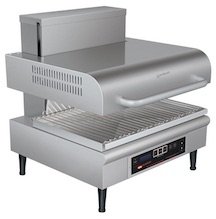 As manufacturers work to improve the design and versatility of their products, many Cheesemelters now feature higher temperature outputs and increased functionality. Additionally, at least one manufacturer offers a European style Salamander where the heat source is lowered to the food, rather than vice versa. When deciding on which is right for you, by whatever name, be sure to check the unit's capabilities against your intended application. Find out, before you buy, whether the unit will perform the cooking and/or finishing functions that your menu requires.
Got any other questions for us? We want to know! Just fill out this form with your question and a PJP expert will get back to you as soon as possible.
NEED HELP WITH THIS?
Get immediate help with this topic from a certified PJP Product Specialist.
Typical response within 24 hours.
Was this Helpful?